Events /
1968 in America: Music, Politics, Chaos, Counterculture, and the Shaping of a Generation
Apr 30, 2018 | 6:00 pm
-
7:30 pm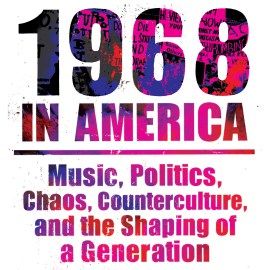 Charles Kaiser,  Associate Director of the LGBT Social Science and Public Policy Center at Hunter College, is joined by celebrated journalists Charlayne Hunter-Gault and Hendrik Hertzberg to discuss the 30th anniversary edition of 1968 In America: Music, Politics, Chaos, Counterculture and the Shaping of a Generation.   The book's re-publication this month is an occasion to reconsider the contributions of that fateful decade to culture and poetics in America.
Hunter-Gault is a hero of the Civil Rights Movement. She and Hamilton Holmes became the first African-American students to attend the University of Georgia in 1961.  Forty years later, the University of Georgia Academic Building was renamed for her and Mr. Holmes to become the Holmes/Hunter Academic Building.  Hunter-Gault then became one of the first African-American reporters to cover the black community for The New York Times, and later, national correspondent for The MacNeil/Lehrer Report, and NPR's chief Africa corespondent, before being named CNN's Johannesburg bureau chief. She is also the winner of two Peabody awards and the author of four books, including In My Place, To the Mountaintop, and New News out of Africa.
Hertzberg wrote the new introduction for the new edition of Kaiser's book.  He is a former editor of The New Republic, former chief speechwriter for President Jimmy Carter, and for many years one of the most respected writers at The New Yorker.  As a correspondent for Newsweek in San Francisco in the mid-60's, he covered everything from the the Beatles at Candelstick Park and the Jefferson Airplane at the Fillmore Auditorium to Timothy Leary and Allen Ginsberg at the first "Be-In" in Golden Gate Park.  At the end of 1967 he enlisted in the Navy.  In 1968, he was posted to Manhattan, where he wrote speeches for an admiral, and moonlighted for the War Resisters League and Bobby Kennedy's presidential campaign.
Nineteen Sixty-Eight is widely recognized as the pivotal year of the 60's – the moment when all of the nation's impulses toward violence, idealism, diversity, and disorder peaked to produce the greatest possible hope and the worst imaginable despair.
Audience
Open to Everyone
Location
47-49 East 65th St.




New York

,

NY

10065

United States

+ Google Map

Entrance on the north side of 65th Street between Park Avenue and Madison Avenue