East Building Closure Update for Thursday, Dec. 7. All classes taking place in the East Building of the Main Campus have resumed. The Library is open. Offices on floors 13 through 17 will remain CLOSED to staff. Those stationed on these floors should work remotely. Offices on floors 3 through 12 will be OPEN. Those stationed on these floors can return to the office.

Events /
Authors Paisley Currah And Zein Murib On Their Groundbreaking New Books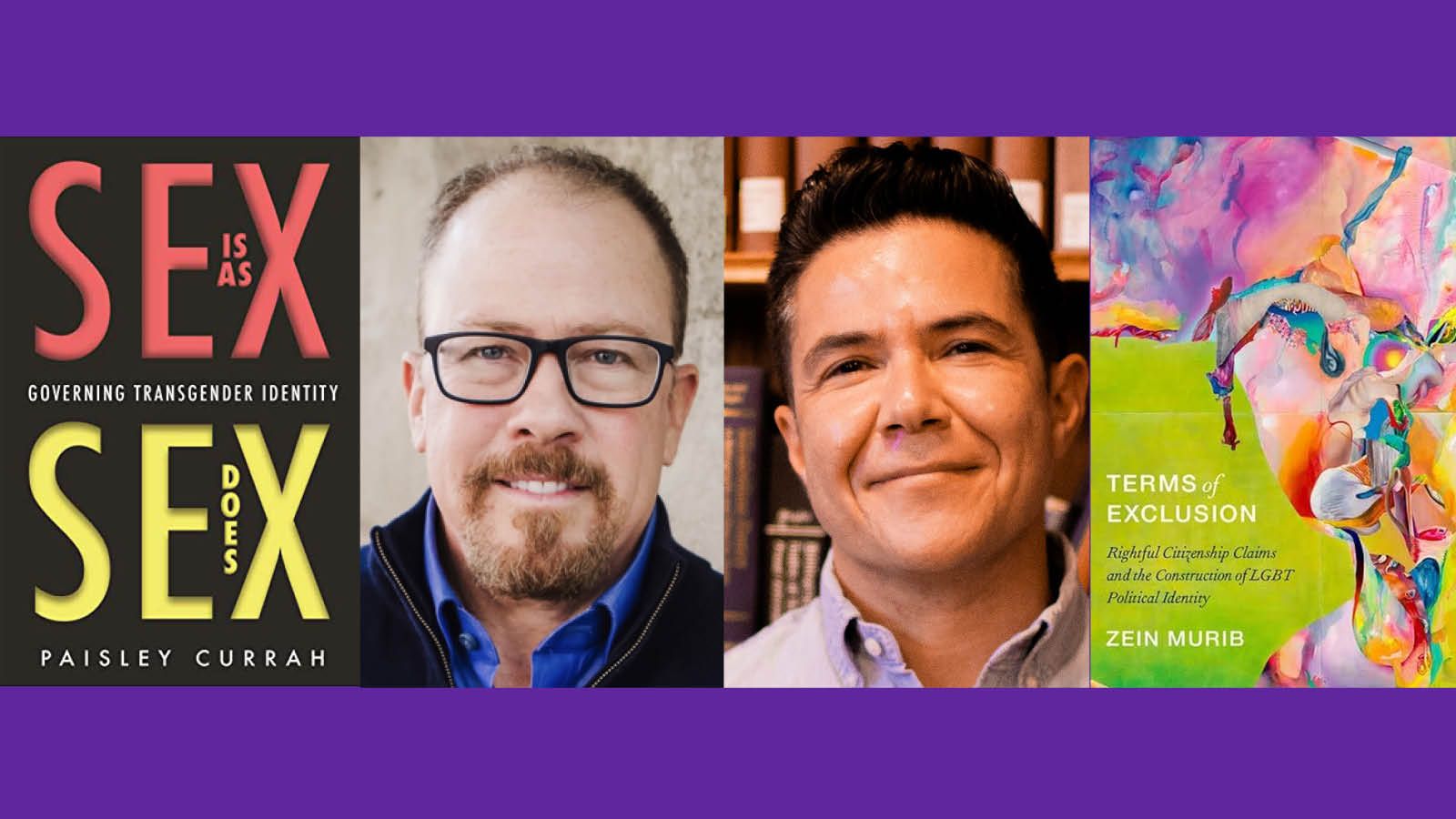 The LGBTQ Policy Center at Roosevelt House is pleased to present a panel discussion with Paisley Currah, the author of Sex is as Sex Does: Governing Transgender Identity, and Zein Murib, the author of Terms of Exclusion: Rightful Citizenship Claims and the Construction of LGBT Political Identity. These acclaimed new books deliver vital and urgent accounts of queer and transgender experiences of exclusion—both from outside the LGBTQ community and from within. The authors will be in conversation with Roosevelt House LGBTQ Policy Center director Erin Mayo-Adam.
Every government agency in the United States, from Homeland Security to the Department of Motor Vehicles, has the authority to make their own rules for sex classification. Many transgender people find themselves in the bizarre situation of having different sex classifications on different documents. Whether or not you can change your legal sex to "F" or "M" (or more recently "X") depends on what state you live in, what jurisdiction you were born in, and what government agency you're dealing with. In Sex is as Sex Does, Paisley Currah explores this deeply flawed system, showing why it fails transgender and non-binary people.
Currah's insightful book was selected as a finalist for the Association of American Publisher's Prose Awards in Government and Politics in 2023 and one of Them's favorite LGBTQ+ books of 2022. According to the New York Review of Books, Sex is as Sex Does draws "urgent and surprising conclusions for transgender rights advocates, and indeed for anyone invested in a more just society in which states do not take an interest in our gender identities."
In Terms of Exclusion, Zein Murib looks at the LGBT community in the US as it formed into an identity-based social and political group. Drawing on an extensive archive of documents and publications, Murib argues that the strategic use of "rightful citizenship claims"—or the assertion that lesbians, gay men, bisexuals, and transgender people are owed rights as citizens—created opportunities for the recognition of white, gender-normative, monogamously partnered gay men and lesbians at the expense of other community members. The rights won as a result of these opportunities are celebrated as evidence of progress, even while they simultaneously foreclose representation and political gains for those members whose cross-cutting identities challenge or elude the boundaries of "normative" citizenship.
According to Susan Styker, editor of the pioneering Transgender Studies Reader, Terms of Exclusion "invites us to move beyond a liberal politics of inclusion toward a more fundamental sense of living fairly and freely amidst all our differences—and helps guide us toward that goal."
Panelists:
Paisely Currah (he/him) is a Professor of Political Science and Women's & Gender Studies at Brooklyn College and English at the CUNY Graduate Center. Currah has written widely on transgender issues, on topics such as discrimination, sex reclassification, and the transgender rights movement. From 2014-2019, he co-edited the journal TSQ: Transgender Studies Quarterly. Currah's book, Sex is as Sex Does, was released May 31, 2022 by NYU Press. An advocate for transgender rights at all levels of government, he was a founding board member of the Transgender Law and Policy Institute, served on the founding board of directors of Global Action for Trans Equality, and sat on the advisory board of Human Rights Watch's LGBT Program. Currah also co-edited, with Shannon Minter and Richard Juang, Transgender Rights, the first book on the movement for transgender rights, which won the Sylvia Rivera Award in Transgender Studies and was a finalist for a Lambda Literary Award.
Zein Murib (they/them) is an Associate Professor of Political Science at Fordham University Lincoln Center, specializing in the study of race, sexuality, and transgender politics in the US. Their scholarship has been published in Politics & Gender; Transgender Studies Quarterly; Signs; Laws; and Politics, Groups, and Identities as well as other peer-reviewed publications. Their new book Terms of Exclusion (Oxford University Press, 2023) examines how rights claims made by marginalized groups only succeed in attaining recognition and safety for those closest to the prototypical white, male citizen. You can find their analysis of current efforts to criminalize transgender people in Teen Vogue, The Washington Post, and online at @zeinmurib.bsky.social.
Erin Mayo-Adam (she/her), moderator, Director of the LGBTQ Policy Center at Roosevelt House, is an assistant professor in the Hunter College Political Science Department, and a member of the Roosevelt House Public Policy Faculty and Curriculum Committee. She is the author of Queer Alliances: How Power Shapes Political Movement Formation and has published in numerous academic outlets, including the Law & Society Review, Law & Social Inquiry, and the Oxford Encyclopedia of LGBT Politics and Policy. Her research is situated in the fields of American politics, law and society, and political theory and bridges scholarship on social movements, interest groups and public policy, intersectionality, gender and sexuality, and migration and labor politics.
This event is co-sponsored by CLAGS: The Center for LGBTQ Studies and the CUNY LGBTQ Advisory Council, and it is made possible by the generous support of the New York City Council and the CUNY LGBTQ Consortium.
This event will be held both in person at Roosevelt House and online via Zoom.
Audience
Open to Everyone
Location
47-49 East 65th St.




New York

,

NY

10065

United States

+ Google Map

Entrance on the north side of 65th Street between Park Avenue and Madison Avenue