Student Alert: Email Scam Going Around.
Students, please be on guard for an email scam offering jobs for high pay and little work. Read More.

Events /
Breaking Barriers: How P-Tech Schools Create a Pathway From High School to College to Career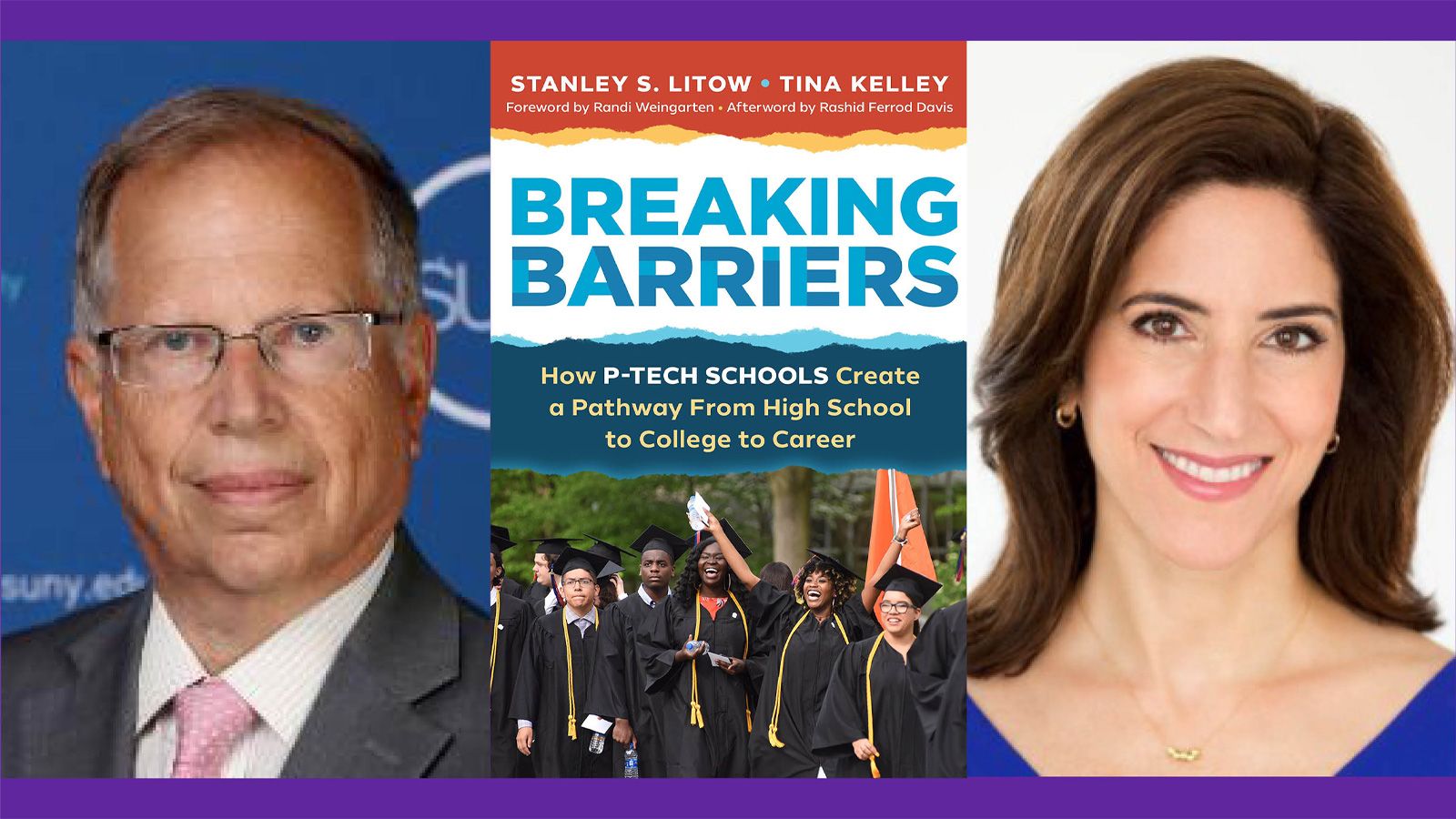 Roosevelt House is pleased to present a discussion—presented in-person and on Zoom— of Breaking Barriers: How P-Tech Schools Create a Pathway From High School to College to Career by Stanley Litow and Tina Kelley. In this urgent and important new book, the co-authors tell the story of an innovative and effective school-to-college-to-career program called P-TECH (Pathways in Technology Early College High School). Co-author and P-TECH creator Stanley Litow will be in conversation with author and financial journalist Rana Foroohar—with a special introduction from newly elected Manhattan Borough President Mark Levine.
Inspiring and compellingly written, Breaking Barriers shows the dramatic power of the P-TECH program to build greater equity among students—proving that all young people can achieve academic excellence given the right support. By combining public high schools and community colleges, in partnership with employers, P-TECH provides all students—regardless of their zip code—with equal access to opportunity. The first P-TECH, which opened in a low-income Brooklyn neighborhood, is now a nationally recognized model for school reform that has received praise from heads of nations including President Barack Obama. The tale of its impact is told through the voices of the students themselves—whose successes have shattered commonly held expectations of who among them is likely to succeed, and who isn't.
According to former United States Secretary of Education Arne Duncan, Breaking Barriers "shows that a clear pathway from school, to college, to career goes beyond an aspiration—it's achievable, and for all students. The global success of P-Tech schools is something education, government, and business leaders need to learn about and get behind."
And as Ford Foundation President Darren Walker said: "Breaking Barriers is a must-read. The P-Tech story shows that quality schools leading to not just a high school diploma but college completion and career success are critical to our future. This is the kind of opportunity and support that must be provided to all students, regardless of income or race."
Stanley S. Litow is a Roosevelt House Advisory Board member and a professor at Columbia University and Duke University, where he also serves as Innovator in Residence. The author of The Challenge for Business and Society: From Risk to Reward, Litow previously worked as President of the IBM International Foundation and as Deputy Chancellor of Schools for the City of New York. Before that, he held positions as President and Founder of Interface and as Executive Director of the NYC Urban Corps, operated out of the Mayor's Office. He is also a member of the SUNY Board of Trustees.
Rana Foroohar is Global Business Columnist and an Associate Editor at the Financial Times; global economic analyst at CNN; and the author of Makers and Takers: The Rise of Finance and the Fall of American Business; and  Don't Be Evil: How Big Tech Betrayed Its Founding Principles – And All of Us. Previously, Foroohar was an economic and foreign affairs editor at Newsweek, where she also served as a foreign correspondent, and an assistant managing editor and economic columnist at TIME, where she authored the cover story, "The Diploma that Works: Inside the 6-Year High School," about P-Tech.
Hon. Mark Levine was elected Borough President of Manhattan earlier this month and will be inaugurated in January. He has been serving as the City Council Member for District 7 in Northern Manhattan, as Chair of the Council Committee on Health, and as a member of the Progressive Caucus. In the years before he entered the City Council, Levine was Executive Director of Teach For America-New York and Executive Director of the Center for After-School Excellence at The After-School Corp. He began his career as a bilingual math and science teacher in Brooklyn.
This event will be held in person at Roosevelt House and online via Zoom.
Proof of full COVID-19 vaccination will be required for all who attend, and masks must be worn at all times in Roosevelt House.
Audience
Open to Everyone
Location
47-49 East 65th St.




New York

,

NY

10065

United States

+ Google Map

Entrance on the north side of 65th Street between Park Avenue and Madison Avenue