Events /
John A. Riggs — High Tension: FDR's Battle to Power America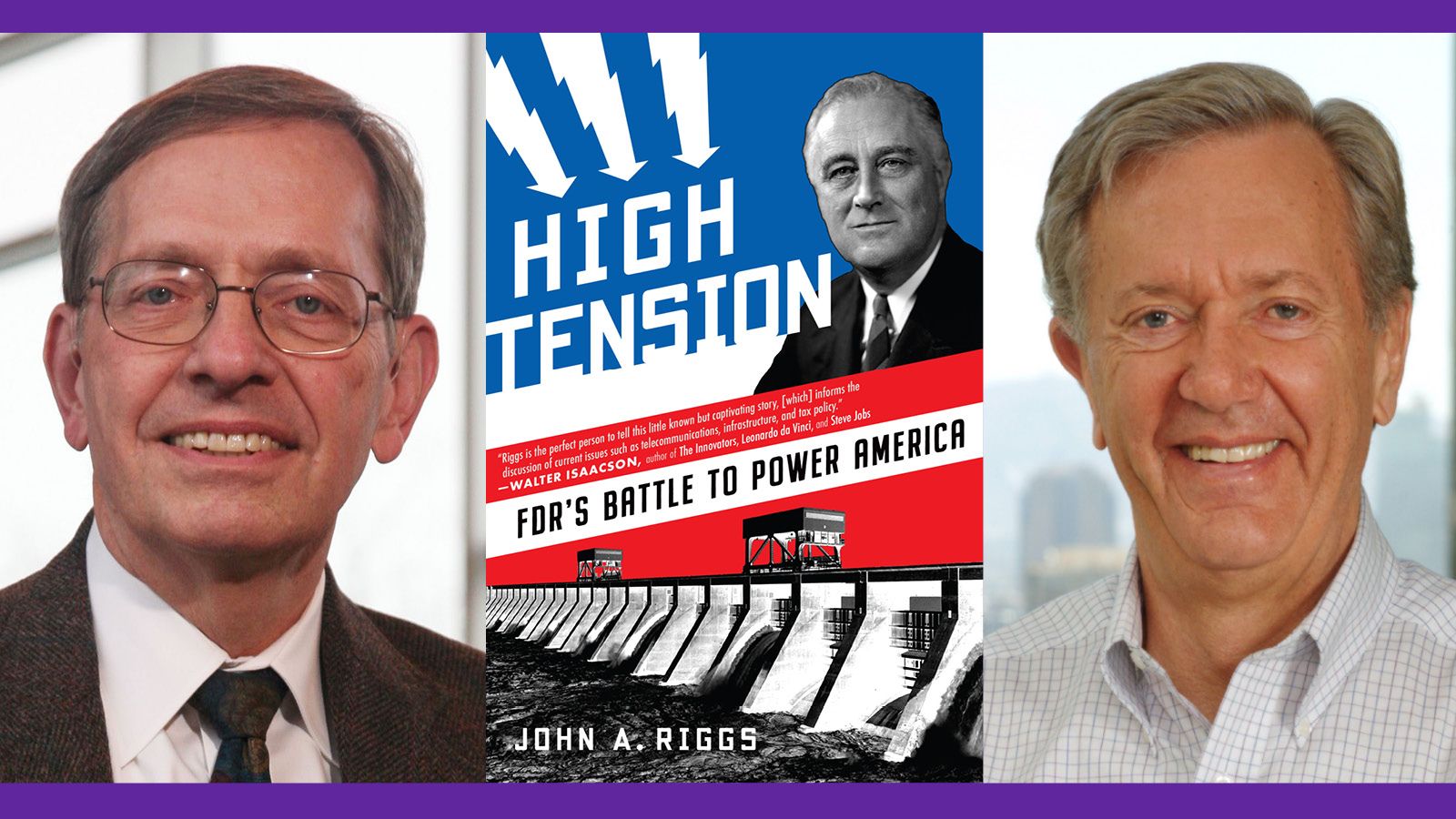 Roosevelt House is proud to present a live Zoom discussion of High Tension: FDR's Battle to Power America by John A. Riggs. In this captivating work of narrative history, Riggs tells the epic story of FDR's struggle to bring affordable power to the entire nation. The author will be in conversation with former U. S. Secretary of the Interior Bruce Babbitt.
Exhaustively researched and compellingly written, High Tension: FDR's Battle to Power America chronicles the shrewd political maneuvering, controversial legislation, resistance from powerful business figures, and consideration for rural citizens and farmers that factored into one of the New Deal's hardest-won achievements: bringing light and power to all Americans. By re-shaping the electricity system, FDR not only helped galvanize the industrial might that won WWII but established a model for public-private enterprise that remains relevant to such modern-day issues as clean energy technology, health care, transportation infrastructure, and access to broadband internet.
As recent Roosevelt House guest Jonathan Alter said: "Electricity was the internet of its day―and bringing it to the countryside affected more Americans than any other New Deal program. It was also the source of a bitter struggle between public and private power, full of 'high tension'―the double entendre title of John A. Riggs's lucid and compelling tale. This is a fresh angle of vision on one of the most important and under-appreciated stories of the first half of the 20th century."
John A. Riggs is a Senior Fellow at the Aspen Institute, where he directed its Program on Energy and Environment from 1995 to 2006. He was Principal Deputy Assistant Secretary and then Acting Assistant Secretary for Policy and International Affairs at the U.S. Department of Energy from 1993 to 1995. Previously, he served for 20 years in staff positions in the U.S. Congress, including 13 years as staff director of the House Subcommittee on Energy and Power. He has edited or co-edited several Aspen Institute books, including A Climate Policy Framework: Balancing Policy and Politics. 
Bruce Babbitt served as U. S. Secretary of the Interior in the Clinton administration from 1993 to 2001. Previously, he served as Attorney General of Arizona from 1975 to 1978 and as Governor of Arizona from 1978 to 1987. He is the author of several books, includingCities in the Wilderness: A New Vision of Land Use in America.
This event will be held online via Zoom. 
Audience
Open to Everyone