At Hunter College on Friday, Dec. 8. The East Building will be open. There are no further closures. Everyone stationed in the East Building can return to the office. This is the final message on this topic. Thank you for your cooperation.

Events /
Senator Sheldon Whitehouse - The Scheme: How the Right Wing Used Dark Money to Capture the Supreme Court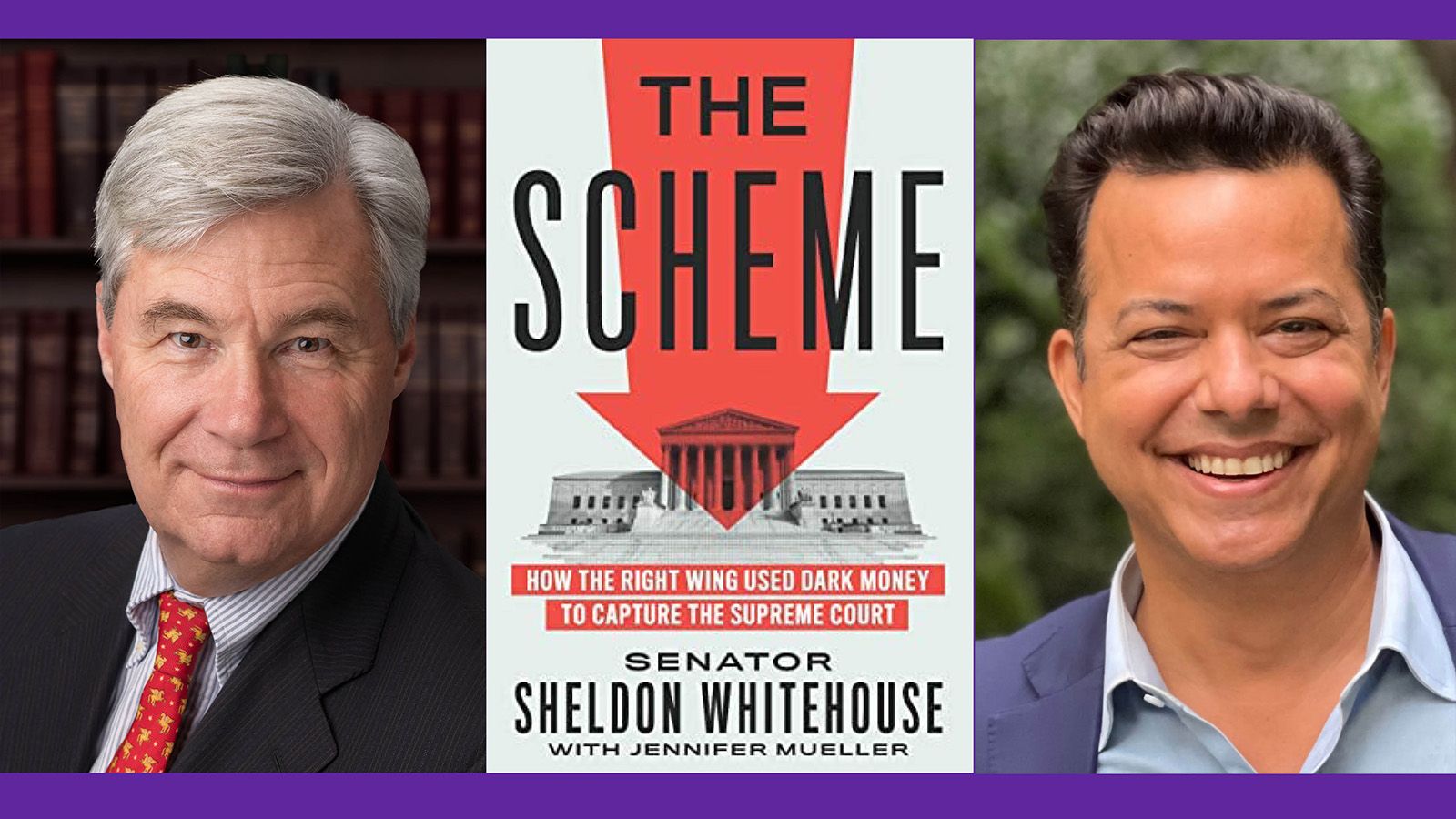 Roosevelt House invites you to The Inaugural Stepanski Family Lecture A New Series Featuring Distinguished Advocates for Democracy presented in person and on Zoom.
Senator Sheldon Whitehouse (D-RI) on his new book The Scheme: How the Right Wing Used Dark Money to Capture the Supreme Court in conversation with John Avlon.
The world got a glimpse of the story U.S. Senator Sheldon Whitehouse tells in his urgent and unsettling new book, The Scheme, when the Senator's presentation at the Amy Coney Barrett hearings went viral. Now, Whitehouse endeavors to pull back the curtain on what he sees as a powerful and hidden apparatus designed to degrade American democracy and control the courts. In the inaugural Stepanski Family Lecture at Roosevelt House—a series that will feature "Distinguished Advocates for Democracy"—the Rhode Island lawmaker will be in conversation with CNN senior analyst and best-selling author John Avlon. 
Based on his years of experience as a prosecutor and legislator, Whitehouse turns a spotlight on what he calls an extremist scheme to capture the federal courts: the Trump administration's appointment of some 230 judges, including the last three justices of the Supreme Court.
Full of unique insights and inside stories, The Scheme traces the motive to control the judicial branch back to a 1971 memo from soon-to-be Associate Justice Lewis Powell to the U.S. Chamber of Commerce—in which Powell is widely considered to have provided a blueprint for corporate influence over the judiciary. From there, Whitehouse chronicles what he identifies as a hidden-money campaign carried out through a number of groups and helped by the controversial Citizens United Supreme Court decision. Whitehouse finds a small group of wealthy individuals and corporations responsible for repeatedly running operations that he likens to "covert ops," intended to entice the Senate to break rules, norms, and precedents in order to confirm nominees who share their anti-government agenda.
Congressman Ro Khanna calls The Scheme "An absolute must-read."
Hon. Sheldon Whitehouse has represented Rhode Island in the U.S. Senate since 2007. He previously served as a United States Attorney and as his state's Attorney General, as well as its top business regulator. In addition to The Scheme, which he wrote with Jennifer Mueller, he is the author, with Melanie Wachtell Stinnett, of Captured: The Corporate Infiltration of American Democracy. He serves on the Senate Judiciary Committee and Budget Committee.
John Avlon is a senior political analyst and anchor at CNN. A respected historian, his books include the 2021 Lincoln and the Fight for Peace; Washington's Farewell: The Founding Father's Warning to Future Generations; Independent Nation: How the Vital Center is Changing American Politics and Wingnuts: Extremism in the Age of Obama. This is his third appearance at Roosevelt House.
Anthony Stepanski, former entrepreneur, then CEO of a global computer technology company, is a generous Hunter benefactor and member of the Roosevelt House Board of Advisors. He was also a board member and vice chairman of his alma mater, Clark University. Stepanski created and endowed this lecture series in memory of his late wife Jane.
This event will be held both in person at Roosevelt House and online via Zoom.
Audience
Open to Everyone
Location
47-49 East 65th St.




New York

,

NY

10065

United States

+ Google Map

Entrance on the north side of 65th Street between Park Avenue and Madison Avenue