Events /
Stars and Shadows: The Politics of Interracial Friendship from Jefferson to Obama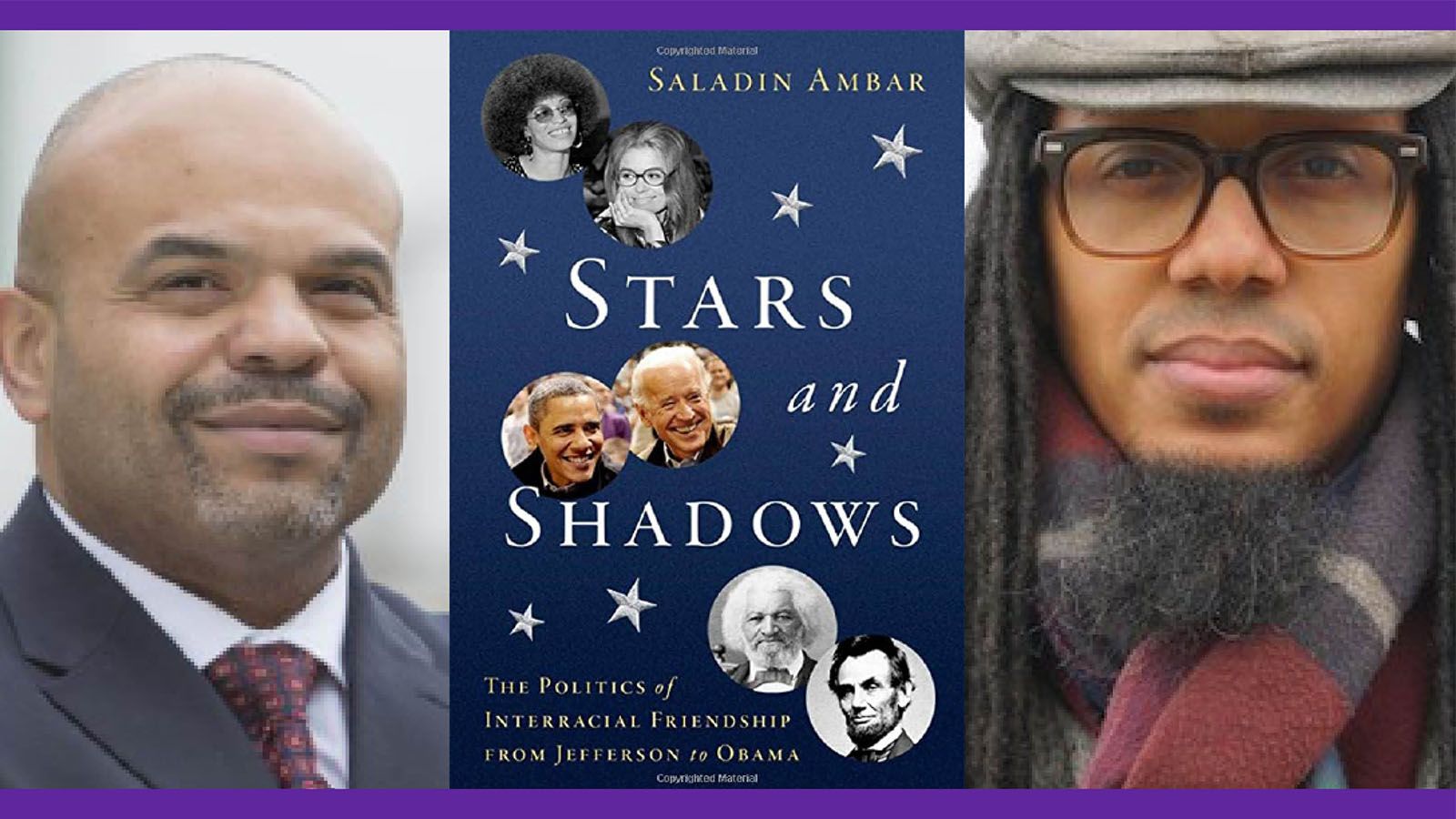 To mark Black history month, Roosevelt House is pleased to present a discussion of the new book Stars and Shadows: The Politics of Interracial Friendship from Jefferson to Obama by Rutgers University professor of political science Saladin Ambar. The first historical analysis of its kind, Stars and Shadows delivers a sweeping and comprehensive exploration of the significance of interracial friendships to American democracy, from the founding to the present. The author will be in conversation with Hunter College professor of history D'Weston Haywood.
Stars and Shadows—which takes its name from Huckleberry Finn—provides a unique and rigorous assessment of two centuries of noteworthy interracial friendships that each serve as a window into the state, at the time, of American race relations—and, as Ambar shows, as models for advancing racial equality. Covering 10 cases—ranging from Benjamin Banneker and Thomas Jefferson to James Baldwin and Marlon Brando; from Angela Davis and Gloria Steinem to Eleanor Roosevelt and Mary McLeod Bethune; from Dr. Martin Luther King Jr. and Rabbi Abraham Joshua Heschel to Barack Obama and Joe Biden—Ambar's study illuminates the critical role of friendship in shaping possibilities for multiracial democracy.
Weaving together the stories of these consequential and barrier-breaking friendships, Ambar arrives at a theory of inclusive democracy that encourages readers to engage one another, and to engage the past, with renewed courage and trust.
According to author and former Roosevelt House board of advisors member Ira Katznelson: "This beautifully-written historical meditation on the powers of friendship is an extended reflection about meaningful connections that span America's racial borderlands. Stars and Shadows―a book I could not put down―probes often surprisingly resonant relations, taking in the personal and the political in a democratic zone marked by affection and regard. In troubling times, it is moving and encouraging to gain access to such sources of hope for the fraught American experience."
Saladin Ambar is Professor of Political Science and Senior Scholar at the Center on the American Governor at the Eagleton Institute of Politics at Rutgers University, where he teaches courses in American politics. His previous books include: American Cicero: Mario Cuomo and the Defense of American Liberalism; Reconsidering American Political Thought: A New Identity; and Malcolm X at Oxford Union: Racial Politics in a Global Era, which was nominated for a Hurston/Wright Legacy Award, and is currently in development for a feature film by Number 9 Films in the UK. A contributing analyst to the CNN series Race to the White House, he is the host of the podcast "This Moment in Democracy."
D'Weston Haywood is Professor of History at Hunter College, where he teaches courses in 20th century American history, including Black protest, Black power, and intersections of Black culture and politics. The author of Let Us Make Men: The Twentieth-Century Black Press and a Manly Vision for Racial Advancement, Haywood's work also includes an innovative scholarly and pedagogical praxis he calls "Sonic Scholarship," which seeks to generate new ways of analyzing history, including the use of hip hop as a scholarly framework and methodology with which to bridge academic and popular discourses.
This event will be held in person at Roosevelt House and online via Zoom.
Audience
Open to Everyone
Location
47-49 East 65th St.




New York

,

NY

10065

United States

+ Google Map

Entrance on the north side of 65th Street between Park Avenue and Madison Avenue