Student Alert: Email Scam Going Around.
Students, please be on guard for an email scam offering jobs for high pay and little work. Read More.

Events /
The Monkeypox Outbreak and LGBTQ Public Health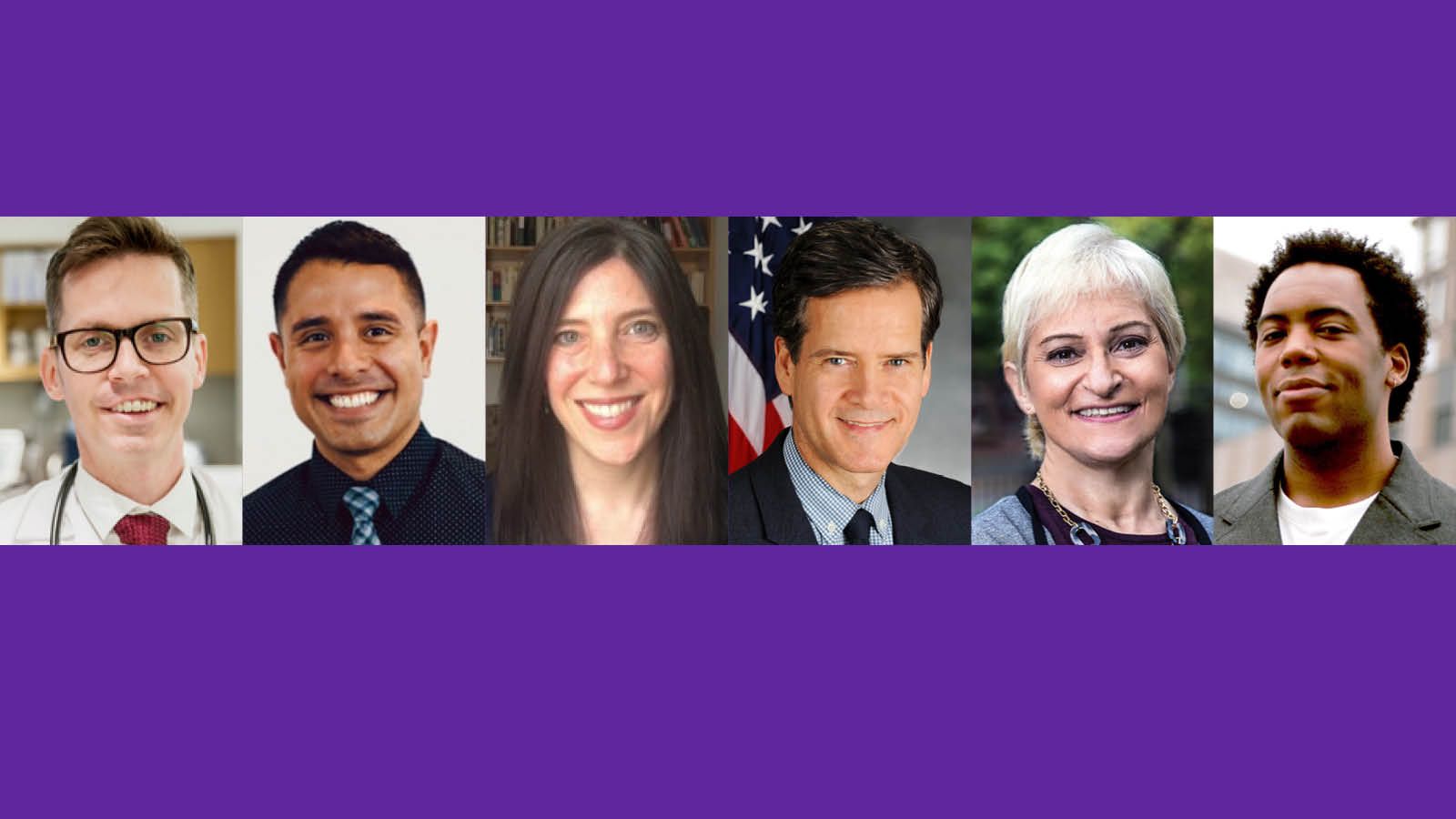 Across the country, infectious diseases are spreading at alarming rates and minority communities continue to be disproportionately affected. The LGBTQ Policy Center at Roosevelt House is pleased to present an event examining the impact of the Monkeypox outbreak on New York's LGBTQ community.
Convening politicians, policymakers, medical doctors, and public health advocates, this urgent discussion will consider the public policy oversights and failures that have contributed to the current outbreak and examine what can be done to thwart the spread of the Monkeypox virus, and better prepare for future infectious disease outbreaks.
Panelists:
Dr. Erick A. Eiting (He/Him), MD, is Program Director for the LGBTQ Medicine Fellowship at the Icahn School of Medicine at Mount Sinai and Medical Director for Quality for the Center for Transgender Medicine and Surgery at the Mount Sinai Health System. He has a long track record of LGBTQ advocacy, having served as co-president of the Gay Straight Alliance at SUNY Downstate College of Medicine and vice chair of the American Medical Association Advisory Council on LGBT Issues. He has presented nationally and internationally on streamlining sexually transmitted infection testing, improving patient experience for LGBTQ patients, and educating paramedics on transgender care. Dr. Eiting was awarding the inaugural Excellence in LGBT Health Award from the AMA Foundation and has been recognized on the City and State New York Pride Power 100 list and Crains New York Notable LGBTQ Leaders and Executives. He has done extensive work to improve access to Monkeypox testing, vaccines, and treatment.
Anthony Fortenberry (He/Him), RN, is the Chief Nursing Officer at Callen-Lorde Community Health Center, which provides health care and related services to over 15,000 lesbian, gay, bisexual, and transgender New Yorkers. Fortenberry has created a robust health education program at Callen-Lorde that includes monthly workshops led by registered nurses on topics including living with HIV, women's health, transgender safe hormone self-injection, and job readiness. He has also increased capacity for providing trainings to external health organizations on LGBTQ sensitivity and best healthcare practices. Prior to joining the team at Callen-Lorde Community Health Center, Anthony worked as a registered nurse in the emergency department at St. Vincent's Hospital, and as a consultant for New York City's Health and Hospitals Corporation.
Dr. Sarit Golub (She/Her, Moderator) is Professor of Psychology at Hunter College and the CUNY Graduate Center, where she is on the faculty of the Basic and Applied Social Psychology PhD Program and the Clinical Psychology at Queens College PhD program. Dr. Golub also directs the Hunter Alliance for Research & Translation (HART), whose mission is to translate research findings into practical implications for service and advocacy organizations, accelerating the pace of equitable, just, empirically-based practice. Her research applies social cognitive theories such as stereotype threat, anticipated stigma, cognitive disengagement, and self-discrepancy to the study of health behavior, with a focus on sexual risk-taking and adherence. Dr. Golub was a recipient of the "40 under 40" award from the Feminist Press, which honored activists and scholars who embody feminist values in their work.
State Senator Brad Hoylman (He/Him), the chair of the Senate Judiciary Committee, represents New York's 27th State Senate District, which covers the heart of Manhattan, including Greenwich Village, Chelsea, Hell's Kitchen and the Upper West Side. He has passed dozens of bills protecting LGBTQ+ rights, including banning "gay conversion therapy"; GENDA, which extended human rights protections to transgender New Yorkers; the repeal of the "Walking While Trans" ban; and legalizing gestational surrogacy to assist LGBTQ families and those struggling with fertility. A former Rhodes Scholar, he has made several appearances at Roosevelt House public programs.
Council Member Lynn Schulman (She/Her) is the chair of the Committee on Health on the New York City Council and a member of the council's LGBTQ Caucus. Council Member Schulman represents District 29, which encompasses Rego Park, Forest Hills, Kew Gardens, and Richmond Hill in Queens. Schulman grew up in Forest Hills and is a long-time community and LGBTQ activist. With decades of leadership in health care advocacy and progressive causes, Lynn was elected to the City Council because she has a vision for how to bring about the change. An attorney by training, Lynn has devoted her career to public service and held a broad range of executive positions in government, private industry, and the non-profit arena.
Dr. Julian L. Watkins (He/Him), MD, is an Internal Medicine trained physician and public servant at the New York City Department of Health and Mental Hygiene. He is a Health Equity Advisor at the Center for Health Equity and Community Wellness, engaging communities and supporting citywide health equity efforts. Dr. Watkins also leads the Immunization Justice Workgroup—tasked with empowering city workers with information on the ongoing pandemic, COVID-19 vaccines and treatments. He is a Culture of Health Leader, part of a national leadership program supported by the Robert Wood Johnson Foundation.
This event is co-sponsored by the CUNY LGBTQ Advisory Council and it is made possible by the generous support of the New York City Council and the CUNY LGBTQ Consortium.
This event will be held in person at Roosevelt House and online via Zoom.
Proof of full COVID-19 vaccination will be required for all who attend, and masks must be worn at all times in Roosevelt House.
Audience
Open to Everyone
Location
47-49 East 65th St.




New York

,

NY

10065

United States

+ Google Map

Entrance on the north side of 65th Street between Park Avenue and Madison Avenue