Events /
Thomas Dyja — New York, New York, New York: Four Decades of Success, Excess, and Transformation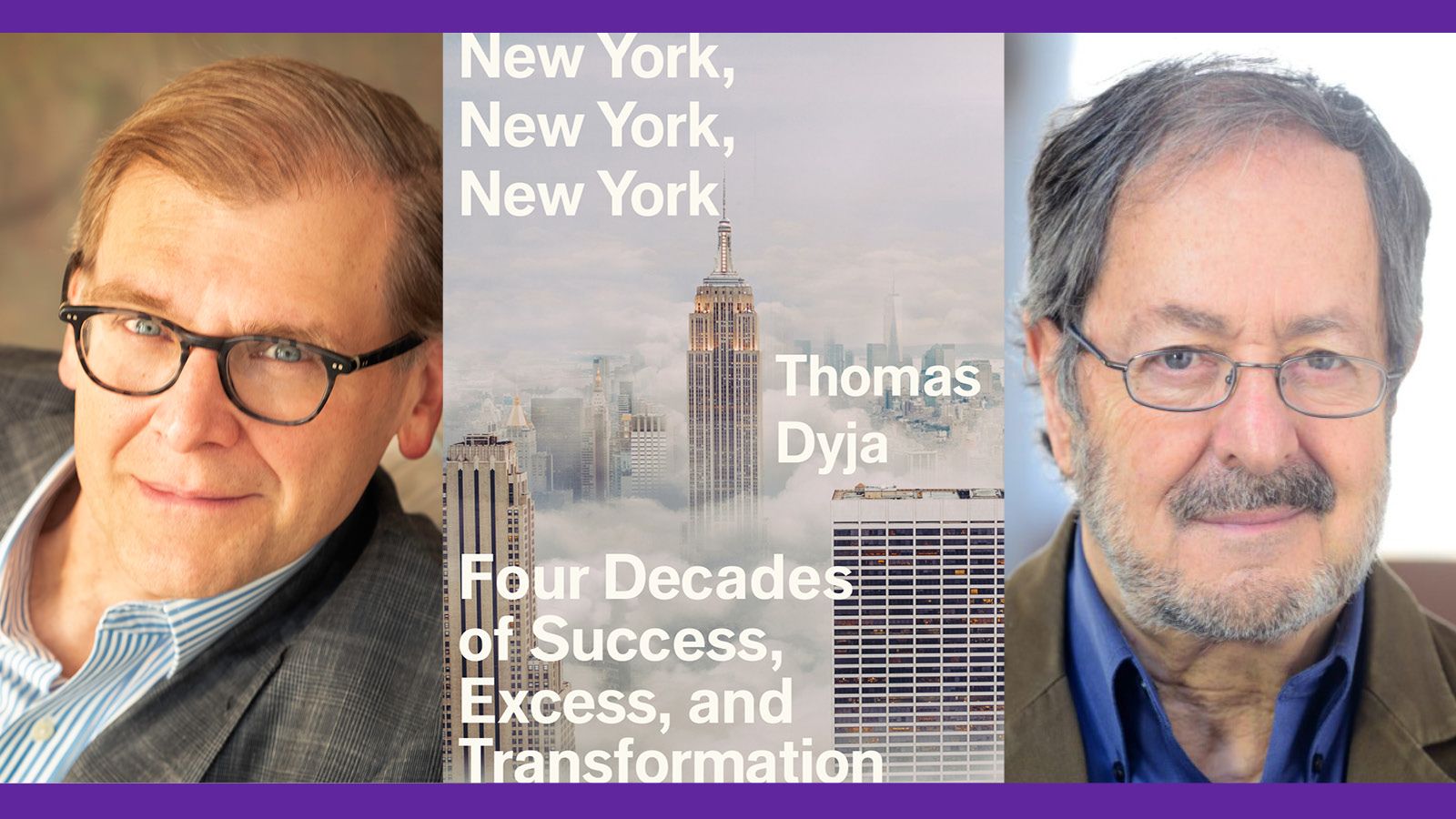 Roosevelt House is pleased to present a live Zoom discussion of New York, New York, New York: Four Decades of Success, Excess, and Transformation by acclaimed author Thomas Dyja. In this monumental urban history, Dyja delivers a sweeping and immersive account of the policymaking, personalities, economics, and politics that have shaped the evolution of America's largest city. The author will be in conversation with Thomas Hunter Professor of Public Policy at Hunter College Joseph P. Viteritti.
Exhaustively researched and passionately told, New York, New York, New York charts with novelistic verve and scope the complexities of New York's transformation—from the decrepitude of the 70s to the painful turmoil of the AIDS crisis; and from the dotcom excesses of the 90s to the shock of 9/11 and the challenges facing New York today.
Along the way readers meet a robust cast of New York characters—from the famous to the infamous, the rich to the poor, from the rappers and bankers to the hipsters, immigrants, and community organizers. Vivid and vast, Dyja's new contribution on the world's most global city is an essential read, and immensely rewarding journey, for anyone seeking to comprehend the metamorphosis—for better and for worse—of the Big Apple, as well as what may be next in the aftermath of the COVID-19 pandemic.
An instantly essential addition to the pantheon of New York histories, bestselling author Kurt Andersen says New York, New York, New York now takes its place "alongside E.B. White's Here Is New York, Jane Jacobs' The Death and Life of Great American Cities, Robert Caro's The Power Broker, and Luc Sante's Low Life."
And according to bestselling author Simon Winchester, Dyja has written of New York's last four decades "in the very way that the city likes to think of itself—as propulsive, alluring, energetic, infuriating, scrappy, lyrical, nostalgic, omniscient, staggering, memorable, magical. The result is a history like no other for a city like no other."
Thomas Dyja worked in publishing for more than a decade before becoming a writer. Along with editing four anthologies, he is the author of three novels, including Play for a Kingdom, as well as Walter White: The Dilemma of Black Identity in America, and New York Times Notable book The Third Coast: When Chicago Built the American Dream.
Joseph P. Viteritti is the Thomas Hunter Professor of Public Policy, Chair of the Urban Policy and Planning Department at Hunter College, and Founding Faculty Chair of the Public Policy Program at Roosevelt House. His most recent books on New York include The Pragmatist: Bill de Blasio's Quest to Save the Soul of New York and Summer in the City: John Lindsay, New York, and the American Dream.
This Event Will Be Held Online via Zoom
Audience
Open to Everyone