Student Alert: Email Scam Going Around.
Students, please be on guard for an email scam offering jobs for high pay and little work. Read More.

We Are Here: An LGBTQ+ Short Film Showcase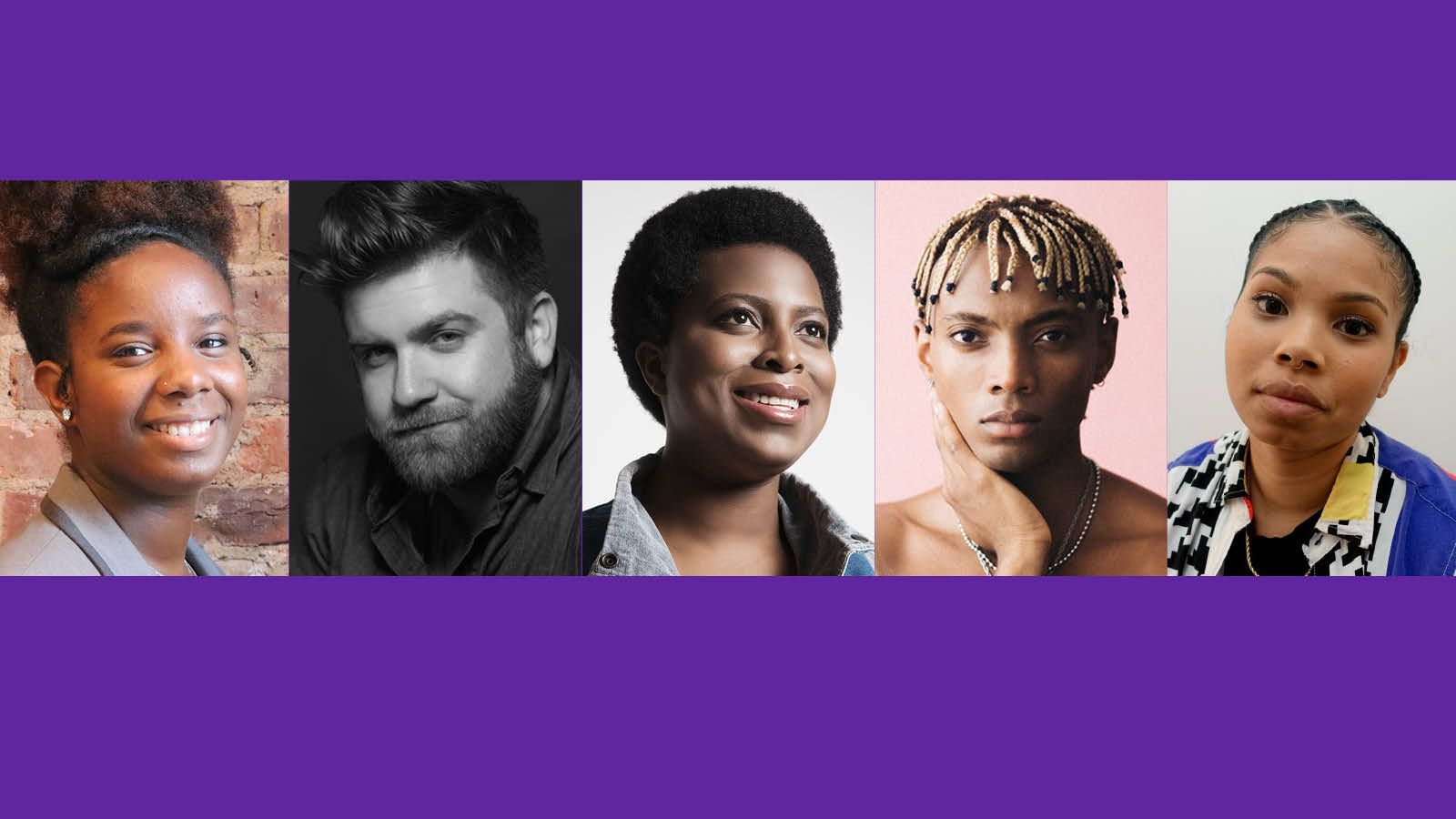 As part of its Pride Month programming, the LGBTQ Policy Center at Roosevelt House is pleased to present a showcase of new short films made by local, award-winning LGBTQ filmmakers. The screening will be followed by a question and answer session featuring the directors of each film.
Included in the showcase are the following short films:
Pink and Blue, directed by Carmen LoBue, tells the heartwarming story of the joys and sorrows of first-time parenting for a trans couple of color.
How to Raise a Black Boy, directed by Justice Jamal Jones, is an experimental fairytale dedicated to the modern black boy in which four children disappear one night, and find themselves on a fantastical journey to break the curses of black boyhood.
Ice Cold, directed by Sekiya Dorsett, also the moderator of the post-screening Q&A, is about a blushing bride having the best and worst day of her life.
F**k Em Right Back (FERB), directed by Harris Doran, is about a queer Black aspiring Baltimore rapper who must outwit his vengeful day-job boss to avoid getting fired after accidentally eating an edible.
Hold Onto Me, directed by Te Shima Brennan, follows Mother LaTravious as she tries to hold her nonprofit organization together and struggles with health issues.
Panelists:
Te Shima Brennen (They/Them), director of Hold Onto Me, is a visual storyteller and journalist based in Brooklyn. As an emerging documentary filmmaker, they aim to tell nuanced stories about Black, queer, and trans people as they navigate institutions and systems not built to support them. Currently, Te Shima is co-directing a documentary that follows an ailing Black trans matriarch who is struggling to inculcate the values of education and survival in her community before she runs out of time. They are also producing a documentary that follows a revolutionary artist from Yonkers who is leading the charge to create a healthier future for generations of Black community members affected by redlining. Te Shima was the 2022-23 recipient of a Magic Grant from the Brown Institute for Media Innovation for their pilot project, "TRANSforming Journalism." They were also a 2022 Reuters Institute Fellow at the University of Oxford, where they researched how journalists can build trust in trans communities as a gateway to telling nuanced stories about them. Te Shima completed their Masters of Science in Journalism with a documentary specialization at Columbia University's School of Journalism, and is currently a reporting fellow at the Pulitzer Center. Their work has been featured at numerous festivals, domestically and abroad, including NewFest, the Pan African Film Festival, BFI Flare: London LGBTQIA+ Film Festival, Roze Filmdagen, and the Inside Out Film Festival.
Harris Doran (He/Him) is the director and writer of F**k Em Right Back (FERB), which premiered at the Sundance Film Festival in 2022 and received a nomination for the Grand Jury Prize. The film won many awards including "Best Comedy" at Aspen Shortsfest, qualifying the film for Oscar consideration. Doran also produced D. Smith's feature documentary Kokomo City, executive produced by Lena Waithe, which premiered in the 2023 Sundance Film Festival, where it won both the NEXT Innovator Award and the Audience Award. Kokomo City had its international premiere at the Berlin International Film Festival, where it won the Panorama Audience Award. The film was bought by Magnolia Pictures to be released in theaters Summer 2023. Harris was shortlisted for the Film Independent Spirit Awards' "Someone to Watch Award" for his feature film Beauty Mark, which earned the "Breakout Performance" Jury Prize for lead actress at its LA Film Festival premiere, the "Best Ultra lndie" film award at the Woodstock Film Festival, and the "Audience Award" for Best Feature Film at the Austin Film Festival.
Sekiya Dorsett (She/Her, MFA '18), director of Ice Cold, is a GLAAD award-winning filmmaker who centers a multidimensional Black experience in her work. Bringing into sharper focus the lives of Black women, queer folks, the working class, and their intersections, Dorsett's body of work is notable for its intimate storytelling. Her first feature, 2017's The Revival: Women and the Word, was screened across the country on tour with Black lesbian poets and is distributed by Women Make Movies. In 2019, she directed a four-episode documentary series, Stonewall 50: The Revolution, for NBC News and NBCOut. The series' deep dive into the historic uprising won a GLAAD Media Award and the award for Excellence in Digital Journalism from NLGJA: The Association of LGBTQ Journalists. Recently, she was one of the cinematographers who brought In Our Mother's Gardens (Netflix), a work of intergenerational Black woman confessional storytelling, to critical and audience acclaim. Her films have screened at Tribeca Film Festival, Urbanworld Film Festival, the Brooklyn Museum, Frameline Film Fest, and Outfest Film Festival, and have been written about in publications including HuffPost, MIC, BuzzFeed, and Essence. She holds a Master of Fine Arts from Hunter College. Her next project, I LOVE BED-STUY, is a docu-fiction feature-length love story and love letter to the iconic Brooklyn neighborhood.
Justice Jamal Jones (She/He/They), director of How to Raise a Black Boy, is a filmmaker, actor, and writer based in New York City. As a Black Queer Alchemist, they integrate Black feminist queer theory and Black diasporic spirituality, such as Vodou (Voodoo), into their work. Their debut film, How to Raise a Black Boy, is a reimagining of Jones's childhood, linking their boyhood to their identity as a non-binary artist. The film was screened internationally at more than 30 film festivals, earning 10 awards. Justice was also a 2021 Sundance Ignite Fellow, and in 2022 they were commissioned to direct for MTV and Calvin Klein. Jones was also a guest on Good Morning America's Hulu special A Conversation Between Black Men, in which Jones advocated for Black trans and non-binary individuals. A contributor to the new film anthology A Pill for Promiscuity, which explores queer sex in the age of pharmaceuticals, Jones' next film Crossroads Blues is in pre-production.
Carmen LoBue (They/Them) is the director of Pink and Blue, which was written by writer-actor Kaydx (Inventing Anna) and produced by Silas Howard (Transparent, Pose). LoBue is an agender Afro-Pilipinx creator with a passion for social activism that is expressed through their work as a filmmaker. LoBue was included in Paper Magazine's "Paper Predictions: 100 people taking over 2019" and named 2018 New Legacy Maker Honoree by the Disruptor Foundation. They directed the dramedy web series Cheer Up Charlie, earning them a nomination for Best Director at TOWEBFEST in 2019. They were also chosen as a semi-finalist for the 2018 Sundance New Voices lab for their queer dramedy series Koi. Their full-length play, Will You…Hold My Hair Back? was featured in Pride Plays 2020 at The Rattlestick Theatre (off Broadway). They recently directed an episode of Hulu's Initiative 29: Your Attention Pleaseentitled Tao Leigh Goff. They are currently directing Miss Peppermint in the musical Head Over Heels, making Miss Peppermint the first openly transgender woman to originate a principle role on Broadway. As an actor, LoBue is currently starring in Season 3 of Showtime's The L Word Generation Q.
This event is co-sponsored by the CUNY LGBTQ Advisory Council and it is made possible by the generous support of the New York City Council and the CUNY LGBTQ Consortium.
Audience
Open to Everyone