Search Knowledge Base by Keyword
Configure Events
---
Events options 
---
What You Can Configure
What you can configure in Event Options
Remember to Publish any changes you make here to have them go into effect.
---
Where in WordPress

You can find Events Options under the Events menu in the left navigation of the WordPress CMS.
---
Configuring the Events Right Column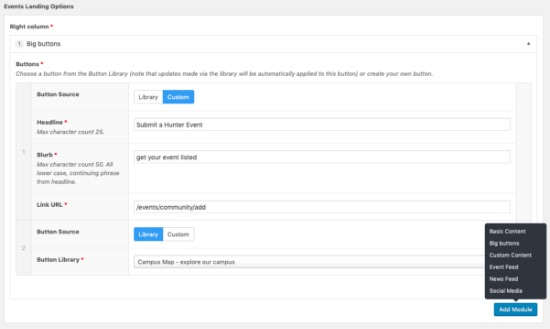 To configure the right columns of the various Events pages, find the section related to the desired page (Events Landing, Single Event, Submit Event) and the element that needs to be updated. Make changes by editing, adding or deleting the modules. Don't forget to Publish to have the changes go into effect.
All Events pages have the same right column modules available:
Basic Content - for copy
Big Buttons - for important calls to action
Custom Content - if you need to put an image in the right rail, use this module so that it will size properly on mobile
Event Feed - choose your feed and whether to display 1-3 pieces of content
News Feed - choose your feed and whether to display 1-3 pieces of content
Social Media - display icon and links to desired social media sites
---