Search Knowledge Base by Keyword
Configure People
---
People options
---
What You Can Configure
What you can configure in People Options
What will display in the right column of individual people profiles located in the /people area of Hunter's website (see Jennifer Raab's profile for an example).
Remember any changes you make here must also be Published to take effect.
---
Where in WordPress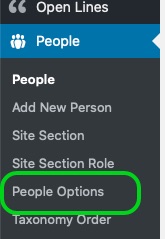 You can find People Options under the People menu in the left navigation of the WordPress CMS.
---
Configuring the People Right Column in /people

To configure the Right Column of People profiles located in /people, find the element that needs updating and make changes by editing, adding or deleting modules.
All have the same right column modules available:
Basic Content
Big Buttons
Custom Content
Events Feed
News Feed
Social Media
---