Search Knowledge Base by Keyword
Pages Overview
---
This page includes:
---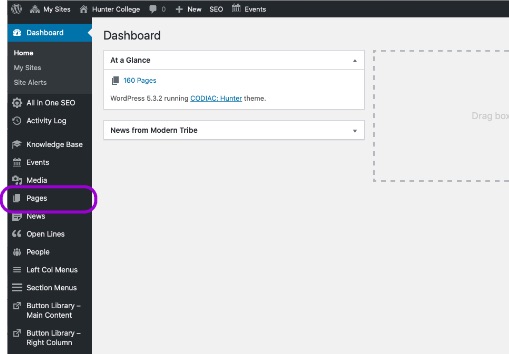 What Are Pages
There are several types of content in Hunter's WordPress CMS, including Pages, Events, News and People. Pages is for general pages like the homepage, department pages and more. Pages hold all of the content not held by a specific content type (e.g. Events, News, People, etc.).
A Page is composed of a template which contains one or more modules. Pages pull in Events, News, or People through Feed modules.
For more information about the different content types, see the WordPress Overview.
---
Page Templates
Page templates are the general framework that the content will sit in. There are 3 main types of templates that may be used on the Hunter website, depending on the type of page needed.
To learn more, see Page Templates.
---
Editing a Page
Page templates and modules may be updated at any time.
Visit Edit a Page to learn how to make simple updates.
For larger changes, learn how to update the page with Revisionize.
---
Creating a New Page
Creating a new page requires many steps. Learn how to create a new page.
---