Search Knowledge Base by Keyword
SEO Guide
---
This page includes:
---
What is SEO
SEO (Search Engine Optimization) is the practice of increasing both the quality and quantity of website traffic to your site through search. Optimizing Hunter's web pages for search will not only improve their rankings in search engines like Google, it will create better search results on the Hunter website too.
The Hunter College website was designed to be SEO friendly. That means that its pages were constructed in a way that helps search engine crawlers find and rank them favorably on search engine results pages and on the Hunter website automatically.
However, there are certain tasks, like writing effective meta titles and meta descriptions, that editors and contributors control that can boost their pages' search ranking and click through rates and improve traffic and usability. Here's how to optimize meta titles and meta descriptions in the WordPress CMS.
---
Meta Titles
Meta titles are displayed on search engine results pages as the clickable headline for a given result, and are a major factor in search engine ranking. They are the first impression of your page, and should be an accurate and concise description of its content.
Because meta titles also display in social networks and at the top of web browsers, they help with usability and social sharing as well as SEO.
How to Write Good Meta Titles
• Keep them short — within 60 characters. Otherwise, search engines may cut them off by adding an ellipsis, which could end up omitting important words.
• Make them unique — unique titles help search engines understand that your content is unique and valuable and drives higher click through rates.
• Put important keywords first — this help users and search engines easily identify what your article is about.
Keep in mind that search engines may sometimes display a title that doesn't match yours. This can happens for a number of reasons and can be frustrating, but there's no easy to to force them to use the title you've defined.
---
Meta Descriptions
The meta description provides a brief summary of a web page. While not tied to search engine rankings, they are extremely important in gaining user click through. Creating readable and compelling descriptions can improve traffic.
How to Write Good Meta Descriptions
Take advantage of the character count – you have up to 160 characters to advertise your content. Make sure it's sufficiently descriptive. Your primary goal is to provide value and drive clicks.
Use relevant keywords — use keywords that help users determine if the page contains the information they are looking for.
Write for your audience — your goal is to attract clicks from well targeted visitors who are likely to find your content valuable, so create content with a specific audience in mind, whether it's current students, prospective students, alumni, faculty or staff.  Here are some examples of strong meta titles and descriptions:

Hunter College: A Great Public College in New York City

Discover a top-rated and affordable public college in NYC offering progressive undergraduate, graduate and professional programs.

All in East Harlem

New partnerships between Hunter College and the East Harlem Community have resulted in collaborative initiatives that help address the neighborhood's needs.

Welcome to the Jewish Studies Center

With diverse interdisciplinary programs and events exploring the Jewish experience, the Center unites Hunter with the broader New York City community.

Hunter Celebrates This Year's Student Fulbright Winners

This year, the U.S. Student Fulbright Program has selected seven members of the Hunter classes of 2018 and 2019, awarding four with full funding.

Hunter Alumna Vanessa Ruta Takes Home MacArthur Grant

Vanessa Ruta, who graduated from Hunter College summa cum laude, was recognized by the MacArthur Foundation for her innovative work in neuroscience.
---
SEO in WordPress
You'll find the SEO options in the "All in One SEO Pack" module on all Pages, News and People in the WordPress CMS.
Meta Titles are automatically created from the page's title. It's recommended that you copy and paste the title into the Meta Title box and confirm it's less than 60 characters. Then shorten if necessary.
For the Meta Description, it's recommend that you copy the blurb (or first 150 characters of the article) into the Description box. Then edit if necessary.
In both, the character count will automatically display below your copy, and be colored red if you've gone over the recommended limit.
In the Preview Snippet box, you'll see what your copy might look like on search engine results pages.  Note that a suffix of "| Hunter College" is automatically added to your Meta Title.  This helps brand the content and give it authority. It is not counted in the 60 character count limit.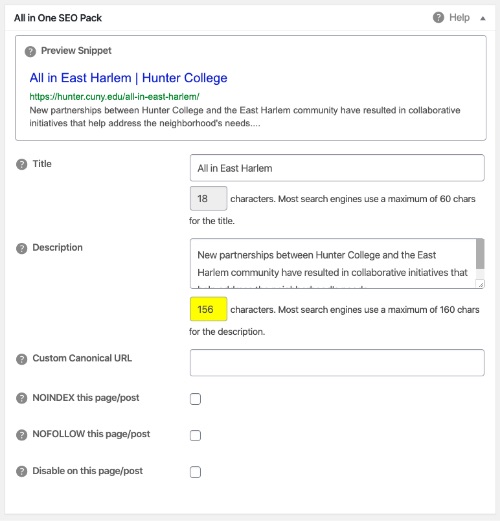 ---