As of Monday May 16, 2022, all faculty, students, and staff must reset their Hunter NetID password. To reset your password, use one of the following options. To contact the ICIT helpdesk: visit Hunter North, Room 303 / call 212-772-4357
From a Windows PC on Campus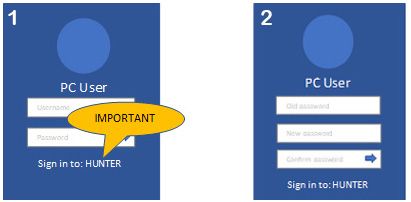 Log in to your Windows PC that is on campus and attached to the HUNTER AD domain. (See PC User illustration 1); text adjacent to the username/password entry area should state 'Sign in to: HUNTER'.
Following login you will be immediately prompted to change your password. Click OK.
You will be presented with three entry fields: your old password; your new password; the new password again to confirm. (See PC User illustration 2) When all are correctly keyed in, press the Enter key or click the right-pointing arrow. Your NetID password will be updated for email, wifi, and other systems.

Your new password must be at least 14 characters in length, use capitals and lower-case letters, numbers, and non-alphanumeric characters
Log out to prevent misuse of your account.
Students can do this at a Computer Lab on campus. (note: there is no need to reset your CUNYfirst or myHunter email)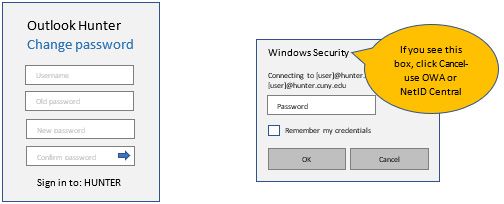 Using Outlook Web Access (OWA) for Hunter email
Use a web browser and go to https://mail.hunter.cuny.edu and use the sign in page to enter your Hunter NetID credentials.
On success you will be presented with a password-change prompt. (see Outlook change password illustration above). Key in your Hunter NetID as the Username and follow the instructions for step 3 for Windows PCs above.
Do not use the Desktop app to change password
The PC desktop app for Outlook will not allow you to change your NetID password. When the app is launched you will see a light grey Windows Security prompt (see Windows Security illustration above), do not use it. Click 'Cancel' and use OWA (see above) or NetID Central (see below).
Use NetID Central to get a password reset code
If you do not have access to a Windows PC on the HUNTER domain, use NetID Central. Acquire a reset code sent to your SMS-capapble phone or alternate email using the 'Forgot password' link in NetID Central.
If you didn't set any alternate contact info in NetID Central, your options are:
Set alternate email and SMS-capable mobile phone number using CUNYfirst. It will synchronize to NetID Central the next day, and you can then perform option (B).
Contact our helpdesk: The necessary information can be manually entered by a Helpdesk agent and a NetID reset code will be generated and sent via SMS and alternate email.
A Helpdesk agent will ask for the following information.
Name
NetID
EmplID
Alternate email (non-Hunter)
SMS-capable mobile phone number
Troubleshooting Tips
Log out of or exit from any open email clients that access Hunter accounts, as these might cause an issue with your login after you reset your password.
If the wrong password is tried in several times in a row, the Hunter NetID will be locked out for a few minutes. If that happens, please be patient, wait five minutes and try again. Make sure the caps lock key is OFF and type the password carefully.

Password must be at least 14 characters in length, use capitals and lower-case letters, numbers, and non-alphanumeric characters. The password cannot contain your NetID or name, nor can it match previous passwords.

To contact the ICIT helpdesk: visit Hunter North, Room 303 / call 212-772-4357