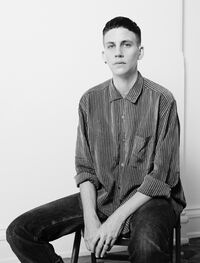 Hunter College Associate Professor of Art A.K. Burns — a genre-defying multimedia artist — has received the prestigious Berlin Prize, which is awarded annually to American or U.S.-based scholars and creators by the American Academy in Berlin, President Jennifer J. Raab announced.
The academy — a nonprofit institution fostering U.S.-German ties — grants about two dozen of the prizes annually in recognition of academic, journalistic, or artistic excellence. Recipients reside for a semester in Berlin as academy fellows, working with peers and offering public programming in pursuit of trans-Atlantic understanding. Burns will be in Berlin for the fall 2023 semester, where she will be researching and developing new video work and related sculptures.
"We congratulate Professor Burns on this international recognition of her path-breaking work," President Raab said. "We know that her art will challenge German audiences, and we can't wait for her to return to New York bringing insights from Europe to her students and many fans!"
Burns is an interdisciplinary artist using video, sound, installations, sculpture, performers, texts, and drawings to explore gender, labor, ecology, sexuality, and the human body. A 2021 Guggenheim Fellow, she is completing a decade-long series of works, Negative Space, a "science fiction" that seeks to alter perceptions about present/future, subject/object, and art/viewer.
Burns' Berlin Prize is another sign of Hunter's pre-eminence as New York's public school for the arts. Burns teaches Studio Art in the BFA program at 68th Street and in the MFA program at 205 Hudson St., Hunter's art campus in Tribeca — opened by President Raab as part of her drive to establish Hunter as the top public college for visual art, theater, and writing.
The artist's annual Beginning/Advanced New Genres course (an introduction to performance art, sound, video, and installation art), MFA seminars, and one-on-one tutorials in students' studios are popular with Hunter students.
Burns said that teaching is part of her art.
"For me, the process is the product. It's through process that the work takes formation," she said. "And this is something I encourage in my teaching."
Burns has exhibited internationally, including at Palais de Tokyo, Paris, France; MMK Museum of Modern Art in Frankfurt, Germany; FRONT International: The Cleveland Triennial for Contemporary Art in Cleveland, OH; The Harvard Art Museums in Cambridge, MA; and Portland Institute for Contemporary Art, in Portland, OR.