Carol Levine, mother of Hunter Acting Education Dean Jennifer Tuten, has endowed a $100,000 Physical Therapy scholarship in the memory of Dean Tuten's daughter Amy Clara, who died April 24, 2022 at age 28.
Amy Clara was born with cerebral palsy and led a happy and active life, thanks to her family's devotion and the efforts of physical therapists, who enabled the wheelchair-user to attend school, ride on horseback, and swim with dolphins, among other activities. The $5,000 Amy Clara Tuten Scholarship, which the family created in July, will be awarded annually to a Physical Therapy student committed to helping children and young adults with physical disabilities.
"It's challenging to be told that you have a child with special needs, but physical therapists helped Amy to have what she needed to be as healthy, independent, and involved with the community as possible," Dean Tuten said, describing her daughter as "fearless" in pursuing an active life.
Carol Levine said that, when Amy died, she wanted to memorialize the special young woman with a bequest that would capture her zest for life and love of learning.
"Physical therapists work with patients in a very personal way, and that was important to Amy. She trusted physical therapists to teach her how to use her body, to take care of her in whatever way she needed," Carol said.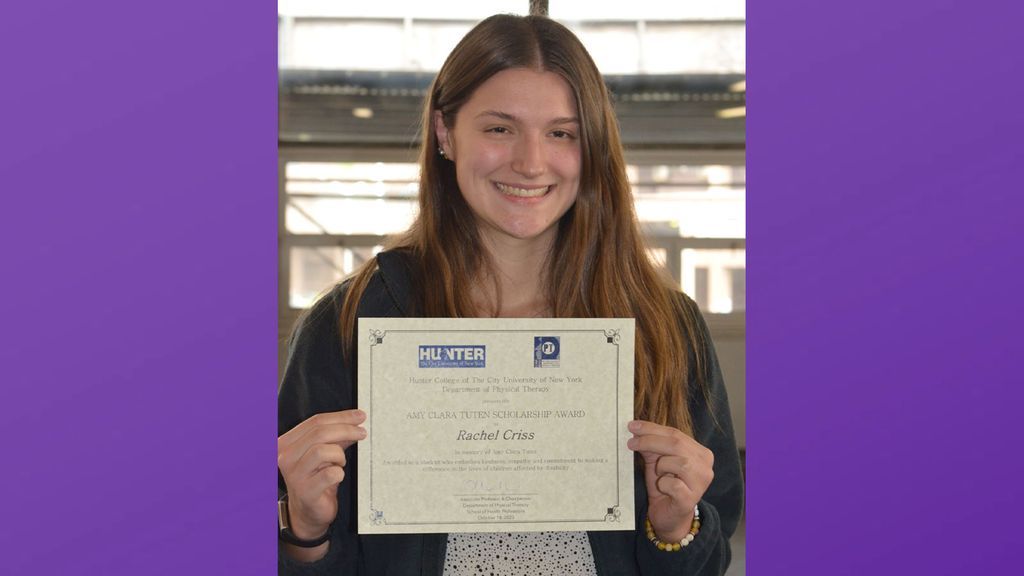 The first Amy Clara Tuten Scholar, Rachel Criss '25, a Doctor of Physical Therapy candidate from Plattsburgh, N.Y., received the award at the School of Physical Therapy annual Student Achievement Ceremony on October 18 at Hunter's Brookdale Campus Rotunda.
"I am so honored and grateful to have received this wonderful award," Criss said. "Thank you to all who have helped me throughout my journey up to this point."
The scholarship endowment also will fund an annual event that may include lectures, performances, panel discussions, or other events that creatively explore disability and physical therapy.