Hunter College's annual HEO/Employee Service Recognition Awards recognize and celebrate the invaluable contributions made to the college by those who serve the Hunter community as Higher Education Officers. The awards, which have been given annually since 2005, have recognized dozens of outstanding staff members. Nominations are solicited from the Hunter community, and the awards seek to recognize individuals who have made a profound impact on the college, improving the lives of students, faculty, and staff, and helping to further the Hunter mission.
President Jennifer J. Raab calls the award winners to share the good news that they have been selected for the prize, and she distributes the awards personally, with a tribute to each. She calls the HEO Awards ceremony "one of the most important nights of the year." The 2020 HEO/Employee Service Recognition Awards were presented and celebrated in a February 18th ceremony in the Faculty Dining Room, which welcomed past winners, fellow staff members, the families and friends of the winners, and other members of the Hunter community.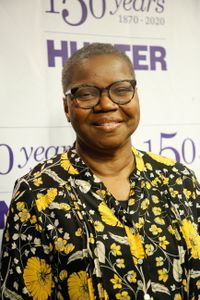 Gwenyth Chase, Assistant to the Chief Business Officer, Business Office

Gwenyth Chase joined the Hunter staff in 1999 as a College Accounting Assistant and was recognized for her tireless service to the college and her indefatigable efforts to help the Hunter community migrate to the CUNYfirst system. Born in Barbados, she came to New York 36 years ago with her two-year-old son, joining her mother in Brooklyn. While working full-time, she attended Brooklyn College full-time, earned her BA in sociology, and went on to earn her master's in higher education administration at Baruch and an advanced certificate in adult learning at the CUNY School of Professional Studies. In 2001, she was promoted to Assistant to the Budget Director, and in 2005, she moved to the Business Office, where she handles a myriad of tasks—including payment processing through CUNYfirst for her office and the President's Office and training and assisting colleagues in CUNYfirst procurement. She has completed marathons in New York and Honolulu, and with her walking group, Travelling Sneakers, the Safaricom Half-Marathon in the Lewa Wildlife Conservancy, Kenya.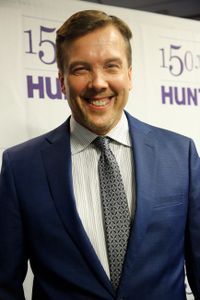 Rob Lorey, Director of Student Services, Silberman School of Social Work

Rob Lorey (MSW '09), a successful actor, director, and theater teacher who appeared on Broadway, spent 20 years in the performing arts before he transitioned to social work. He decided to pursue a second career in social work and earned his master's from the Silberman School of Social Work. He went on to serve in various capacities at the Hudson Guild, Queens Community House, SAGENY, Hole in the Wall Gang Camp, Continuum Hospice Care, and Rauschenbusch Metro Ministries before returning to Silberman in 2013, this time as an administrator. He initially joined the Student Services Office as Assistant Director and became Director in 2016. He was recognized for his unflagging optimism, commitment to student success, and the example he sets in upholding the Silberman School's mission of caring for the community.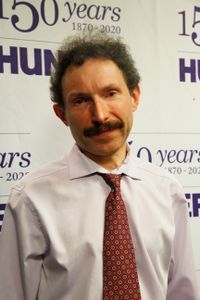 Michael Medved, Senior Associate, ICIT

Michael Medved came to Hunter in 1998 and currently serves as a Senior Associate in the ICIT Department. He was recognized for his round-the-clock service to the Hunter community and the crucial work he does to maintain the digital systems that keep the college running. He received his bachelor's degree in electrical engineering and master's in computer science from CUNY's City College. His professional career began in the financial and computer services industries. He then switched to education, working as a Systems and Database Administrator at Columbia University's Teachers College before joining the Hunter staff. He is an Oracle Certified professional and has been a member of the Executive Board of the New York Oracle Users Group for more than 20 years.
Maria Luisa Mendoza, Coordinator of Student & Alumni Activities and Community Outreach & Pre-Nursing Academic Advisor, School of Nursing

Maria Luisa Mendoza came to Hunter in 2008 and plays myriad roles for the college's nursing program: she provides supportive counseling to prospective and admitted nursing students, conducts student recruitment activities, and manages admissions and enrollment for all undergraduate nursing programs. She was recognized for her calm under pressure and her exemplary ambassadorship of the college's nursing programs to a wide audience of prospective students. She earned her BA at SUNY New Paltz and is currently on leave from Thomas Jefferson University's MS program in midwifery. In her spare time, she enjoys running on behalf of Every Mother Counts, a nonprofit dedicated to making pregnancy and childbirth safe for every mother. She lives in Kingsbridge, NY.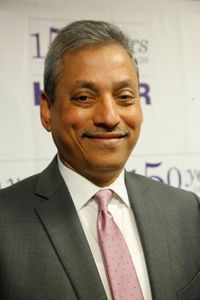 Milton Quiah, Executive Assistant to the Chief Librarian, Libraries

Milton Quiah came to Hunter in 1997 and has been a vital member of the College's Libraries staff ever since. He was recognized for his successful stewardship of the library's facilities and for his thoughtful and patient oversight of the many students who are employed by the library in work-study positions. Born in Noakhali, Bangladesh, he studied public administration and earned his master's in social science at the University of Dhaka.  He previously worked for IDC/LINK, New York, a market research and consulting firm. In Bangladesh, he worked for UNESCO and, prior to that, for the Institute of Public Administration/The American University Consortium. He recently celebrated 32 years of marriage with his wife, Sandra, with whom he has two children, Aaron and Ariel. He is involved in his community and church, and serves as an usher at St. Robert Bellarmine in Bayside.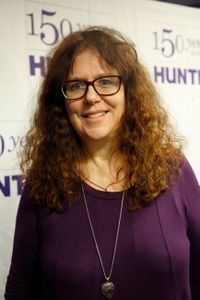 Elizabeth Wall-O'Brien, Scholar Programs Advisor, Student Affairs

Elizabeth Wall-O'Brien initially came to Hunter as a student in the School of Public Health, where she registered with Career Development Services; she joined the Office of Student Affairs in 2011 and became a full-time advisor in 2012. She was recognized for her patient and passionate advocacy for her advisees and her important role in realizing the Yalow and Athena Scholars Programs, with which she has worked since their inception. She earned her master's in psychology at NYU, and before coming to Hunter she had a successful psychotherapy practice providing sliding-scale services to women who were trauma survivors. She then taught psychology to pre-service teachers, which helped her realize the impact she could have as an academic advisor. She is also a published poet and visual artist, as well as an accomplished pianist.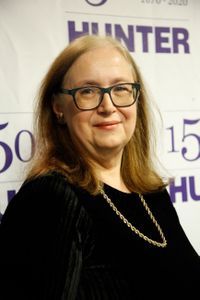 Paula Wicklow, Internship Coordinator, Student Affairs

Paula Wicklow '78, MS '80 began doing internships and part-time jobs at Hunter while she was still enrolled as a student, and she then segued to a full-time position. A member of the Hunter community for more than 40 years, she was recognized for her unflagging dedication to connecting students with life-changing opportunities and for her endless can-do spirit. She meets with more than 1,000 students every year, putting out personal phone calls to all of them to follow up about their internship statuses, and she works closely with the academic departments to coordinate and collaborate so that more students than ever before are securing internship placements. A native New Yorker, she is also an avid traveler and adventurer.