Fall 2018 Open Line
From Jennifer J. Raab, Hunter College President
Each semester, President Raab issues an "Open Line" to all students, staff and faculty at Hunter College. See the Open Line Archive.
Welcome Back!
I hope you had a wonderful summer and are settling in for another great year at Hunter.
The Princeton Review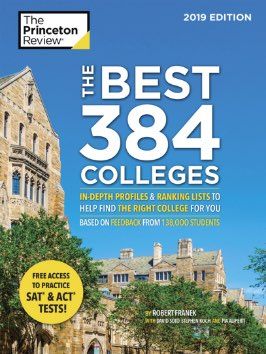 We start with good news: The Princeton Review has just hailed Hunter as "the crown jewel of the CUNY system" and named us, once again, one of the "Best Colleges" in the country. We're also on its honor roll of "Colleges That Create Futures" and "Colleges That Pay You Back." We continued our rise in US News & World Report's rankings. After jumping from 42nd to 28th last year, we now rank 25th among its "Best Regional Universities, North" and 6th among public colleges on that list. And the Wall Street Journal places us in the top third of 1,000 colleges nationally. These achievements are a tribute to our superb faculty, staff and students, so congratulations all around.
Graduation with Vin Diesel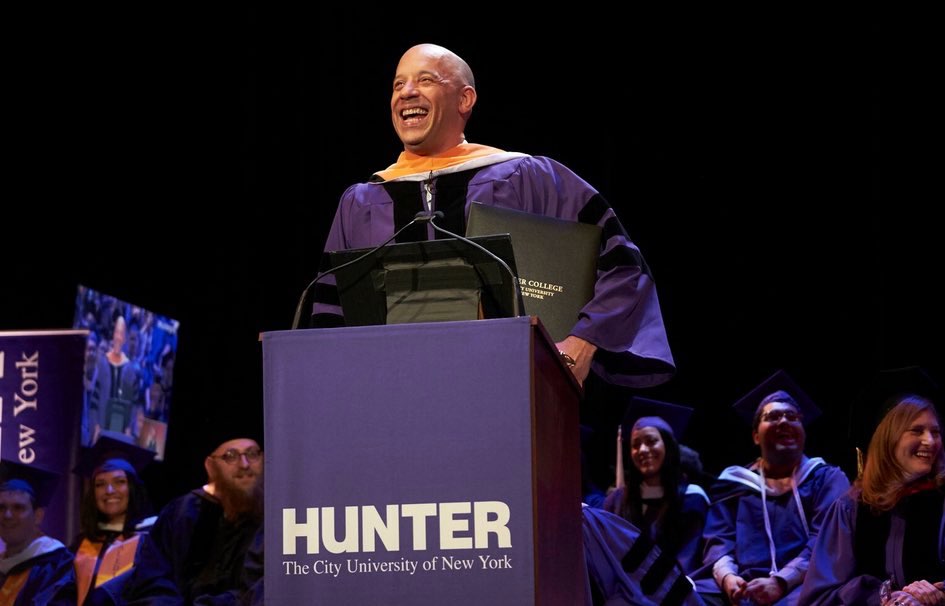 The 2017-18 year concluded with a rousing graduation ceremony at Radio City Music Hall. One highlight was an inspiring commencement address by Vin Diesel, whose rise to international stardom is a classic example of how Hunter opens doors of opportunity. Vin shared his story with the 2,000 graduates, crediting the can-do spirit he acquired at Hunter for ensuring he never gave up during the years in Hollywood when "nobody was hiring a multicultural kid." According to Vin, Hunter taught him: "If you don't see it out there, create it. Create your own opportunity if need be." Vin also paid tribute, and gave a big hug, to Dean of Students Eija Ayravainen, who was his public speaking professor in 1986. The video he posted to his Instagram account got nearly 2 million views. As always, there were amazing student stories at this commencement, one of which inspired a New York Times "Big City" column. It traced the life of Trinidadian immigrant and single mom Alicia Baksh-Ousman, who went from deli worker to budding accountant, thanks to her Hunter education and a helping hand from an admiring customer.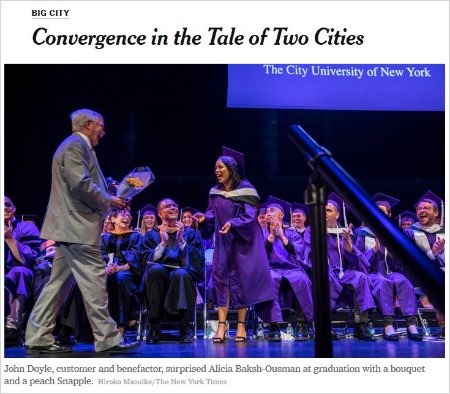 As always, there were amazing student stories at this commencement, one of which inspired a New York Times "Big City" column. It traced the life of Trinidadian immigrant and single mom Alicia Baksh-Ousman, who went from deli worker to budding accountant, thanks to her Hunter education and a helping hand from an admiring customer.
Our Growing Faculty
Our outstanding faculty continue to win major research grants and contracts. The 2017-18 total was over $67 million, the largest of any CUNY institution and $12 million above 2016-17. It's a source of pride that, thanks to prudent budget management and successful fundraising, we can again enlarge our faculty even as many CUNY institutions have frozen hiring. This year, we are excited to welcome 37 new full-time faculty members. Securing Hunter's place as a strong research institution was a priority in our strategic plan, and we know that this new cohort will build on our success in achieving that goal. In addition, we are pleased to welcome a number of new faculty members who will advance our strategic goal of expanding interdisciplinary studies. Two of these arrivals will help advance our Strategic Plan's goal of breaking down academic silos by expanding interdisciplinary studies.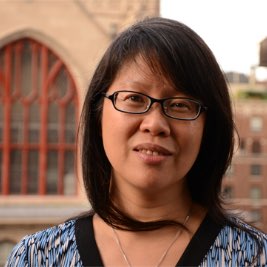 Dr. Vivian Louie, a renowned scholar, author, and professor, will serve as inaugural Director of our new Asian-American Studies Center. The Center will foster dynamic, interdisciplinary learning through classes, research, community engagement, and events. We thank the college-wide search committee chaired by John Chin for leading the effort that brought Dr. Louie to Hunter.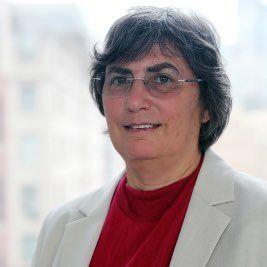 We also welcome Jessica Neuwirth, an internationally acclaimed women's rights lawyer and activist, who joins us as Director of the Human Rights Program at Roosevelt House. She'll focus on getting students and faculty from a variety of fields involved with Human Rights studies. We are grateful to David Hodges and the faculty members from multiple departments who led this important search.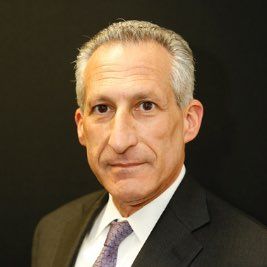 Congratulations to Dr. Lon Kaufman on his appointment as Hunter's Provost and Vice President for Academic Affairs. Lon has done an outstanding job as Acting Provost for the past three years—the extraordinary quality of our faculty is a tribute to his dedication.
Middle States Accreditation
As many of you know, this year Hunter will take part in its Middle States reaccreditation review. That review offers an opportunity to reflect on our accomplishments and think about how we can build on them, so we want to engage the entire Hunter community to ensure that it's a productive process. We posted a first draft of the Middle States Self Study on our website in May. If you have not done so, we encourage you to review that document and share comments. An updated version will be posted in October.
Our Wonderful Student Achievers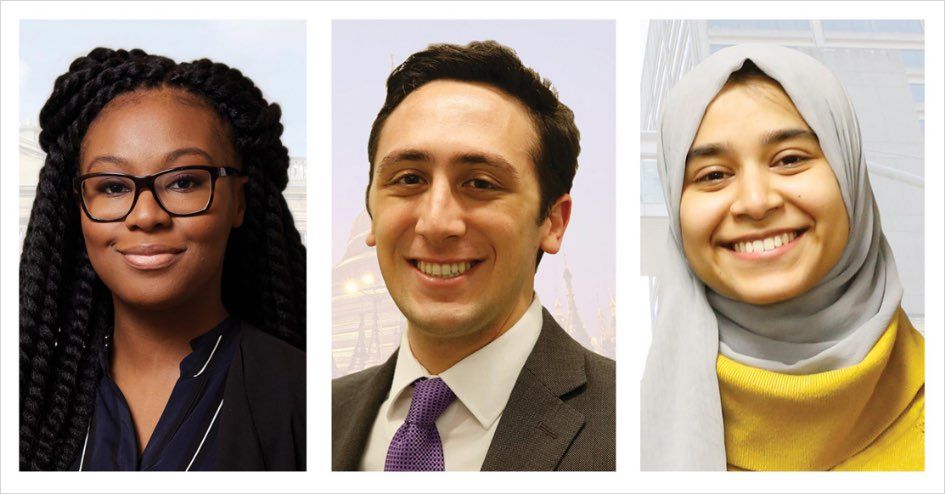 Hunter students keep winning top honors, including Hunter's very first Rhodes Scholarship for Thamara Jean '18. That breakthrough was followed by Matthew Locastro '17 being named the second Luce Scholar in Hunter's history. And Safia Mahjebin '19 was just announced as our second Truman Scholar—one of 59 winners among 750+ candidates. The Fulbrights keep coming, too—nine this year—maintaining our standing as a "Top Fulbright Producer."
Our Newman Office of Prestigious Scholarships & Fellowships and its dedicated director, Dr. Stephen Lassonde, play a major role in helping students earn these honors. We hope students will reach out to learn more about these opportunities by emailing ops@hunter.cuny.edu. We encourage faculty to nominate talented students as well.
Thanks to our pre-professional advisory programs, Hunter students are also going on to graduate and professional schools in extraordinary numbers. To cite just one remarkable example: 92 percent of pre-health advisees who applied to medical, dental, veterinary and optometry programs last year received offers, double the 46 percent acceptance rate in 2011-12. We encourage students to take advantage of these invaluable resources. We also welcome Dr. William Tramontano, who will oversee these and other programs as my new Senior Advisor for Student Success and Strategic Initiatives.
One new initiative that will support our continued strategic focus on student success is our "Take Your Professor to Lunch" program, which will allow students and faculty to dine out on us. Building relationships with professors opens doors for students, and research shows that students are more likely to succeed if they get to know faculty members. We encourage you to sign up here.
An Improving & Expanding Campus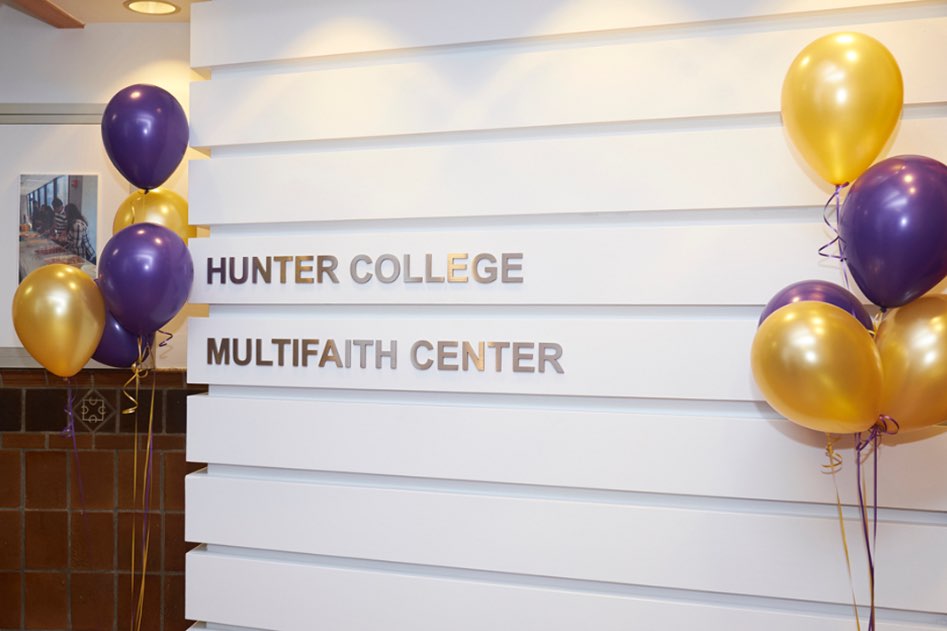 The ribbon-cutting for our new Multifaith Center was another milestone in Hunter's long history of leadership in interfaith relations. When we opened the country's first multifaith center 75 years ago, three major religions were represented. Now there are six located in the handsome new space we've dedicated in Thomas Hunter Hall.
Work on the new Student Union—jointly financed by the Student Government, college funds and private gifts—is moving ahead, with the opening expected next fall. And the fifth-floor phase of the Cooperman Library's modernization, which will include new high-tech classrooms and a faculty resource center, is in design.
You'll notice some important infrastructure projects as you navigate the 68th Street campus. We've taken the first step toward renovating and waterproofing the West Plaza by relocating Tony Smith's iconic Tau sculpture for restoration after 30 years of exposure to the elements. Nearly all the 68th Street campus roofs are being replaced, and there will be major heating and air conditioning upgrades in Thomas Hunter Hall and the West and North Buildings. A vital, year-long project will upgrade the elevators in the North Building. We apologize for inconveniences related to the elevator and construction projects, but the end result will be a greatly improved and more accessible campus. Keep an eye on the Hunter website for construction alerts.
The Arts Office Expands Its Reach
Hunter is located in America's arts capital, and we want students to take full advantage. Our Office of the Arts has forged partnerships with an impressive list of institutions that offer free admission to students, faculty and staff. The Guggenheim Museum is the latest addition. Get the full list here.
A Major Presence in East Harlem
All In East Harlem continues its multi-faceted efforts to foster a healthier, more socially secure neighborhood. Among our many initiatives, we've connected Hunter faculty and students with 65 community groups, renewed our partnership with PS-MS7 to make it a model public school, and trained Community Navigators to help at-risk youth and victims of domestic violence.
An integral part of our strategic plan, All In East Harlem offers many opportunities to get involved—everything from research, to volunteering to internships. To join us in this historic enterprise, contact the director, Lilliam Barrios-Paoli, lb1308@hunter.cuny.edu.
Highlights of Last Semester & the Coming Year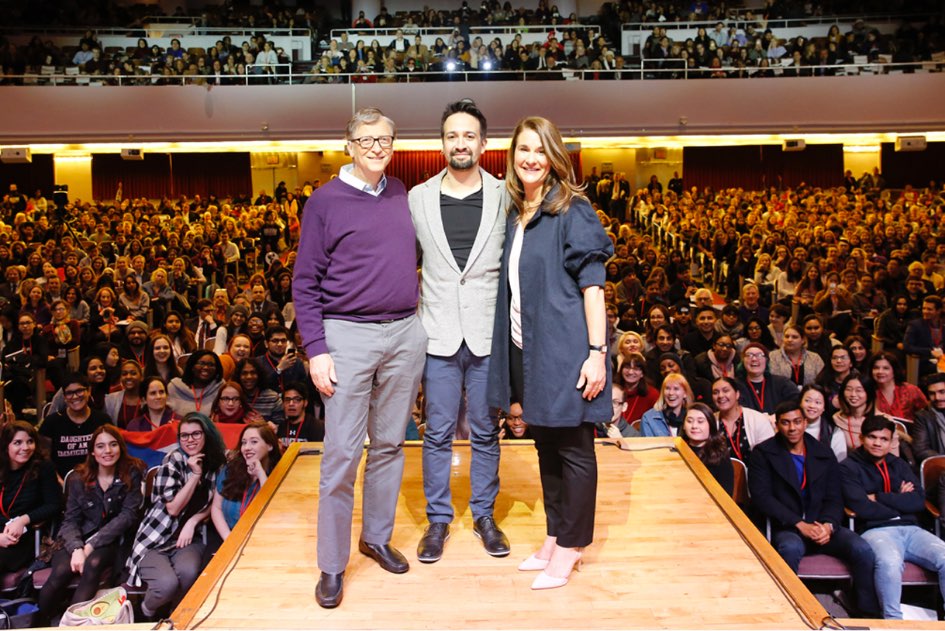 Last semester saw some major guests on campus, most notably Bill and Melinda Gates. Their dialogue with Hunter College Campus Schools alum Lin-Manuel Miranda was followed by a lively Q&A with an audience full of Hunter students. A capstone came when Hunter's first Rhodes Scholar, Thamara Jean, was interviewed alongside Bill.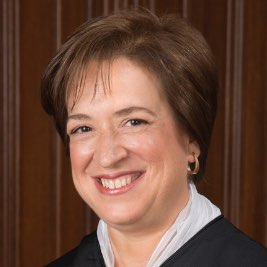 On September 21, we'll welcome another member of the Hunter College family—Supreme Court Justice Elena Kagan (HCES '71 and HCHS '77)—for the presentation of an honorary doctorate. Students can RSVP here and faculty and staff, click here.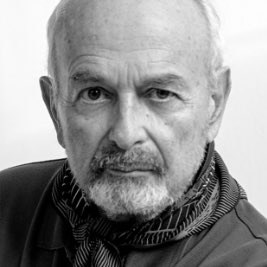 And in October we'll award an honorary degree to Arthur Elgort '64, the Hunter graduate-turned-legendary-fashion-photographer known as "the father of candid glamour." As noted in The New York Times, the wonderful adaptation of "Uncle Vanya" in our Frederick Lowe Theatre is a brilliant new translation of Chekhov's masterpiece. We're delighted Theatre Department Chair Gregory Mosher made it the inaugural production of the Hunter Theater Project. It runs until October 16. Tickets are available here.
Roosevelt House's outstanding event schedule includes a celebration on Oct. 11 to honor Eleanor Roosevelt's birthday and the 70th Anniversary of the UN's Declaration of Human Rights—the historic document she largely authored and shepherded to adoption. For the full schedule go here.
The Distinguished Writers Series has planned another stellar set of talks by celebrated authors. The schedule is here.
Our three art galleries are hosting wonderful exhibits, including one featuring the works of leading American abstract painter Stephen Mueller. Check gallery schedules for dates and hours. More info here.
I wish you all the best for another productive semester.
Be sure to keep up with all the exciting things happening on campus by following the Hunter website; our Twitter feeds @Hunter_College and @HunterPresident; Instagram accounts @HunterCollege and @HunterPresident; Facebook; Flickr; our interactive events calendar; and campus screens. And please contact me (president@hunter.cuny.edu) with comments or questions.
Jennifer J. Raab
President