Fall 2019 Open Line
From Jennifer J. Raab, Hunter College President
Each semester, President Raab issues an "Open Line" to all students, staff and faculty at Hunter College. See the Open Line Archive.
Welcome back for the start of another exciting academic year!
We begin with wonderful news – the extraordinarily favorable response we received from the Middle States Commission on Higher Education for our Self-Study Accreditation Report. To have such a respected third party recognize all the positive changes we've made in the past 10 years is powerfully reaffirming. Our thanks to the report's co-leaders — Economics Professor Partha Deb, Associate Provost James Llana, and Associate Student Affairs Dean Shannon Salinas — and to everyone who helped make this such a successful process.
With the successful completion of the Middle States report, we now begin the next iteration of our Strategic Plan, which will include three priorities identified through the self-study process.  The first priority to come from that process is a renewed focus on career readiness, ensuring that our undergraduate and graduate students are prepared for the workplace. We hope to build on the career readiness that we've begun—within the context of our commitment to a liberal arts education—through the introduction of our certificate programs in business, public policy and arts management. The second priority is to improve the experience and graduation rates of our transfer students, as part of our overall student success strategy. The third priority identified through our self-study process is increasing the Hunter community's engagement with, and support for, our part-time faculty. We are in the process of developing Presidential Task Forces in all these areas, which will inform the work of our Strategic Plan as we move forward. Members of the Hunter community are encouraged to get involved in these efforts by emailing president@hunter.cuny.edu.
Great Commencement, Great Rankings
Our Commencement ceremony last May in Madison Square Garden was, as always, inspiring. We were honored to present Hillary Clinton with the first Eleanor Roosevelt Distinguished Leadership Award, which recognizes her longtime work as a champion for human rights. And the audience of 12,500 was thrilled when Secretary Clinton said, "To be a college graduate is a wonderful thing. To be a Hunter graduate — that is something to shout from the rooftops!"
The media that assess colleges definitely agree with Secretary Clinton. The Wall Street Journal says we're one of the country's top four colleges in providing the best value, noting how supportive, diverse and inclusive the campus is. We climbed two more places in U.S. News & World Report's rankings to number 23 in the Northeast, which means we've moved up 16 places in just three years. And both Money Magazine and Princeton Review rate us among America's "Best Colleges." Money praised our "double benefit" — reasonable tuition and intellectually demanding academics — and Princeton Review once again called us "the crown jewel of the CUNY system."
Our Growing Faculty and Staff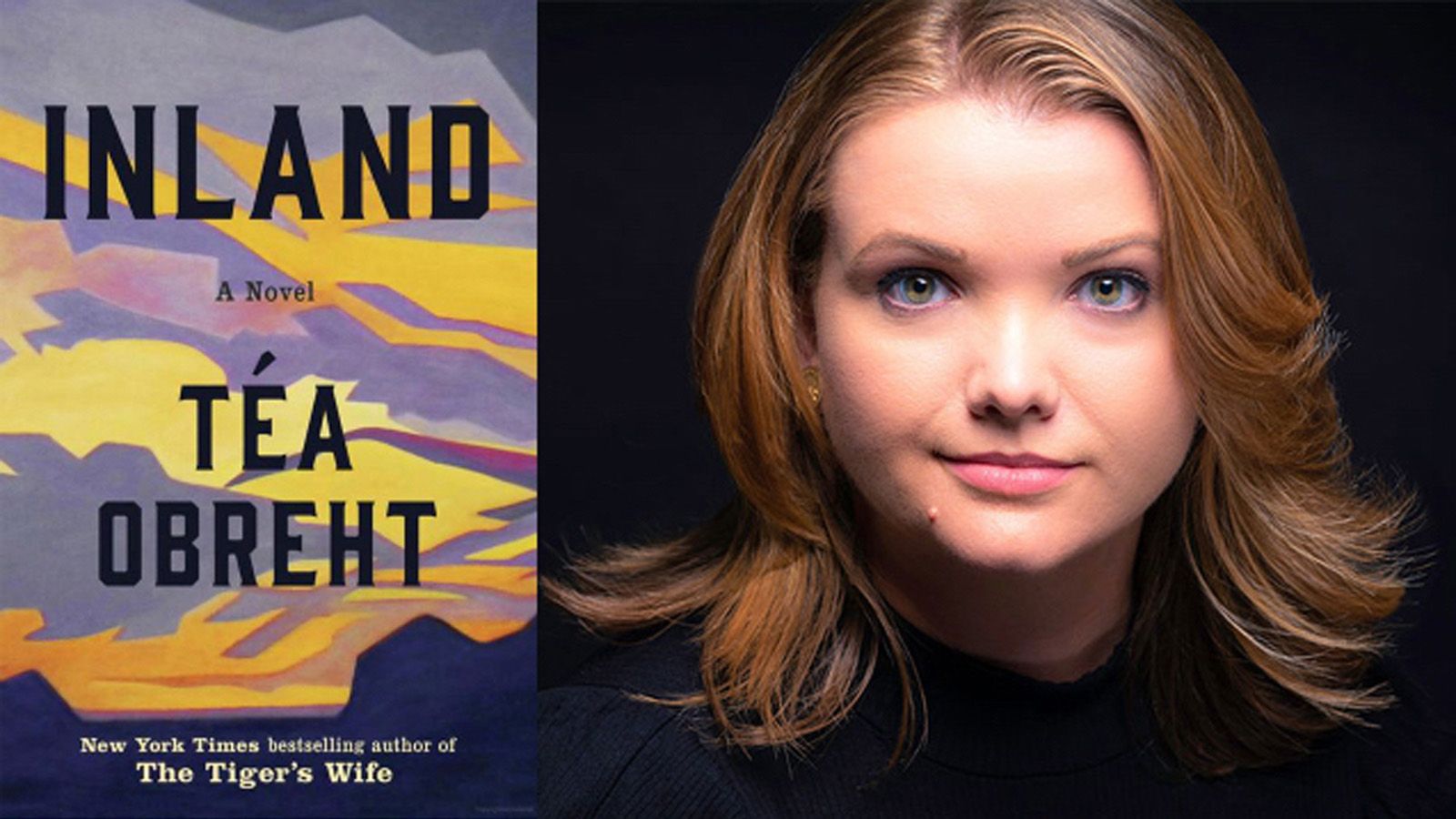 The stellar members of our faculty continue to win grants and achieve honors. A special shout-out goes to Téa Obreht of our MFA in Creative Writing Program, who just published her second novel, Inland, and received such rave reviews that Barack Obama put her book on his summer reading list.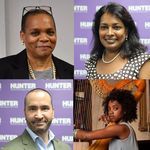 We're growing even stronger this semester with the addition of 26 new faculty members, made possible by our prudent budget management and successful fundraising. This wonderfully diverse group covers a wide range of academic fields, from the arts and sciences, to nursing, to education, to social work. It includes such nationally prominent figures as Urban Planning Professor Nicholas Bloom, an expert on public housing; Computer Science Professor Anita Raja, a leader in artificial intelligence; Nursing Assistant Professor Carolyn Sun, a specialist in renal-disease palliative care; and Lázaro Lima, a scholar, documentary filmmaker and poet in Africana and Puerto Rican/Latino Studies.
To launch our new Certificate Program in Business Studies in the Economics Department, we're pleased to welcome Arabella Pollack from Columbia where she was a Professor of Business. And we're delighted that former New York State Comptroller and SUNY Chair Carl McCall is joining us as our first Leader in Residence at Roosevelt House, where he'll teach urban affairs and advise students interested in public service careers.
Besides new faculty, we're adding strength to our administrative leadership team.  The new Acting Vice President of Institutional Advancement is Chantal Champagne, who began academic life as a research scientist and went on to a successful career in fundraising at Cornell, Brown and Pace. Steven Mintz, who will serve as Senior Advisor to the President for Student Success and Special Initiatives, comes to us from the University of Texas where he was Director of Transformational Learning and a Professor of History. And Bob de Luna, our new Assistant Vice President for Communications, brings a distinguished record in media relations, most recently as press secretary for NYC Health + Hospitals. I urge everyone who has a Hunter story to share to reach out to Bob at rd2066@hunter.cuny.edu.
We look forward in the year ahead to consulting with faculty members on last spring's COACHE study. We'll post the detailed results and discuss the data in a variety of forums. Our thanks to everyone who took part – we were gratified by the very high participation rate and the many important comments and valuable insights the participants provided.
Student Honors Keep Coming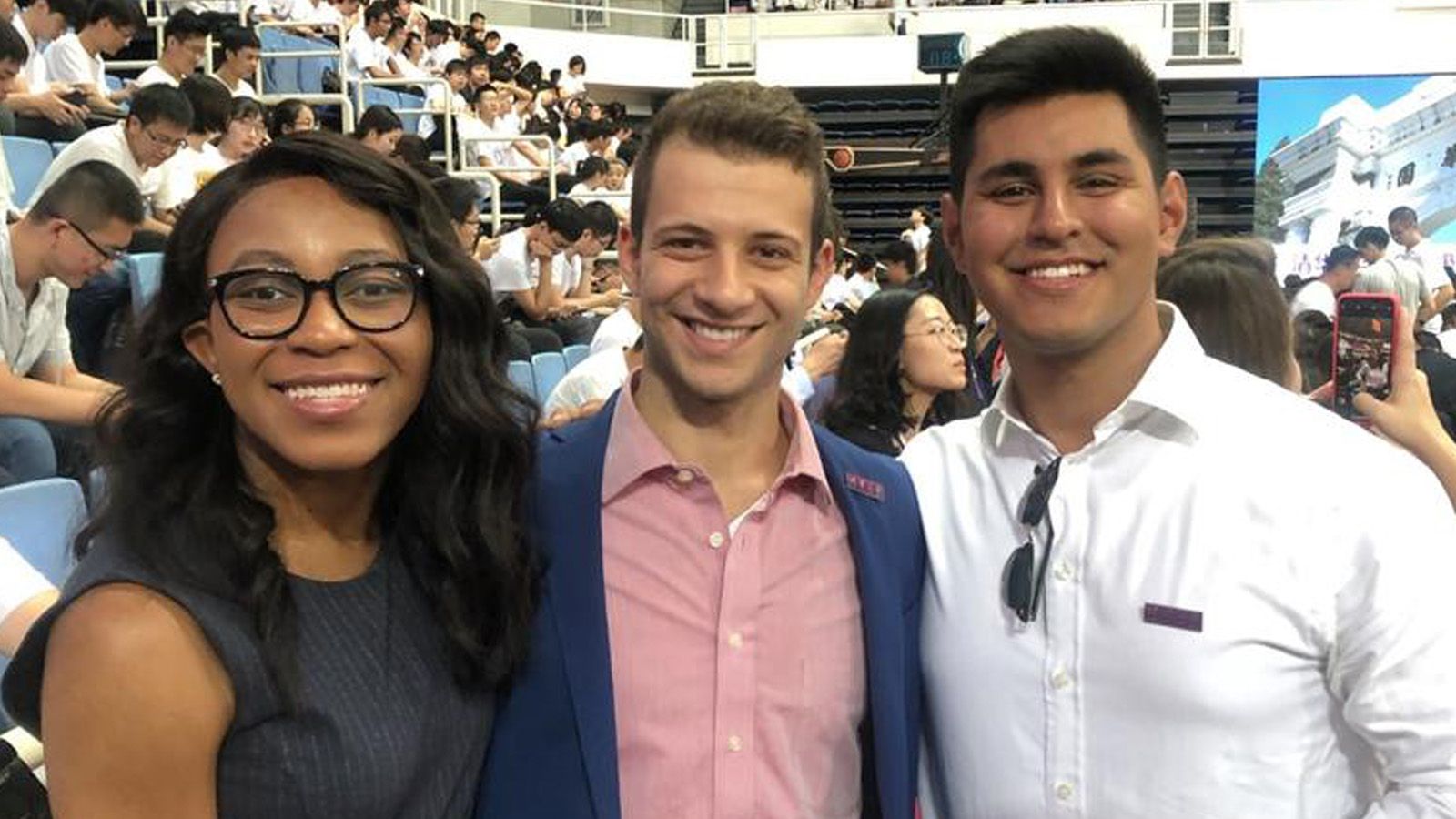 Just like our faculty, Hunter students and alumni continue to win major awards. It was an historic achievement earlier this year when Elliott David '19, Joy Nuga '17, and Christopher Sperrazza '19 won one of academia's most sought-after prizes, Schwartzman Scholarships for study in China, so we were delighted to receive this photo of them together in Beijing.
Neuroscientist Vanessa Ruta '00 has won a MacArthur Fellowship, aka a Genius Grant. Kiryl Puchyk '16 became the third Hunter graduate in four years to win a Luce Fellowship for study in Asia. And we have four new Fulbright winners and three Class of '21 Watson winners.
The support of our Office of Prestigious Scholarships has helped Hunter students win so many of the nation's most competitive awards. I want to encourage every Hunter student who's interested in applying for scholarships, fellowships and internships to reach out to the Office, and I ask all our faculty to continue recommending students for opportunities.
The Student Union Is Up & Running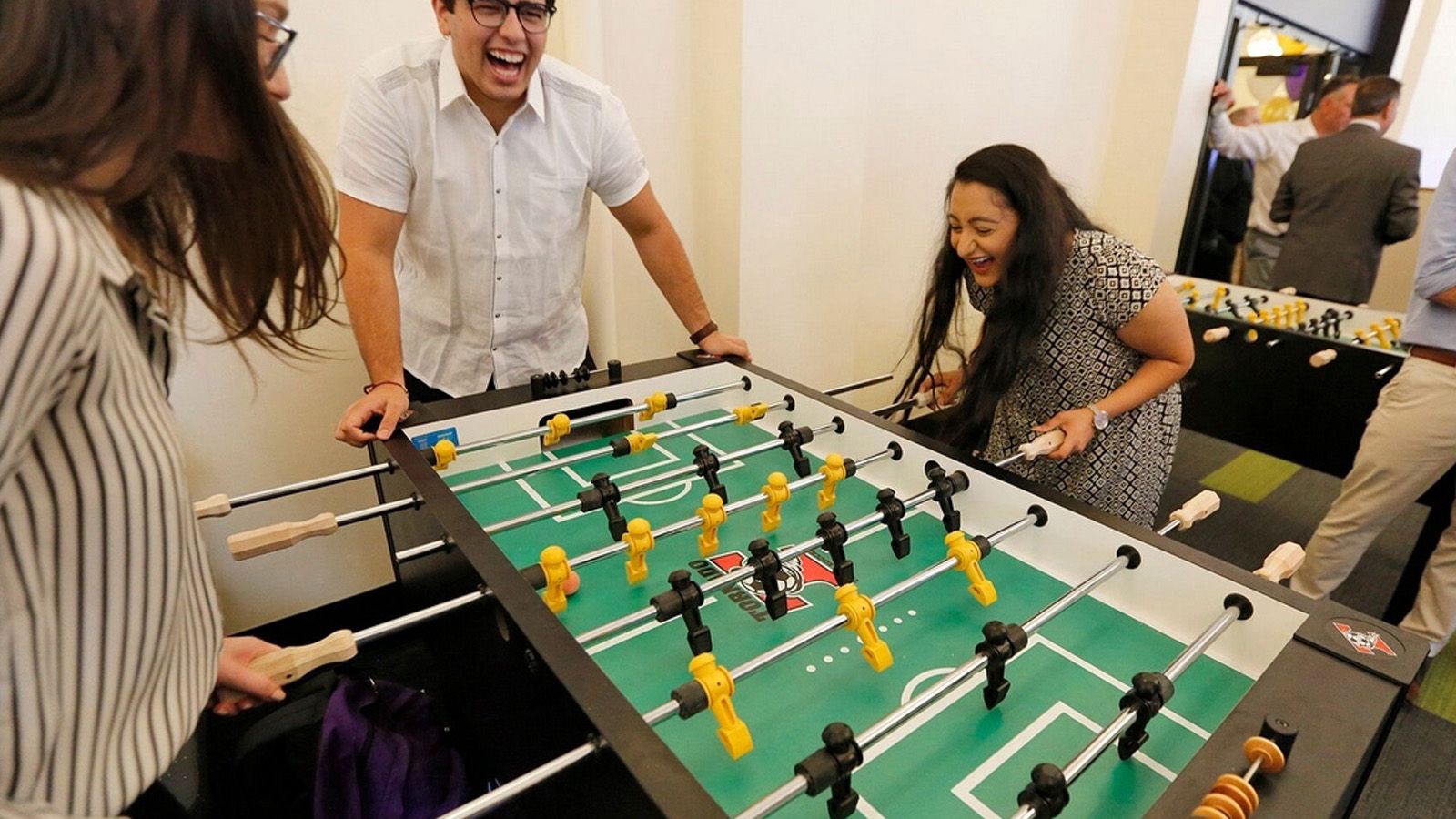 We were delighted to open the new Student Union – the first of its kind in our history – on the second floor of Thomas Hunter Hall. Students had asked for new space to unwind and socialize, a welcome signal that they wanted to spend more time on campus and be more involved in the Hunter community. We partnered with students on the design and worked closely with the Undergraduate Student Government, the Hunter College Foundation and local public officials to finance the project. As a result of this marvelous collaboration, the Student Union has among its many attractions spaces for student clubs, a computing center and a game room. It will be, in short, our students' new home away from home.
There are more campus improvements coming this semester. We're grateful for your patience as we create a new entrance to the Kaye Playhouse and are confident you'll like the results when it opens in November. And we are finalizing plans for the next stage of modernizing Cooperman Library, which will include a cutting-edge Faculty Resource Center and more enhanced study spaces on the fifth floor.  And in the virtual world, we'll continue improving the Hunter website, which we hope you already find cleaner-looking, faster, and easier to navigate.
Getting Ready for a Monumental Birthday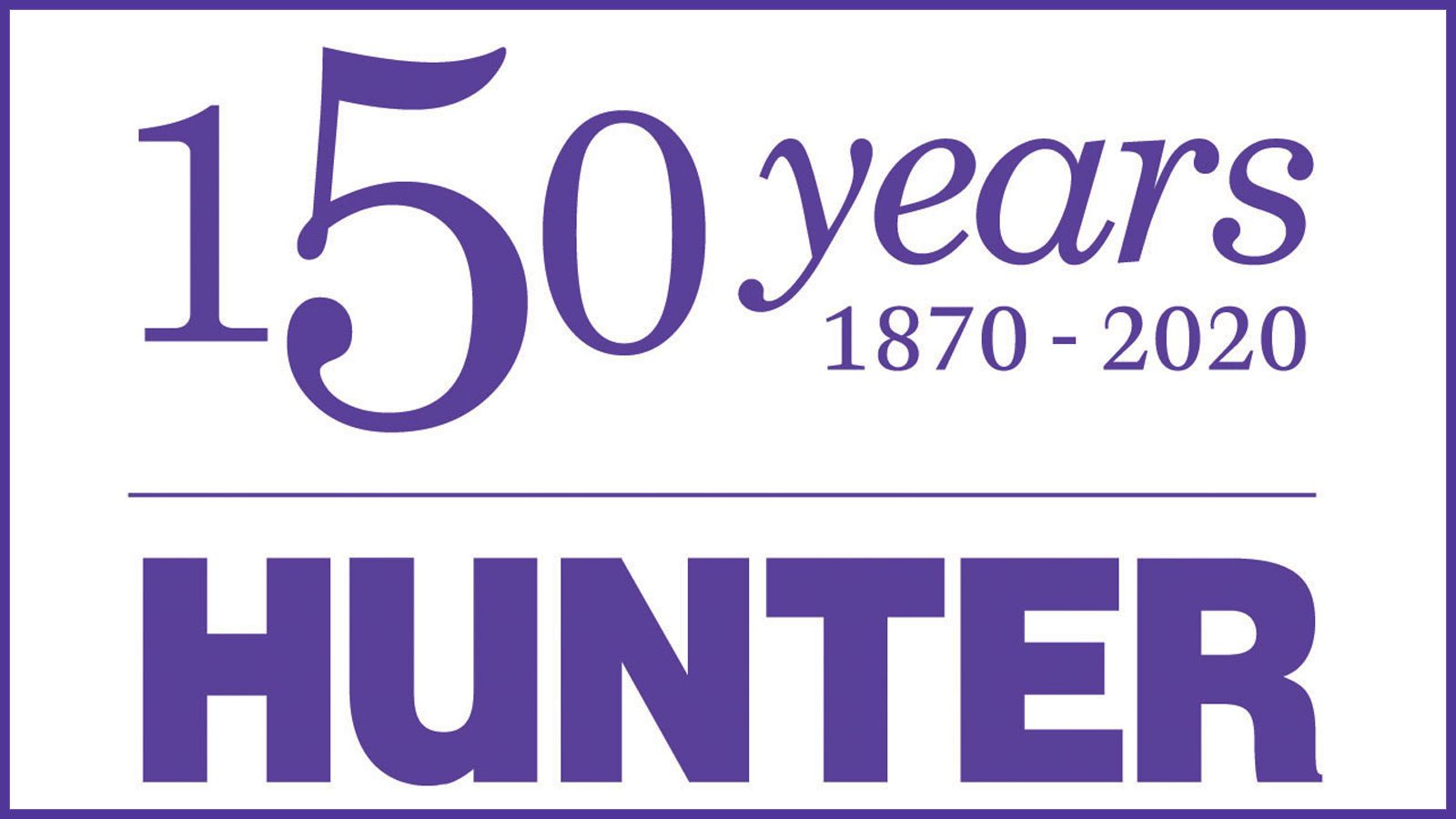 Next year will mark Hunter College's 150th anniversary—a wonderful opportunity to honor the unique, progressive vision of Thomas Hunter, who, when he established our school in 1870, made it the ninth institution of higher education in the nation to admit women. We'll celebrate 15 decades of high-achieving, prize-winning alumni – all the doctors, lawyers, scientists, authors, journalists, scholars, teachers and more. And we'll rededicate ourselves to making Hunter the leader in urban public higher education.
We already have some initiatives in the works that will not only allow us to mark this grand occasion, but help tie the Hunter community, past and present, closer together. We're compiling an anthology of the college's history with contributions from leading scholars and authors – for example, Creative Writing's Colum McCann on Thomas Hunter; Film and Media Studies' Karen Hunter on the historic tradition of African American women at Hunter; and The Times's co-chief art critic and Hunter alum Holland Cotter on our leadership in the arts.
We're recording oral histories from some of our amazing alumni to capture their extraordinary impact locally and globally.
We are launching, with philanthropic support, Hunter Connect, an online platform to allow students to network with alumni for advice, guidance and mentoring. More than 100,000 alumni will be invited to participate, so this is going to be an enormously important resource. I look forward to sharing more in the coming months.
And a $1.5 million challenge grant has been established by two of our generous alums. That means every contribution, no matter its size, will be matched until the goal is met, so this is an excellent opportunity to support Hunter. Learn more about this giving opportunity.
I invite every faculty member, staff member and student to get involved to help make our celebration a once-in-a-lifetime event that they'll be talking about for the next 150 years.
A Great Year Ahead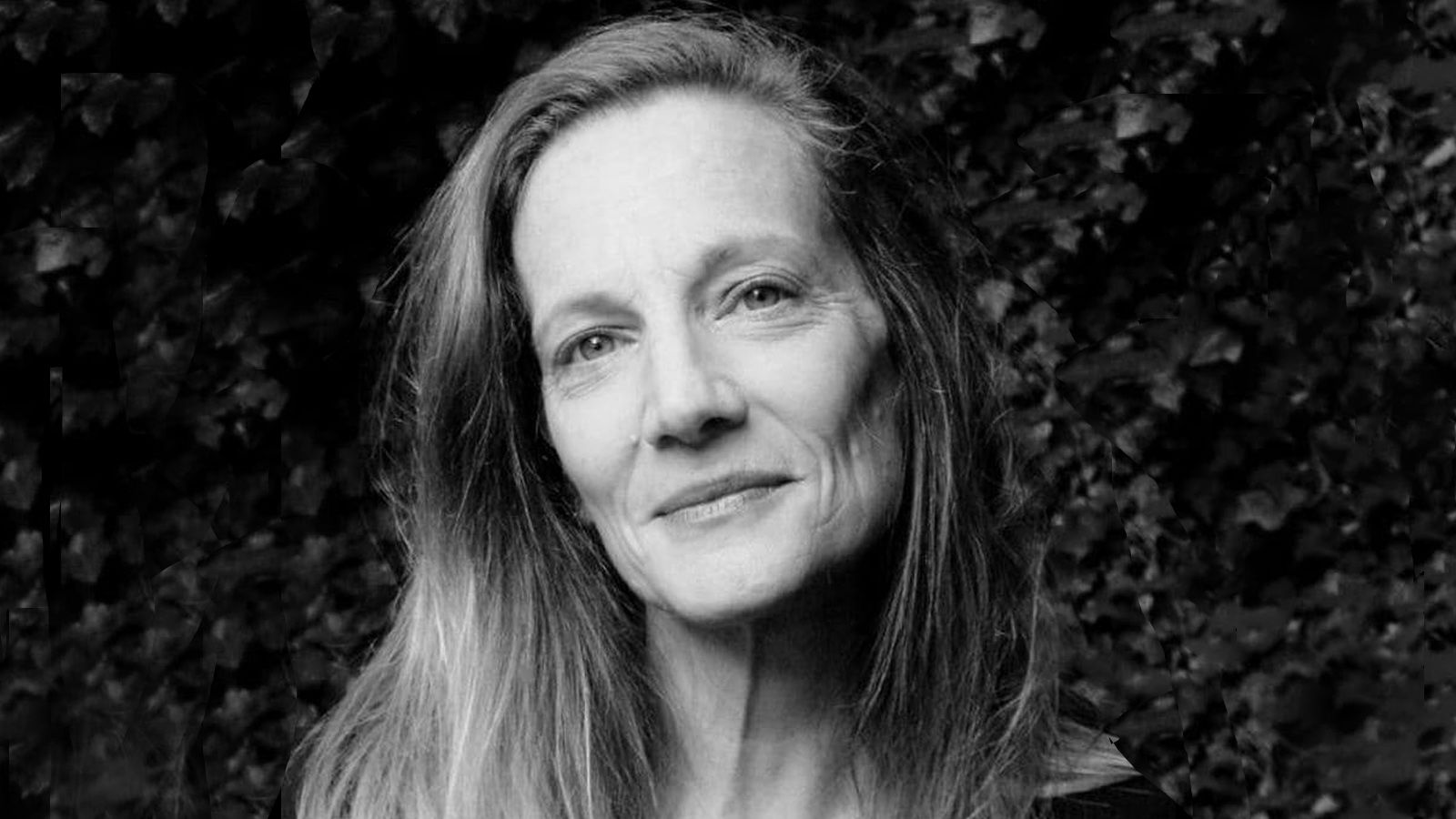 This is going to be another wonderful year for Hunter events. One of the most exciting will be a major show of works by Robert Morris (MA '66) opening Oct. 10 at the Leubsdorf Gallery. The show has a special meaning for us because Morris was not only one of the most admired and influential artists of the second half of the 20th century, he was a Hunter alum and a beloved, longtime member of our art faculty. This will be our tribute to his rich and enduring legacy.
Our Distinguished Writers Series has another outstanding lineup of speakers, including Kathryn Harrison, an acclaimed novelist and professor of memoir writing in our MFA in Creative Writing program. And watch for another year of great public programs at Roosevelt House, including a special conference on October 17 celebrating the 50th anniversary of Hunter's groundbreaking Africana and Puerto Rican/Latino Studies program, and the Dubinsky Lecture on October 24 on American labor featuring Steven Greenhouse with Lydia DePillis. We hope you'll participate in these and other exciting events on campus.
Best wishes for a successful, productive semester.
Jennifer J. Raab, President
Keep up with all the interesting things happening on campus by following the campus screens, our Twitter feeds @Hunter_College and @HunterPresident, the Hunter website, our Instagram accounts @HunterCollege and @HunterPresident, Facebook, Flickr, and our interactive events calendar. And feel free to contact me president@hunter.cuny.edu with any comments or questions.