Fall 2022 Open Line
From Jennifer J. Raab, Hunter College President
Each semester, President Raab issues an "Open Line" to all students, staff and faculty at Hunter College. See the Open Line Archive.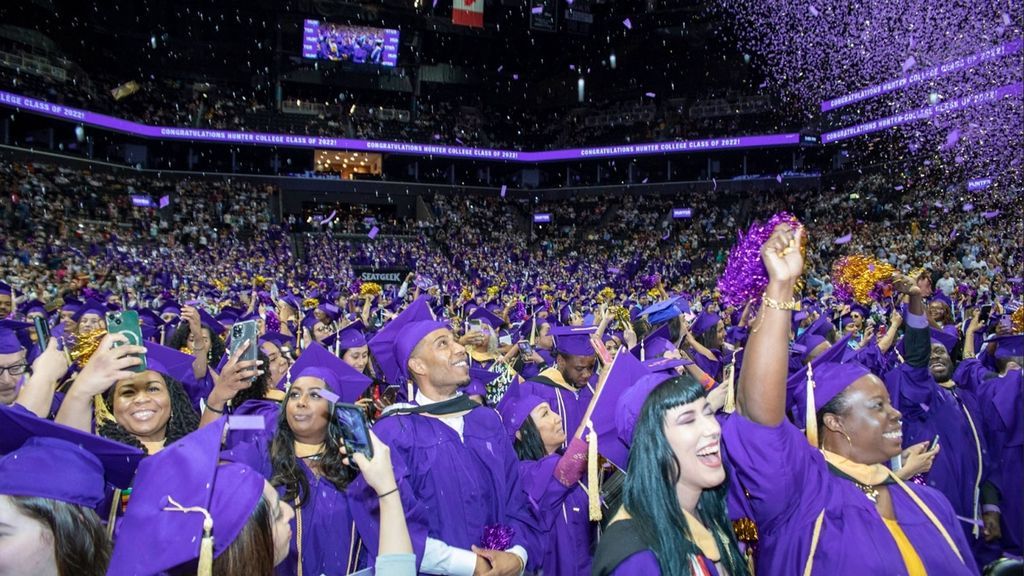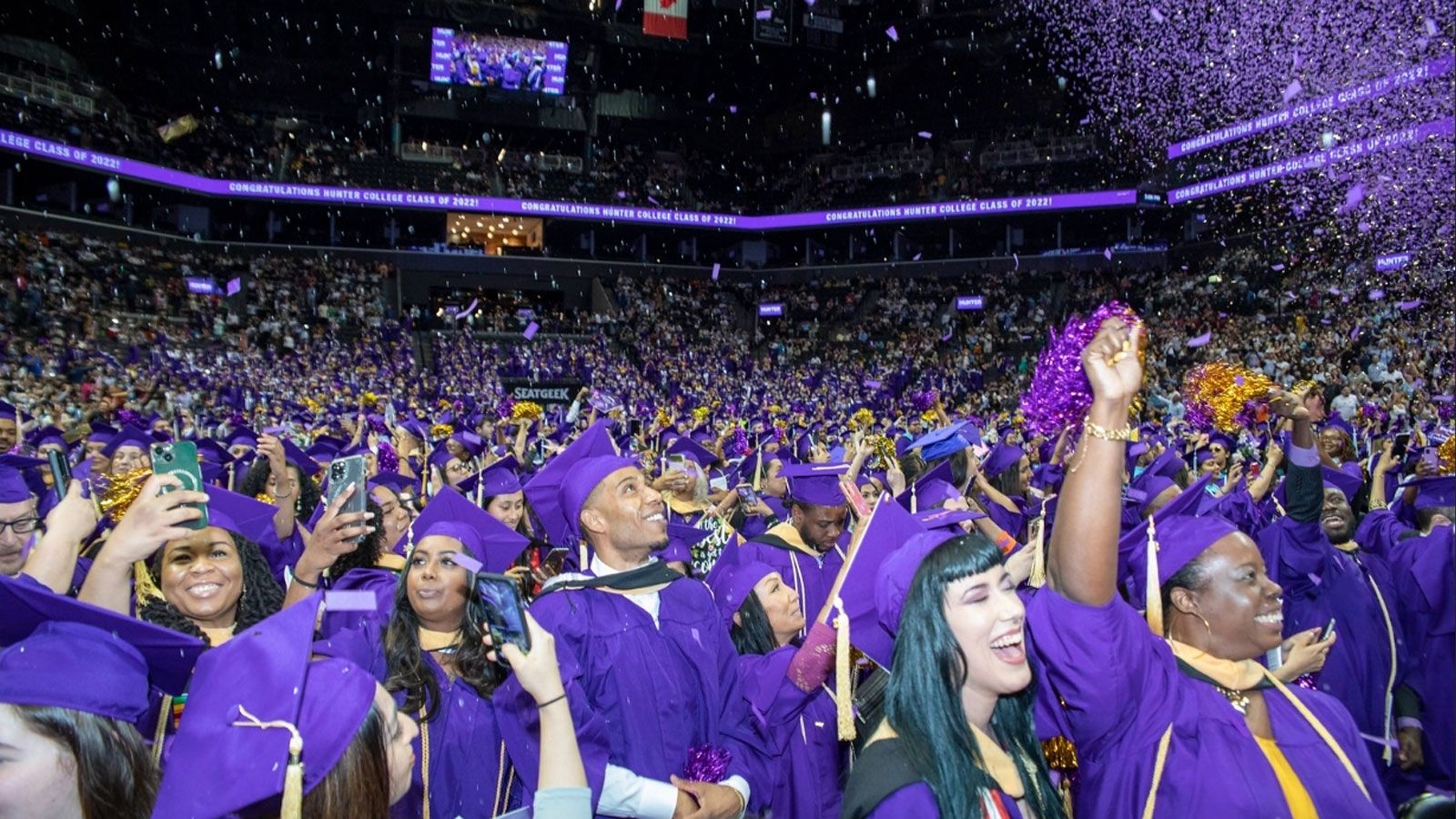 Welcome back for the start of another exciting semester! With the support of the entire Hunter community, we have made it through the challenging times of COVID — taking Hunter online with all the difficulties and complexities that involved, then coming back in person carefully and steadily. We are enormously proud and deeply grateful to the faculty, staff and students whose perseverance made this possible. Now we are ready to move forward, stronger than ever.
This semester we are pleased that more than 90 percent of classes are back in person. All programs, administrative offices and departments will be open and staffed five days a week. The Cooperman Library, Athletic Facilities and Student Union will also be open five days.
And once again, the Princeton Review has named us the Crown Jewel of the CUNY system, citing our endless opportunities, top-notch support system and, of course, bang for the buck — honoring Hunter as one of the Best Value Colleges in the country.
We finished the last school year on a high note, with our first full-scale, in-person commencement ceremony in two years with 6,000 enthusiastic graduates and their families in Brooklyn's Barclays Center, including an astonishing 12 valedictorians, each with a perfect 4.0 GPA. We cheered Dave Basnet, our second Rhodes Scholar in just four years, and we celebrated Hunter's being named a "Fulbright Top Producer" for the 14th time in 16 years, with four of this year's six Fulbright winners in the Class of '22.
Our commencement speaker was a Hunter star — literally: Jeannette Bayardelle '02, who starred on Broadway in Girl From North Country in a performance that was so sensational it earned her a Tony nomination. Jeannette, who's a playwright, composer and lyricist as well as singer-actor, had the audience doing the Wave as she sang I Believe, one of the many songs she's written. All this from someone who majored not in music or theater, but medical lab science. Now that's Hunter talent!
New Era, New Leaders
We begin this semester with several new members of the leadership team, all with stellar credentials and outstanding records of achievement.
Our new Acting Provost and Vice President of Academic Affairs is Dr. Manoj Pardasani, who is well known to many in the Hunter community since he previously served as our Associate Provost and as a member of the Silberman School of Social Work faculty. Most recently, he served as Dean of the School of Social Work at Adelphi University, and he was previously Associate Dean at the Fordham Graduate School of Social Service. Manoj, who earned his MSW and PhD from Yeshiva University, is a perfect fit to lead academic affairs on Hunter's famously diverse campus. He has been a Visiting Professor in China, Germany, Chile and the UK, and he has been invited to share his social welfare research by Chile, South Korea, Taiwan and India. He has won numerous honors, including the Mid-Career Exemplary Social Work Leader Award from the National Association of Social Workers and the Fulbright Specialist award. I am looking forward to working closely with him as we advance Hunter's educational mission.
We also are pleased to welcome Dr. Nicole "Niki" Bennett as Associate Provost. An experienced teacher, scholar and higher education administrator, Nicole comes to us from West Chester University where she was Vice Provost for Research and Faculty Development. Previously, she served at Appalachian State University as Associate Professor of Chemistry and Director of the Research Institute for Environment, Energy and Economics. From 2013 to 2016 she was Program Officer for the National Science Foundation's Division of Undergraduate Education, focusing on STEM development. An accomplished scientist as well as administrator, she earned a BS in chemistry from UNC-Chapel Hill and a PhD in organic chemistry from the University of Wisconsin-Madison.
Joining Manoj and Niki is long-time Hunter leader Dr. Christopher Braun as Special Advisor to the President for Science and Associate Provost for Research. Chris is well-known to the Hunter community, since he has been a professor in the Psychology Department since 2001 and is a former chair of the department and co-chair of the Council of Chairs. We're so grateful for all he has done for the College and delighted to have him as part of the leadership team.
After a national search, we are pleased to announce the appointment of Livia Cangemi as Vice President for Finance, Human Resources and Business Development. Livia, a CPA and proud Hunter alumna, served in this role throughout the Covid crisis, ably managing the complexities of stimulus funding. Livia has been a trusted administrator during her 17 years at Hunter, serving in management and budget roles where she has demonstrated her talent for prudent financial management and her ability to work with leaders across the College and CUNY system.
Gustavo A. Ordóñez is our new Acting Vice President for Administration. He comes to Hunter after 12 years with CUNY in the General Counsel's Office and the Office of Facilities Planning, Construction and Management. During those years, Gustavo was an advocate for CUNY institutions while spearheading some of the university's most consequential real estate and capital transactions.  He now brings that invaluable experience as well as 20-plus years of commercial real estate legal experience to oversee a portfolio of key Hunter offices: Instructional Computing and Information Technology; Facilities Management, Planning and Capital Projects; Public Safety and Environmental Health and Safety. Gustavo earned his JD with honors from Boston College Law School.
Our new Acting Vice President for Institutional Development is Tuhina De O'Connor, who brings with her a wealth of experience in all areas of development, from management to awarding grants to fundraising. She was most recently the CEO of a nonprofit - the PAGNY Health & Research Foundation. She has been on the "giving" side with roles at Rockefeller Philanthropy Advisors and the New York Women's Foundation. And she has been on the "getting" (fundraising) side with organizations including the Robin Hood Foundation, the California Family Health Council and the New York Asian Women's Center where she was Executive Director. She co-founded Faces of Giving, an advising service for donors of color, and she's received the New York Governor's Award to End Domestic Violence and the Robin Hood Foundation's Hero Award. Tuhina earned a Master of Science degree and a Master of Public Health degree from the University of Michigan.
We're pleased that Associate Professor of History Daniel Hurewitz will assume the role of Senior Advisor to the President on Student Success. Working closely with Vice President Eija Ayravainen, Daniel will oversee a number of student engagement activities, including the pre-professional portfolios, the Prestigious Fellowships Office, Study Abroad, the cohort programs, honors programs and student engagement. Daniel is already making a positive difference in the student experience and will also help in our efforts to improve career readiness in all aspects of the college.
It's a pleasure to welcome Dr. Henry Saltiel as our new Chief Information Officer and Associate Provost for Technology. He comes to us after 22 years as Vice President and CIO at LaGuardia Community College and 20 years as CIO at Adelphi University where he led strategic planning and the use of technology to support the college's academic mission. Many of the initiatives he introduced at LaGuardia are now standard practice across CUNY, a clear indication that Henry will help keep Hunter on the cutting edge of information technology. Henry earned a MS in Information Systems Engineering from NYU/Polytechnic University and a Doctorate of Higher Education Management from the University of Pennsylvania.
Our new Assistant Vice President for Communications is a 20-year veteran of the New York newspaper world, Vince DiMiceli. He began as a reporter with The Brooklyn Paper and rose to become editor-in-chief, covering the borough as it developed, in his words, into "a world-class destination and place to live." He went on to become the top editor at the Community News Group, New York State's largest collection of local newspapers and websites. In that capacity, he helped train a generation of journalists who have gone on to successful careers in New York City and beyond, giving Vince a treasure trove of contacts to help spread the word about the great things happening at Hunter. And he has been a part of our communications team as a freelance writer for several years, so he knows Hunter well. I urge everyone to help Vince spread Hunter's good news and raise its media profile.
Please join me in welcoming this outstanding team of administrators. And give an equally warm welcome to the 32 new faculty members across 19 departments who are coming to Hunter this semester. We will share more information about these scholars and teachers as well as other campus developments in our next installment of Open Line.
Until then, best wishes for a healthy and productive semester and deep appreciation for all you do for Hunter College.
Jennifer J. Raab