Spring 2014 Open Line
From Jennifer J. Raab, Hunter College President
Each semester, President Raab issues an "Open Line" to all students, staff and faculty at Hunter College. See the Open Line Archive.
Spring Semester
Now that the spring semester is fully underway, we want to share with you some recent good news, as well as a few things to expect in the year ahead.
The year began with an extraordinary compliment from none other than President Obama, who called Hunter "one of the best colleges in the country." The President made his remark in a January speech (the Hunter segment begins at approximately the 20-minute mark) on poverty and education, delivered from the White House, in which he was surrounded by a group of promising young men and women from Harlem. The President's praise of Hunter came as he singled out one of these young people, Roger Brown, a former foster care child who is today a Hunter pre-med sophomore.
Another cause for celebration was a $15 million gift from Hunter trustee and Theatre Advisory Board chair Patty Baker '82 and her husband, Jay, that will enable us to purchase a 26,000-square-foot building on East 67th Street, right around the corner from our main campus. It will become the new freestanding home for our Department of Theatre. The building, once renovated, will provide essential new rehearsal, classroom and performance space for our theatre students and faculty. At the event held to celebrate the Bakers' generosity, the couple, who had originally donated $10 million, surprised the crowd by announcing an additional $5 million contribution to the project.
The new theatre building will advance Hunter's status as one of the city's major arts institutions—a reputation that has been burnished by significant developments in our Department of Art and Art History. Professor Jeffrey Mongrain, an internationally renowned sculptor, was recently named a CUNY Distinguished Professor. He joins 17 fellow Hunter faculty members in holding this distinction.
Mongrain's honor arrived as the Art Department enters a new era with the opening of its MFA Studio Art's new home at 205 Hudson Street in Tribeca. Hunter's gifted MFA students are already working throughout the three floors of state-of-the-art studios and common spaces. In addition, a 5,000-square-foot street-level gallery will soon allow them and the faculty and budding curators in our Art History program to showcase their work in Tribeca, the epicenter of New York's art scene.
The sciences at Hunter will also soon be enhanced. By the end of this year, a number of our leading scientists will settle into their offices and laboratories in Weill Cornell Medical College's new, state-of-the-art Belfer Research Building. Hunter will own the entire 4th floor of the 16-story building on East 69th Street, allowing us to greatly expand our collaboration with Weill Cornell.
Since the creation in 2007 of the Clinical and Translational Science Center, an Upper East Side medical research consortium led by Weill Cornell, Hunter's scientists and School of Nursing faculty have worked closely with leading neighborhood research institutions to conduct research on cancer, global health, and neurodegenerative, cardiovascular and infectious diseases. The move to the Belfer building will encourage this collaborative, interdisciplinary research effort. Hunter Provost Vita Rabinowitz and I are looking forward to bringing Hunter scientists to the new building to meet their Weill Cornell colleagues later this month.
The second phase of our enhancement of the sciences at Hunter is also moving ahead. The City Council has approved the construction of our science and research complex on East 74th Street—a joint project between Hunter and Memorial Sloan-Kettering Cancer Center. This will provide the College with still more world-class research and training facilities for our scientists and for our Schools of Nursing and Health Professions, which will be permanently housed in the new building. The School of Nursing has already begun working closely with the outstanding nurses at MSK to develop new programs and research projects.
The renovated 3rd floor of the library at 68th Street is now a busy hive of student activity, and we have finalized plans for the next phase of the library's metamorphosis-the 6th and 7th floors. The 6th floor will contain the School of Education Library, the first time in Hunter history that this school will have its own library, which will also house the School's extensive collection of student teaching videos. The 7th floor will house the Silverstein Student Success Center, named in honor of Larry Silverstein and his wife, Klara '54, MA '56—a member and former chair of the Hunter College Foundation—who donated $5 million for the project. Many thanks to Chief Librarian Dan Cherubin and his staff for their tremendous work in getting the library ready for this renovation.
The Success Center will bring Hunter's learning centers—in writing, math and science—together in the same inviting and centrally located space. This is part of Hunter's commitment to student success, a key element of our Strategic Plan. Our intention is to create a 21st-century learning center, a state-of-the-art facility where Hunter students can get the assistance they need to help ensure their academic success. We welcome your input. Please let Acting Associate Provost Brian Duffy (bd140@hunter.cuny.edu) know if you would like to contribute to this conversation.
Also on the 7th floor we will bring together, in new, modern quarters, our pre-professional advising programs in medicine, law and business. This includes the Cooperman Pre-Business Program, created by Leon Cooperman '64 to provide scholarships and mentoring for undergraduates interested in business careers. Leon and his wife, Toby '64, are also the new namesakes of the library, thanks to their $15 million gift to the renovation—part of a $25 million gift to Hunter, the largest in the College's history.
Our library renovation and learning center overhauls are just part of a broader commitment to re-evaluating and substantially enhancing the programs, facilities and other factors that influence student success. One particular focus has been the improvement of student retention and graduation rates, so we are happy to report that, over the past 12 years, the six-year graduation rate at Hunter has risen 14 percentage points. We are pleased to be partnering with the Hunter Senate, in particular with the Student Success Committee, chaired by Dr. Michael Steiper, and the Senate Committee on Computing and Technology, chaired by Mark Halling, on this initiative. In pursuit of the same goals, we are also creating a Presidential Task Force on student advising.
Another major goal of our Strategic Plan is the advancement of Hunter as a research institution. One significant step we have taken to meet this goal is the appointment of Mark Hauber, professor of psychology, as Acting Associate Provost for Research. Professor Hauber, who holds a Ph.D. in Neurobiology and Behavior from Cornell and a Doctor of Science degree from the School of Biological Sciences at the University of Auckland, is an international leader in the field of animal behavior. As Acting Associate Provost, Professor Hauber will promote faculty development, new research opportunities and partnerships, improved assessment and outreach, creative and interdisciplinary collaborations, translational research and more.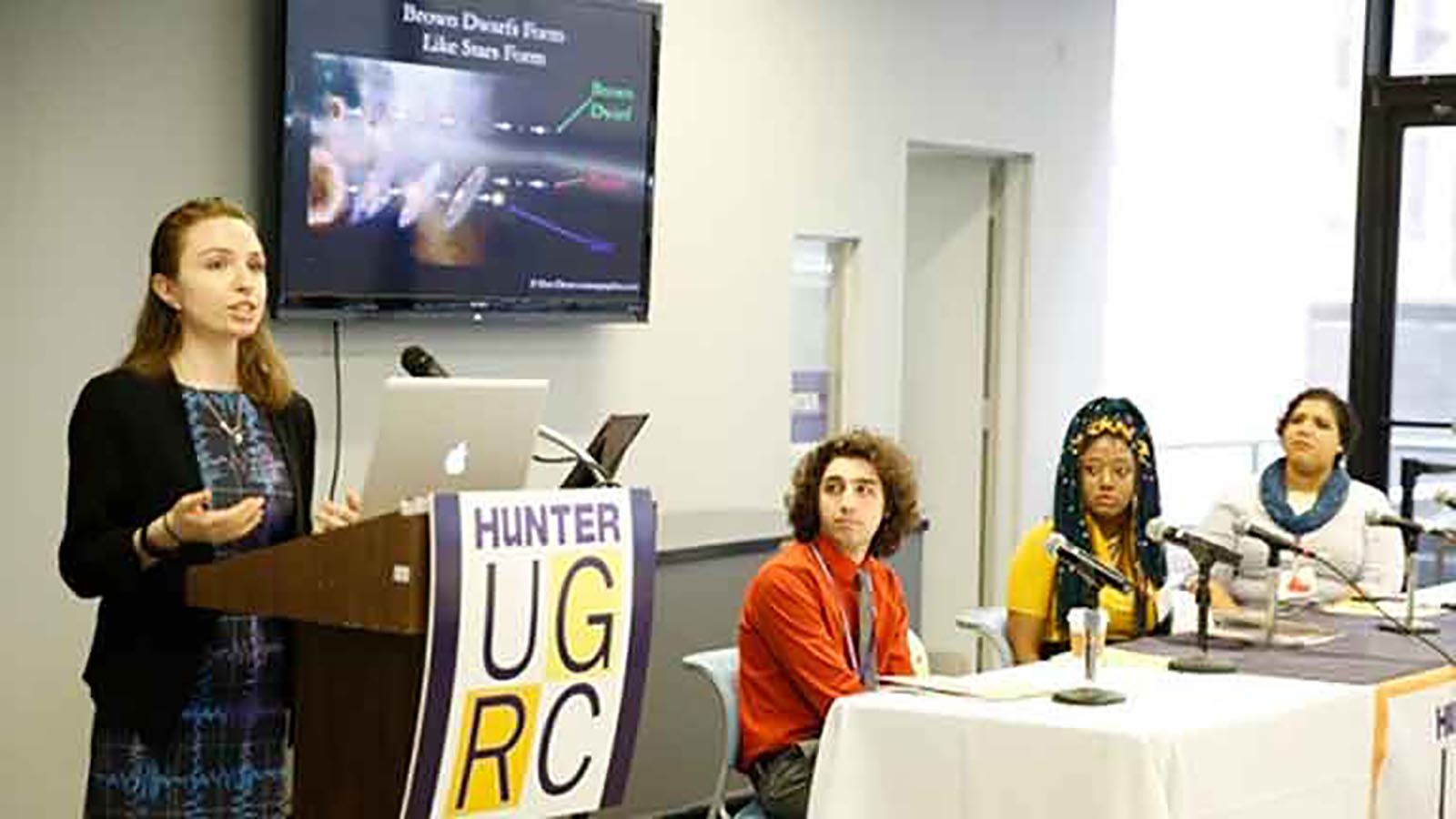 Our plans to advance Hunter as a research institution that fosters student success will be on display at Hunter's second annual Undergraduate Research Conference, March 5-6. Students across the disciplines will be giving oral presentations and presenting posters of original research they conducted with faculty mentors. The conference will feature several panel discussions and a keynote address by Dr. Gregory Petsko, Professor of Neurology at Weill Cornell Medical College and member of the National Academy of Sciences. We hope you will stop by to celebrate the outstanding work of our students. To learn more about the conference program, click here: Undergraduate Research Conference.
The Strategic Plan is also guiding our current preparation of the Periodic Review Report for the Middle States Commission on Higher Education. We are grateful to the faculty, students and staff from across Hunter who have been actively engaged in the process. Special thanks to our Acting Assistant Provost for Accreditation, Assessment and Academic Program Review, Dr. Edward Barboni, and the Assessment Team he leads, including Dr. Meredith Reitman, Director of Assessment, and Joan Lambe, Director of Institutional Research. If you have any comments or questions about this process, or would like to contribute to it, please contact the Provost's office. Complete drafts of the report will be available for the entire Hunter community to review in April.
There is no better gauge of a college than the quality of its alumni. Anyone who attended our January commencement—at which we presented The New York Times art critic and Hunter alumnus Holland Cotter MA '88, with an honorary doctorate—can feel confident that Hunter is continuing to produce many of our city's future leaders, professionals and scholars. We were particularly proud of Class of 2014 valedictorian Nadira Haque, whose goal is to teach in New York City's public schools. Haque is living proof that the best and brightest students still choose a life of teaching. And she is not alone; year after year, Hunter sends many of its best students into this most important, if sometimes undervalued, profession. Hunter's School of Education produces teachers not just of the highest quality, but also schooled in a variety of demanding specialties. For example, in January Yulanda Knights became the very first graduate of Hunter's Arnhold Graduate Dance Education Program.
We are delighted to announce that one of Hunter's distinguished alumni, Dr. Elizabeth Capezuti MS '84, will be returning to us. She has been named the School of Nursing's first Hearst Professor of Gerontology, thanks to a $750,000 endowment from the William Randolph Hearst Foundation. Dr. Capezuti, an internationally renowned researcher and advocate in the field of aging care, comes to Hunter from the NYU College of Nursing. She will build on Hunter's exceptional work in improving the lives of New York's aging population by helping expand our collaborations with hospitals and medical schools throughout the city.
The Silberman School of Social Work at Hunter College is also deeply engaged in meeting the needs of our aging society. In September, the Gerontological Society of America and the John A. Hartman Foundation named the School a Hartford Center of Excellence in Geriatric Social Work. With this designation, held by only five schools in the U.S., comes funding for research, curriculum development and joint ventures with professionals and agencies dedicated to the well-being of older adults.
Hunter's Strategic Plan places great emphasis on interdisciplinary work, which is at the core of our East Harlem initiative. Under the leadership of Jacqueline Mondros, Dean of the Silberman School, and her initiative co-chair, Associate Provost Neal Cohen, we're engaging the schools of Urban Public Health, Education and Nursing and the Center for Puerto Rican Studies (CENTRO)—as well as Hunter psychologists, planners and others—in a groundbreaking effort to improve education, health and social outcomes in East Harlem.
One significant component of that work concerns food policy, which makes Dr. Thomas Farley, the former Commissioner of the New York City Department of Health in the Bloomberg administration, a particularly good choice as our 2014 Joan H. Tisch Distinguished Fellow in Public Health. Dr. Farley, a primary force in promoting and implementing many of the mayor's food-related policies, will work closely with our Food Policy Center. He is also looking forward to engaging with the Hunter community more broadly and is interested in giving guest lectures, so please feel free to contact him at his office in Roosevelt House.
Another exciting interdisciplinary initiative that is moving forward is Arts Across the Curriculum (AAC), generously funded by a three-year grant from the Mellon Foundation and directed by English Professor Rebecca Connor. Midway through its first year, AAC is working with partners throughout the College to infuse the visual and performing arts, as well as creative writing, into existing courses, create new interdisciplinary offerings involving the arts, bring New York-based artists into courses and workshops and plan arts-based events that will engage our entire community.
Finally, our Strategic Plan calls for us to develop stronger, more enduring ties to our alumni. As part of meeting this goal, we are looking forward to Hunter's first annual all-alumni Homecoming Day on April 5. We invite all of you—particularly the many members of our faculty and staff who are Hunter alumni—to participate in the lectures, panels, networking opportunities, campus tours, art exhibits and other programs that will mark this special occasion. Help our alumni learn what life at Hunter College in 2014 is all about. If you would like to get involved or have ideas for other programs, please contact Homecoming Director Katy McNabb at: kmcnabb@hunter.cuny.edu.
Homecoming is just one of many exciting events that will take place at Hunter this spring. We also hope many of you attend our Roosevelt House forum on former New York City Mayor John Lindsay on March 20 at the Kaye Playhouse. Organized by Joe Viteritti, Thomas Hunter Professor of Public Policy and chair of the Department of Urban Affairs, the program will include prominent historians, journalists and major figures in New York City politics and business. Click here for a complete list of upcoming Roosevelt House events.
As always, our MFA in Creative Writing Program's Distinguished Writers Series spring line-up is exceptional. Visiting professor Claire Messud, the award winning author of The Emperor's Children and other novels, will present her work on April 8. Click here for the complete list with dates and RSVP information.
The Art Department, too, is bringing a series of exciting visual artists to campus under the Zabar Visiting Artist program. The first artist to come will be Julie Ault, a Hunter alumna who will give a lecture on April 2. Ault, a founding member of the artists' collective Group Material, is currently exhibiting "Macho Man: Tell it to My Heart: Collected by Julie Ault" at Artists Space in New York.
Also, please welcome Peter Edidin, Hunter's new Assistant Vice President and Director of Communications and Marketing. He comes from the Environmental Defense Fund, where he was Managing Editor. Before that, he was an editor and writer at The New York Times. If you would like to spread the word about faculty or student activities and accomplishments, he is eager to work with you. Peter can be reached at: pe47@hunter.cuny.edu.
We thank you all for your many and varied contributions to Hunter College and wish you a wonderful semester.
Jennifer Raab
President