Winter 2015 Open Line
From Jennifer J. Raab, Hunter College President
Each semester, President Raab issues an "Open Line" to all students, staff and faculty at Hunter College. See the Open Line Archive.
A New Term in Full Swing
Now that the new term is in full swing, I want to bring you up to date on the exciting events and developements that are underway at Hunter, as well as some of the highlights of the past semester.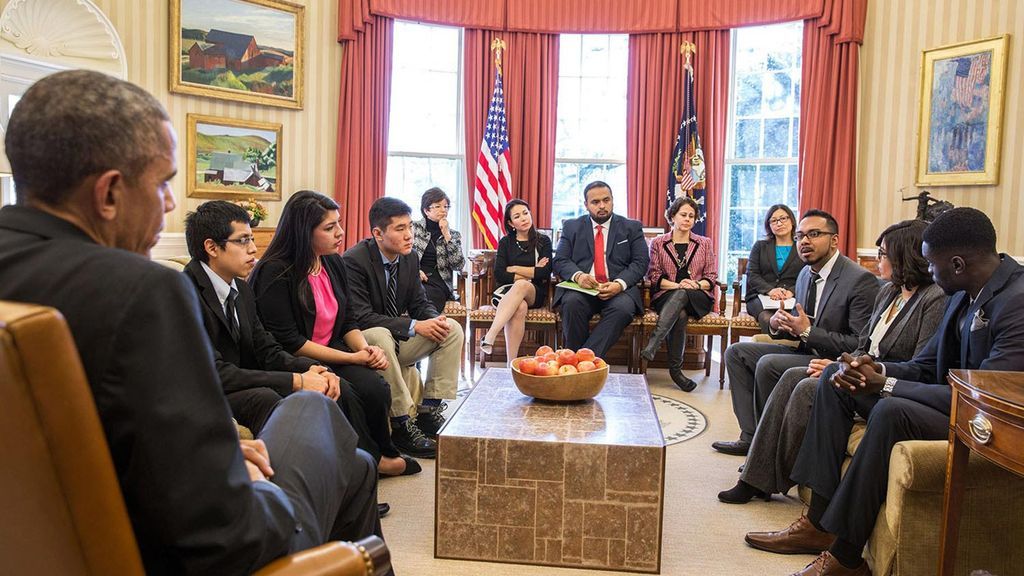 It is with great pride that we share the extraordinary achievements of several Hunter alumni:
Rishi Singh (BA '05; BS '13), was among six "Dreamers" – American college students and graduates who are undocumented immigrants – with whom President Barack Obama met in the Oval Office on Feb. 4.   Rishi got it exactly right when he told NBC News after the meeting that the goal is to let people "come out of the shadows and live and work in dignity."
Mildred Dresselhaus (Hunter College High School '47, Hunter College '51)  was honored by President Obama with the Presidential Medal of Freedom, the nation's highest civilian honor, at a White House ceremony on Nov. 24. In making the presentation, President Obama called Dresselhaus, a trailblazer for women who went on to become an MIT professor of physics and electrical engineering, "one of the world's most celebrated scientists."
Phil Klay (MFA in Creative Writing '11) won the prestigious National Book Award for Fiction for his celebrated collection of short stories about Iraq, Redeployment.
These alumni are all, in very different ways, living Hunter's motto, Mihi Cura Futuri, "the care for the future is mine."
Modernizing & Expanding the Campus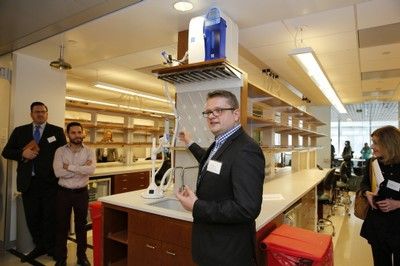 Back on campus, the latest and most exciting news is that twelve Hunter researchers chosen through a competitive process have just completed their move into state-of-the-art laboratories in Weill Cornell Medical College's new Belfer Research Building on 69th St. (www.hunter.cuny.edu/belfer).  This is a breakthrough for the sciences at Hunter and a deepening of our remarkable relationship with a great national university. We are already a major member of the Weill Cornell-led consortium of East Side scientific institutions known as the Clinical and Translation Science Center; in fact, Hunter scientists have in the last year generated over $1 million in CTSC research grants. And because Belfer features an open floor plan that is designed to create synergistic relationships among the resident scientists, our move there will further strengthen our already important role in this pioneering partnership.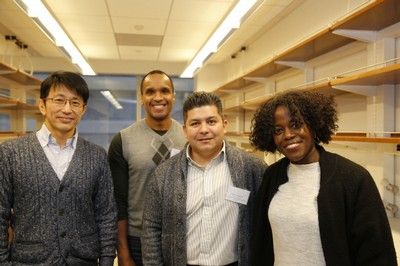 The Hunter scientists at Belfer (for a listing see here) are brought together from three departments: Biological Sciences, Chemistry and Medical Lab Sciences. Their work is organized around two major research themes: cancer biology and imaging, and bioinformatics and infectious diseases. For example, teams led by Biology Professors Jill Bargonetti and Olorunseun Ogunwobi are joining together to study new animal models of cancer biochemistry in Belfer's cutting-edge vivarium. And the bioinformatics teams led by Professors Konstantinos Krampis and Weigang Qiu are helping to develop next-generation genome sequencing.  Just last week, David Foster, the Rosalyn Yalow Professor of Biological Sciences, was featured in an exciting News4 story recorded in the Belfer labs about his fascinating research on a cancer-preventing compound found in extra-virgin olive oil.
The opening of Belfer also brings benefits for the entire Hunter faculty. The building contains state-of-the-art conference halls, meeting rooms and outdoor spaces that can be reserved for events.   Please see here or contact Acting Associate Provost Mark Hauber at mhauber@hunter.cuny.edu to book the large or small conference rooms on Hunter's Belfer floor, free of charge for Hunter staff; to reserve one of the building's other spaces (which may involve a fee); or to arrange a tour of the Belfer Building for yourself and your students.
The next big breakthrough for Hunter sciences will be the construction of a spectacular new science and health professions building on East 74th St. in partnership with Memorial Sloan Kettering Cancer Center. I look forward to updating you on this project as we move forward in this year.
Meanwhile, the renovation and expansion of our main campus continues at a rapid pace. The $40 million modernization of the Cooperman Library, already a great success with student and faculty, is moving into its third phase. The installation of state-of-the art compact shelving and new lighting on the B-2 level is complete, allowing us to move the books there from the 6th and 7th floors. That, in turn, clears the way for the exciting changes planned for those floors, with the extensive construction work likely to start during the spring break.
On the 6th floor, a new School of Education library will be a resource worthy of this renowned school and a big step forward for teacher education at Hunter. The 7th floor will be the site of the new Klara and Larry Silverstein Student Success Center, which will bring together in one place Hunter's three student-tutoring facilities: the Dolciani Mathematics Learning Center, which will move there from the North Building; the Rockowitz Writing Center, which will transfer from Thomas Hunter Hall, and the new Skirball Science Learning Center.  In addition, the 7th floor will be the home of a new pre-professional career center for students pursuing futures in law, business and health.
We have embarked on a plan to modernize some of the larger rooms on campus, and started with one of our signature rooms, the 714 West Lecture Hall.  Thanks to a Hunter supporter, one of Hunter's largest and most intensively used spaces on the main campus, 714 West has been transformed with state-of-the-art A/V equipment, along with other physical improvements like new seating and amenities.  We are also pleased to report that the Faculty Dining Room has been modernized, and we hope to continue to invest in upgrades and improvements elsewhere on campus.
We expect to close soon on our purchase of the Kennedy Child Study Center on East 67th St., just around the corner from the main campus.  This building will be converted into Baker Hall, a grand new home for our Theatre Department.  Planning for the reconstruction is already underway in consultation with the Theatre Department faculty.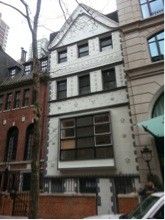 And in yet another significant physical change, Parliamo Italiano, our splendido Continuing Education Italian language program, has returned to Casa Lally on East 65th Street. The privately-funded extensive renovation of Casa Lally – which was also a gift to Hunter – has been completed. Parliamo is now joined by two new residents. One is the Department of Art and Art History's Artist's Institute, which is leaving the Lower East Side to move close to the main campus (to learn more about the Institute, please go here). The other new resident of Casa Lally, Hunter's LGBT Center, will continue to work closely, as it has in the past, with the Roosevelt House Public Policy Institute but will now be located in this handsome new home just down the block.
The LGBT Center is flourishing under its new interim director, Elizabethe Payne, who joined us as a Distinguished Lecturer in December.  Dr. Payne, one of the country's foremost scholars of LGBT studies in educational environments, has already expanded our Center by bringing QuERI – the Queering Education Research Institute – to Hunter from Syracuse University where she established it. Our college is emerging as a national center for research and public policy in LGBT studies, and Dr. Payne will continue to expand this vitally important role, following in the impressive footsteps of her predecessors at the LGBT Center, Professors Jeff Parsons and Markus Bidell.  If you are interested in learning more, please contact her at elizabethe.payne@hunter.cuny.edu.
The new academic space being created in Belfer, East 74th Street, Cooperman Library and Baker Hall will open up classrooms, laboratories and other space in the North Building and elsewhere – room that our growing college urgently needs.
These many additions, moves, and renovations--some well underway, others yet to start--present unparalleled opportunities to re-imagine Hunter's physical plant and lay the groundwork for its best future far into the 21st century.  The Hunter community has a vested interest in both the processes by which we make crucial decisions about space and the products of our planning efforts.  Aligned with the Hunter College Strategic Plan, our planning processes will be transparent, collaborative and inclusive, emerging from a close working partnership among the Senate Master Plan Committee, academic programs and departments and senior administrators, assisted by a professional academic planner. Its products will be fully aligned with the Strategic Plan to foster a research-oriented, student-focused institution, one that serves as a national model for urban public universities. Given the importance of major space planning to the entire community, we will report on our progress regularly. And we welcome your active engagement as we work together to make Hunter all it can be.
Our Growing Role in East Harlem
The "All in East Harlem" Program – our college-wide commitment to bring enduring improvements to the community where our Silberman School of Social Work Building is located – is growing at an exciting pace. All In's activities reflect many of the goals of the Hunter Strategic Plan, most important the programming will enhance our academic identity, support faculty research and expand interdiscliplinarity and collaboration.
In that spirit, some 65 faculty projects are now underway in East Harlem, with more than 150 fieldwork- and internship-placements in local organizations. The range and reach of these projects is truly impressive. For example, one helps senior citizens who are "aging in place" in their homes with social and health services. Another project addresses the needs of young Mexican Americans who have dropped out of high school. A third helps women who are former prison inmates with issues like substance abuse and mental illness.  A similar program helps men released from Rikers Island with their re-entry into society. And this spring, all sections of the Macaulay Honors College seminar, Shaping the Future of the City, will focus on East Harlem, with students conducting fieldwork and utilizing research-based case studies.
All the projects are overseen by a steering committee – led by School of Social Work Dean Jackie Mondros, Acting Associate Provost Marilyn Auerbach and Thomas Hunter Professor Joe Viteritti, chair of the Urban Affairs and Planning Department. But beyond that, the projects will create neighborhood partnerships that will engage the East Harlem community at the grassroots level --- drawing on the community's diverse expertise and talents, found everywhere from the community planning board to the public schools, and from neighborhood-based health organizations to local barber shops. If you would like to participate in this community initiative, either by working with an existing project or by proposing one of your own, please reach out to Silberman Dean Mondros (jmondros@hunter.cuny.edu), Professor Viteritti (joseph.viteritti@hunter.cuny.edu) or Christian Ramsay in my office (crams@hunter.cuny.edu).
The Arts at Hunter
At Winter Commencement in January, Hunter honored legendary choreographer Twyla Tharp with an honorary doctorate, noting that her very first live choreographed performance, Tank Dive, was performed on the 16th Floor of the North Building in 1965.  Fifty years later, we are pleased that Twyla Tharp will return to campus on April 16th for a special program to commemorate this anniversary.  For more information, please contact the Special Events office at spevents@hunter.cuny.edu.
In the great tradition of groundbreaking artists like Twyla Tharp, the arts continue to thrive on the Hunter campus.  Our Arts Across the Curriculum program, funded by a generous grant from the Mellon Foundation, continues to flourish under the leadership of Director Rebecca Connor. The program incorporates the study of the arts into seemingly unrelated subjects like astronomy, chemistry, and nursing – offering workshops, seminars, conferences and public events, all designed to expose our students to the wealth of opportunities that surround them in the arts capital of the nation.  The grant also supports the development of new interdisciplinary curriculum as well as support for both faculty research and creative activities that support faculty development.   The Provost and I were delighted to host a luncheon with 25 faculty members in December to talk about advancing AAC. We plan to form two Advisory Boards, an internal one that will be composed of faculty members and an external one that will tap into the enormous arts talent of our city.
We want to encourage as many faculty members as possible to get involved with this imaginative and exciting program. Faculty participants are eligible for Curricular Innovation Grants to help develop arts-themed courses and certificate programs. If you're interested in enriching your students' Hunter experience with Arts Across the Curriculum, please contact Marilyn Auerbach (mauerbac@hunter.cuny.edu) in the Provost's Office for details.
We're also launching a new Office of the Arts this spring to connect Hunter students to New York's great array of arts institutions.  The Office will provide access to discounted tickets to events and performances, foster institutional partnerships and help create and publicize internships that can serve as springboards for our students into the cultural world.  I am pleased to report that Dara Meyers-Kingsley, who has ably led our Muse Scholar Program since its inception four years ago, will direct the new Office of the Arts.  Dara will continue to oversee the Muse Program while she builds the new Office into a signature feature of the Hunter experience.
And we are proud to be celebrating the 100th anniversary of artist Robert Motherwell's birth with a fascinating exhibition in the newly renovated Bertha and Karl Leubsdorf Art Gallery.  Called Robert Motherwell and the New York School at Hunter, the show, curated by Professor Howard Singerman, the Caroff Chair of the Department of Art and Art History, documents how Motherwell, who taught at Hunter throughout the 1950s, helped transform the Department by recruiting many of the foremost painters and sculptors of the mid-20th century to our faculty. It is in large part due to the great legacy established by Motherwell that our MFA Program in Studio Art is ranked among the nation's best.  I urge you to visit the show, to read the inspiring exhibition catalogue and to contact Dr. Singerman if you, your students or department would like a tour of the show.
Welcoming New Members of the Hunter Team
I am pleased to announce the appointments of two outstanding new staff members and two internal promotions.
Christopher Browne is our new Chief Communications Officer and Assistant Vice President for External Affairs, consolidating two previously separate jobs to better serve institutional needs and create new opportunities.  Chris joins us from NY state's housing agency where he was Deputy Commissioner of Policy and Communications, and will be especially active in working with the faculty to tell Hunter's story in the media. Extraordinary things are happening here at our college, and Chris seeks to help you get the attention your work deserves, including by bringing faculty media training to campus.  If you want to reach out to him with a story or seek his advice, he's at Christopher.Browne@hunter.cuny.edu.
Sara Meyers has moved into the newly created post of Assistant Vice President of Institutional Advancement.  Sara, who joins us from the City's Finance Department, will concentrate on strengthening and streamlining the management and operations of our fundraising activities, as we enter a fast-changing era of significant fundraising potential.  This is vitally important, because so many of the special benefits we offer faculty and students at Hunter depend on private financing.  Not only will Sara work with faculty and students whenever possible in seeking new kinds of support, she will also manage the more efficient processing of gifts and donations.   If you have any questions about the Hunter College Foundation and fundraising, Sara can be reached at Sara.Meyers@hunter.cuny.edu.
I am also happy to announce the internal promotions of two longtime Hunter employees in the office of Acting Vice President for Administration Giancarlo Bonagura. Carlos Serrano, formerly the AVP for Business Services, is now the Acting AVP for Budget and Finance, replacing Sharon Neill.  Carlos held financial and operational posts for the City for over two decades before joining Hunter. Livia Cangemi has been named Acting Business Manager and Controller, responsible for Business office operations, including Accounting and the Bursar's Office.  Livia, who joined Hunter as Director of Accounting in 2005, previously served as the Controller/Deputy Business Manager.
As we welcome these new colleagues, we bid a fond farewell and extend thanks and warmest best wishes to our longtime Director of Public Safety Louis Mader, who has retired after a long and effective career. Losing Lou is a sad event for Hunter, but we wish him well.  We're grateful that Richard Meier has stepped up to serve in an acting capacity while the search for a new Public Safety Director is conducted.
Commitment to Student Success
We want to thank all those who participated in our most recent review by the Middle States Commission on Higher Education (MSCHE), Hunter's accrediting body, which in late 2014 resulted in a very positive response to our Periodic Review Report (PRR). Hunter was fully re-accredited, and received a commendation for the quality of our report. We are especially pleased with the favorable acknowledgement we received on all aspects of our report:  our strong enrollment; sound and stable financial trends and solid fundraising; evidence of ongoing assessment of institutional effectiveness and student learning; and robust evidence of close alignment of our budgeting with the goals of our strategic plan. We are now taking steps to strengthen academic assessment and maintain the positive momentum that our inclusive PRR process inspired throughout the college.  In particular, I want to thank Provost Rabinowitz for her extraordinary leadership in this effort.  As we look ahead to our next review in 2018-2019, we are grateful for the energy that so many faculty, staff and students brought through their participation in this process, and look forward to soliciting even more of your feedback and engagement as we together make Hunter even stronger.
It also gives me great pleasure to report that Hunter's six-year graduation rate increased this year to its highest-ever levels. An important factor behind this gain has been the steady improvement in second and third-year retention, a credit to the collaboration of faculty and staff in an endeavor to ensure that students make the most of time here and achieve their greatest potential. The renewed commitment to our strategic plan's goal to foster student engagement and success has been a team effort, and while we can be justifiably proud of the focused progress we have made, much more work is left to be done.  We are grateful to the Presidential Task Force on Student Advising, which will soon offer its recommendations on expanding successful initiatives and instilling best practices that will further improve student engagement, satisfaction and retention.  We will work with the Senate Student Success  and  Computing & Technology Committees, to follow up on the Task Force's recommendations and continue to explore high-impact, evidence-based practices and policies to improve student learning and the student experience.
We encourage faculty to take full advantage of Hunter's programs to support your research and teaching -- from travel awards and faculty advancement funds to initiatives to increase student engagement. There are also Innovations in Teaching with Technology, Computer-Replacement and Faculty-Laptop programs. To find out more about these programs, call the Provost's Office, 212-772-4150, or go here.
Finally, I urge full-time faculty to take part in the recently distributed survey on faculty satisfaction. The survey research is part of a national program called the Collaborative on Academic Careers in Higher Education (COACHE), operated and administered by the Harvard Graduate School of Education since 2003. Your views, which are kept completely confidential, are especially important to us as we strive to attract and retain the best and brightest scholars and teachers, increase the satisfaction of all faculty and help you do your best work here. If you have not received the survey already, please contact COACHE at coachefaculty@opinioncast.com.
Campus Events Not To Be Missed This Spring
Roosevelt House is hosting several interesting events this spring, On March 5th, and 6th, Roosevelt House and the Hunter/CUNY Institute for Sustainable Cities will host a two-day conference addressing the search for solutions to global climate change.   Joe Califano will return to campus, and will be joined by Hunter faculty and other scholars of LBJ's presidency, for a full-day conference on March 24 examining The Great Society.  Finally, this spring, Roosevelt House will host a discussion on the future of The New York Times with Publisher Arthur Sulzberger and Executive Editor Dean Baquet.  The lively discussion will be moderated by Roosevelt House's Interim Director, Jack Rosenthal, himself a veteran of The Times.  More information about this event will be announced as it becomes available.
And our Distinguished Writers Series continues its tradition of attracting some of the world's foremost authors. Among those on the spring schedule is Edwidge Danticat, the much-honored Haitian-born, Brooklyn-raised novelist, who visits our campus on May 12.
In closing, I want to encourage you to stay engaged with the Hunter community throughout the term. Please check your Hunter emails, your MyHunter page, Hunter's many Twitter feeds (including @Hunter_College and @HunterPresident), Instagram accounts (@HunterCollegeand @HunterPresident), Hunter's Facebook and Flickr pages, our interactive online events calendar, the campus video screens, and the Hunter website to keep informed of College news and the wide array of events happening on campus.
Please do not hesitate to contact me (president@hunter.cuny.edu) with any questions you may have.
My best warm wishes for a productive 2015.
Jennifer J. Raab
President