Winter 2017 Open Line
From Jennifer J. Raab, Hunter College President
Each semester, President Raab issues an "Open Line" to all students, staff and faculty at Hunter College. See the Open Line Archive.
Welcome Back From Break
It's wonderful to see you filling the halls and classrooms, and I hope your new year has gotten off to a great start. As we begin the spring semester, the recent executive order is on many of our minds. All of us at Hunter share the deep concern expressed by the Chancellor and the CUNY Board of Trustees about its impact on the CUNY community, and we have made it our first priority to reach out to members of our community who may be affected and to provide appropriate support. We recommend that students with questions or concerns about the executive order or other immigration issues contact Chris Aviles in Student Services, and that faculty and staff contact John Rose, Dean for Diversity and Compliance. We will continue to offer assistance through CUNY Citizenship Now, CUNY CLEAR and other resources. Hunter remains committed to honoring our diversity and preserving our inclusive community. We firmly believe that talent knows no border, and we cherish the contributions and creativity of our immigrant and international students, faculty and staff.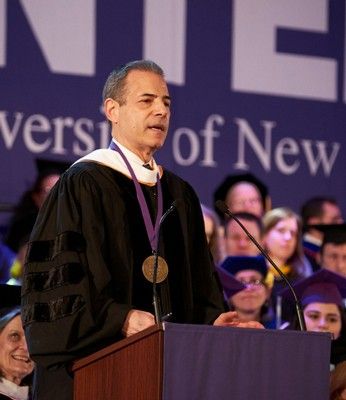 Our wonderful January graduation ceremony was in many ways a celebration of these values. As our speaker, Richard Stengel, former Under Secretary of State for Public Diplomacy, told the graduates: "You literally are the American Dream . . . You are the now and the future of what makes America great." Those resounding words are confirmed by a new study confirming that CUNY truly is the engine of social mobility. We set our students on pathways to success, and we will not turn away from that mission.
Commencement also gave us an opportunity to celebrate our many successful DACA students, including one of our 9 salutatorians, Pablo, who, after arriving from Argentina as a child, went on to pursue such American pastimes as cheerleading and working at Starbucks. We were pleased to provide Pablo with a scholarship to follow in the footsteps of Thomas Hunter by becoming a school teacher.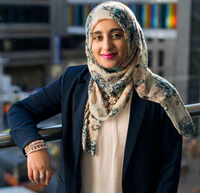 We also have cause to celebrate Faiza Masood '17, a child of Pakistani immigrants who is the first student in Hunter's history to be awarded a Marshall Scholarship. The Marshall is granted to no more than 40 students annually and Faiza is one of only two recipients from New York State this year. A student in the Thomas Hunter Honors Program, she is a Religion major with minors in Arabic Studies and Asian American Studies. The Marshall will allow her to pursue a Master's at the University of London's School of Oriental and African Studies.
A New Step Forward for Our Library
We have a lot to look forward to this semester, and one of the highlights will be the reopening of floors 6 and 7 of the Leon and Toby Cooperman Library. The official ribbon-cutting is set for March 14. The library is the hub of student life and the innovations on the 3rd floor – including a new computer lab, the Barbara Lang Study Center and an information commons – have vastly expanded its capacities. The changes on 6 and 7 will build on this progress.
On 7, the Silverstein Student Success Center – made possible by a generous gift from Klara Silverstein '56 and her husband Larry – will allow us to dedicate the entire floor to student achievement by bringing together three major tutoring centers:
The Dolciani Mathematics Center, which is expanding its mission as well as its space to support math education and skill development across all courses of study.
The Skirball Science Center, a comprehensive new resource to assist undergraduates and graduate students in all areas of science.
The Rockowitz Writing Center, which will continue to provide students the help they need to hone this essential life skill.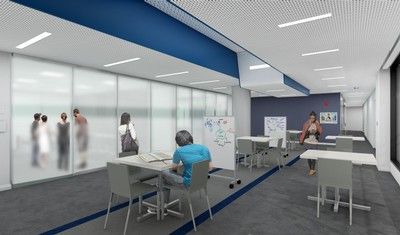 A new Pre-Professional Center on 7 will bring together the Pre-Law, Pre-Business and Pre-Health programs. And the new Office of Prestigious Scholarships & Fellowships, led by Dr. Stephen Lassonde, will advise students on winning top awards. The Office is off to an impressive start with Faiza Masood's Marshall Scholarship!
The 6th floor is the home of the new Frankfort Education Library – the world-class library our wonderful School of Education has long deserved. Smart classrooms, a new technology help-and-loan center and a lab for analyzing student-teaching videos will be among the great new facilities for the School, whose undergraduate program in Childhood Education has just been ranked in the 99th percentile among 800 programs reviewed by the National Council on Teacher Quality.
The Impact of Private Giving on Our Campus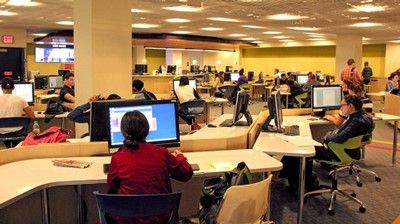 The modernization of the main library – which is named after Leon and Toby Cooperman in acknowledgment of their $25 million contribution – is yet another example of the transformative impact that philanthropy is having at Hunter. Last year alone, the Hunter College Foundation invested nearly $22 million in private funds in academic programs, student scholarships, faculty research and travel grants, and infrastructure improvements. We hope you will read about some of these exciting initiatives in the latest issue of Giving @ Hunter.
The re-opening last semester of Casa Lally marked yet another milestone in the transformation of our campus. The children of the late Franca Pironti Lally made a gift of this lovely $10 million townhouse, and then donated another $1 million for its restoration. It is now home to Parliamo Italiano, our renowned Italian language continuing education program, and the Artist's Institute, our exhibition space for contemporary art.  If you haven't visited Casa Lally yet, stop in to view the photography of Sharon Lockhart, on exhibit through March 18.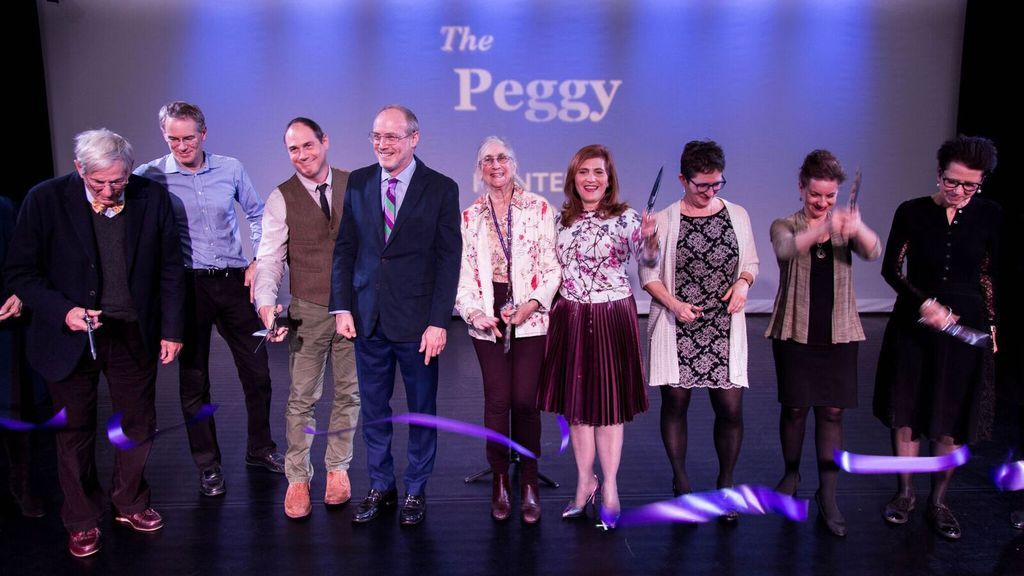 We recently cut the ribbon on a newly renovated dance studio named "The Peggy" for Assistant Provost Peggy Tirschwell. The renovation was made possible by Richard Gilder, Peggy's brother and a longtime supporter of our College, in honor of the 50 years Peggy has dedicated to Hunter and CUNY.
Because fundraising plays such a crucial role in Hunter's emergence as a world-class university, we are delighted to have a new leader for the Office of Institutional Advancement, Vice President Barbara Gunn. Barbara was most recently CEO of Seedco, and before that Senior Vice President for Operations and Government Relations at the American Museum of Natural History. If you have questions or want to share ideas, please contact Barbara at bg1036@hunter.cuny.edu or call 212-650-3733.
Upgrades for an Evolving Campus
I'm pleased to announce that our continuing investment in campus technology enters a new phase this semester as we strengthen two areas that are integral to student life. We are committed to dramatically expanding and upgrading our Wi-Fi system, providing far better coverage and much faster connections. The upgrade, which is designed to accommodate future growth, will begin in April, with completion scheduled for the summer of 2018.
We're grateful to the Undergraduate Student Government for its vitally important role in the second project, a campus-wide expansion of student printing stations. For locations of the new printers – which will operate with the OneCard – click here. Among its many benefits, this expansion will relieve pressure on the Student Resource Center, now located on the 3rd floor of the North Building.
Reaccreditation: Assessing Our Mission
Hunter's Middle States Reaccreditation is underway. We are grateful for the faculty, staff and students who have helped us determine our Institutional Learning Outcomes – what defines a Hunter education.  Our next step is to assemble committees from the Hunter community to place these findings within the context of our strategic goals and help create a plan for future progress. I cannot underscore enough how important it is to have everyone's participation as we move forward with this project.
We are happy to welcome a new Associate Provost for Institutional Effectiveness, James Llana, who will take a leadership role in the reaccreditation process. Jim, who earned his PhD at Indiana University, his MA from Hunter and his BA from Columbia, has extensive higher education experience, including service as an Associate Provost at John Jay College and a dean at SUNY's College at Old Westbury.
New Accolades for Our Faculty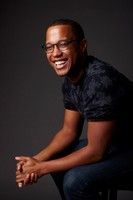 Hunter's faculty continues its tradition of winning top awards, and we are pleased to share just a small sampling here. We are proud of Branden Jacobs-Jenkins, a Master Artist-in-Residence in the Rita & Burton Goldberg MFA in Playwriting, who received a 2016 MacArthur "genius grant."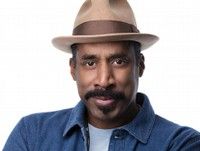 We're equally proud of Professor of Studio Art Nari Ward, winner of the 2017 Vilcek Prize in Fine Arts for exploring such complex topics as race, poverty, immigration and the Caribbean diaspora identity. The $100,00 Vilcek Prize recognizes immigrants to the U.S. who have made outstanding contributions in the creative arts or biomedical sciences.
We are delighted to welcome Samuel Schwartz to Roosevelt House as the first Kheel Fellow in Transportation Policy. Known as "Gridlock Sam" for having coined the term when he was Traffic Commissioner, Sam is a nationally renowned expert who has spent 40 years studying transportation issues. A public event to kick off the Kheel Fellowship is being planned for April, so watch the Roosevelt House calendar for information.
Roosevelt House has an exciting schedule of events for this semester. Among them are a book talk with U. S. Senator Sheldon Whitehouse (D-RI), on Captured: The Corporate Infiltration of American Democracy, and a panel discussion on March 13: "How Did Clinton Lose and How Do Women Win?" featuring Gloria Steinem, Christine Quinn and Sonia Ossorio. Check the Roosevelt House events page for more events.
The Hunter College Art Galleries, for its spring exhibition, transforms the 205 Hudson Gallery into a library featuring works that broadly and inclusively explore concepts of family and community. Our Distinguished Writers Series' lineup of speakers includes Azar Nafisi, author of the bestselling Reading Lolita in Tehran, on February 21. For the full schedule, click here.
Be sure to follow all the exciting things happening at Hunter on the Hunter website; our Twitter feeds @Hunter_College and @HunterPresident; Instagram accounts @HunterCollege and @HunterPresident; Facebook;  Flickr; our interactive events calendar, and campus video screens. And feel free to contact me (president@hunter.cuny.edu) with any comments or questions.
Thank you for being a vital part of Hunter's community. My best wishes for a productive semester.
Jennifer J. Raab