Winter 2018 Open Line
From Jennifer J. Raab, Hunter College President
Each semester, President Raab issues an "Open Line" to all students, staff and faculty at Hunter College. See the Open Line Archive.
A New Semester
Welcome back for the start of another exciting semester at Hunter.
Key Events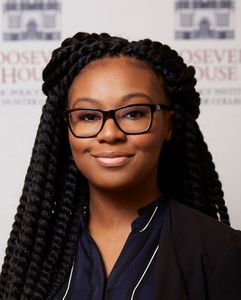 The past term was marked by some truly memorable events, one of the most impressive of which was Thamara Jean '18 being named Hunter's first Rhodes Scholar. Thamara, the daughter of Haitian immigrants and a Macaulay political science and media major, will study political theory at Oxford in the fall.
Coming in the wake of Hunter's first Marshall Scholarship last year, this breakthrough demonstrates the success of our Office of Prestigious Fellowships. We all recognize our students' extraordinary potential and now, with your help, they are getting the support and guidance they deserve. Please continue to reach out to Dr. Stephen Lassonde with your nominations and encourage students to apply.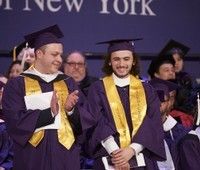 Last semester closed with a Commencement ceremony that featured New York Secretary of State Rossana Rosado as the graduation speaker and highlighted our two valedictorians, Jack Jnani and Ryan Schulte.
Jack, a chemistry major, was inspired by his Syrian immigrant father's struggles with polio to become a doctor and has already been accepted by two medical schools. Ryan, a Macaulay English major, will finish his book of short stories while he volunteers as an organic farmer in Ireland.  These stories and the others we heard at graduation provide yet another reminder of how Hunter's affordable, world-class education opens doors of opportunity.
We hope you will make use of Hunter's array of programs to support student success as the semester proceeds.  These include funds for faculty-student collaborations—from classroom research to outside-the-classroom events. Contact Associate Provost Vanya Quinones with your proposals. And we ask faculty to refer students who require special support like individual tutoring, financial aid or housing assistance to Dean of Students Eija Ayravainen.
We were also pleased that the de Blasio administration chose Hunter as one of two colleges to develop the CUNY 2X Tech Program, a $2.5 million initiative to double the number of CUNY graduates trained for careers in the city's fast-growing tech industry. We thank our Computer Science faculty who will invest in curriculum development, forge partnerships with industry, and work with our Student Services team to launch a major internship program this semester.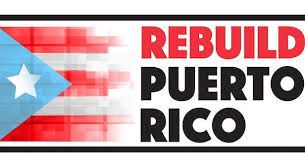 Working with Centro (Hunter's Center for Puerto Rican Studies) and other organizations, we are continuing to respond to Hurricane Maria's devastation through a website called Rebuild Puerto Rico—a crowd-sourced site for information on the island's recovery.
Get the latest news and learn how you can volunteer or donate by clicking here: https://centropr.hunter.cuny.edu/events-news/rebuild-puerto-rico. In addition, the Hunter College Foundation launched a program that will continue this semester to provide counseling, legal advice and financial aid to Hunter's Dreamers, and to help students to participate in conversations with key lawmakers about immigration reform.
Three New Leaders
Dr. Mary Cavanaugh
We are delighted to announce that Dr. Mary Cavanaugh, who has served for the past three years in an acting capacity, has been appointed Dean of the Silberman School of Social Work after a nationwide search led by our Joan Hansen Grabe Dean of Nursing Gail McCain. Under Dr. Cavanaugh's leadership, the School has seen its enrollment rise, its stellar faculty made even stronger, and its engagement in the East Harlem community broadened and enriched.
Dr. Ruth Finkelstein
We are also enormously pleased to welcome Dr. Ruth Finkelstein as the new Executive Director of the Brookdale Center for Healthy Aging. Dr. Finkelstein, who comes to us from Columbia's Mailman School of Public Health, was the architect of Age-Friendly New York City, an award-winning initiative to help make New York a better place in which to age. Here at Hunter, Dr. Finkelstein will engage our community as she conducts research and develops policy to enhance the quality of life for our aging population. Our thanks go to Dr. Lilliam Barrios-Paoli for her leadership of the interdisciplinary search committee.
Dr. Leah Garrett
Dr. Leah Garrett comes to us from Monash University in Australia to serve as the inaugural Director of our new Jewish Studies Center. A comparative literature scholar, Dr. Garrett will build on our Jewish Studies Program to expand student engagement and community outreach. Thanks go to Professor Laura Schor for chairing the robust committee that conducted an international search. We invite you to reach out to Professors Finkelstein and Garrett to explore interdisciplinary opportunities.
Our Campus Transformation Continues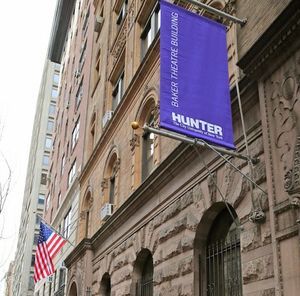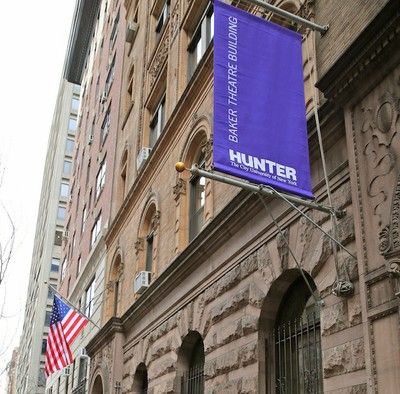 Thanks to the leadership of Gregory Mosher, our recently acquired Baker Theatre Building on 67th Street is up and running. This semester, we'll hold a "sky-breaking" ceremony to initiate work on a bridge that will connect Baker Hall to the Cooperman Library Lobby in the East Building.
Thomas Hunter Hall is also undergoing some major changes that will transform student life at Hunter. We will soon open a new dance studio on the 5th floor with state-of-the-art media and recording technology and a new Graduate Dance Education Resource Room. Thanks to generous funding from the Student Government and Foundation Board, construction is underway on our new Student Union on the 2nd floor to respond to students' strongly expressed desire for a space to relax on campus. Planning the new Student Union led to another innovative improvement in student life – the consolidation of all the faith-based clubs that were located in separate rooms to create a new Multifaith Center on the 4th floor, complete with spaces for the individual religious clubs, offices for the chaplains, and a common room for multifaith programs.
The community should soon see the results of our upgrade of Hunter's wireless system. Using funds from student tech fees, we're tripling the number of access points and introducing new technology to improve speed, coverage, and security throughout the 68th Street campus. Check our website for more on the new network, HunterSecure.
Highlights of the Spring Semester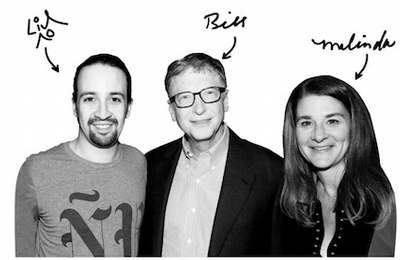 On Feb. 13, Bill and Melinda Gates will take the stage of the Assembly Hall to be interviewed by Hunter College High School Alumnus Lin-Manuel Miranda about their foundation's work and take questions from students in the audience and from people on Facebook, which is live-streaming the event (https://www.facebook.com/BillGates). Limited tickets are still available—please RSVP here.
At Roosevelt House, Kheel Fellow Howard Glaser will moderate "A Conversation with New York's Transportation Leaders" featuring MTA Chairman Joseph Lhota, MTA President Patrick J. Foye, Port Authority Executive Director Rick Cotton, and Regional Plan Association Chair Scott Rechler. Mark your calendars for March 12 at 6:00 PM.
The Distinguished Writers Series will feature Hunter's own Peter Carey and Tom Sleigh in conversation with Belinda McKeon, author of the novels Tender and Solace, on March 20 at 7:30 PM in the Faculty Dining Room.
The Zabar Visiting Artist Series will feature Cuban installation and performance artist Tania Bruguera on March 21 at 6:00 PM at Roosevelt House for an exciting evening of conversation.
Please keep checking the Hunter website; our Twitter feeds @Hunter_College and @HunterPresident; Instagram accounts @HunterCollege and @HunterPresident; Facebook; Flickr; our interactive events calendar; and campus screens for news about events. And feel free to contact me (president@hunter.cuny.edu) with comments or questions.
Hunter College is a richer institution for the contributions of its outstanding faculty and staff, extraordinary students, and generous friends. My heartfelt thanks for all that you do to support our mission every day. My best wishes for a productive spring semester.
Jennifer J. Raab
President