Winter 2020 Open Line
From Jennifer J. Raab, Hunter College President
Each semester, President Raab issues an "Open Line" to all students, staff and faculty at Hunter College. See the Open Line Archive.
Welcome back for the start of an exciting – and historic – new semester.
We are celebrating the 150th anniversary of the founding of Hunter College with several special events, including Founder's Day on Feb. 10 and Alumni Reunion Day on April 4. Please join us!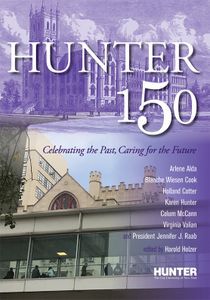 To help celebrate our legacy, we are publishing a history of the College with chapters by noted authors and outstanding members of the faculty, including Media Professor Karen Hunter on African American women at Hunter, MFA in Creative Writing Professor Colum McCann on the life of Thomas Hunter, Distinguished Psychology Professor Virginia Valian on Hunter women in the sciences, and Harold Holzer on Roosevelt House, where he is the Director.
In an exceptionally generous tribute to their alma mater, Toby and Leon Cooperman (both Class of '64) have announced they will match every anniversary gift to Hunter up to $1.5 million – funds that will help support programs, scholarships, and facilities for students and faculty. It's a wonderful way to increase the impact of your giving, and we welcome all gifts of any size. Let's make the Cooperman Challenge a huge success.
To make our 150th anniversary celebration truly great, we need everyone to get involved – faculty, staff, students, alumni, and friends of the College. Please keep an eye out for news about upcoming events and be a part of it.
A Grand Graduation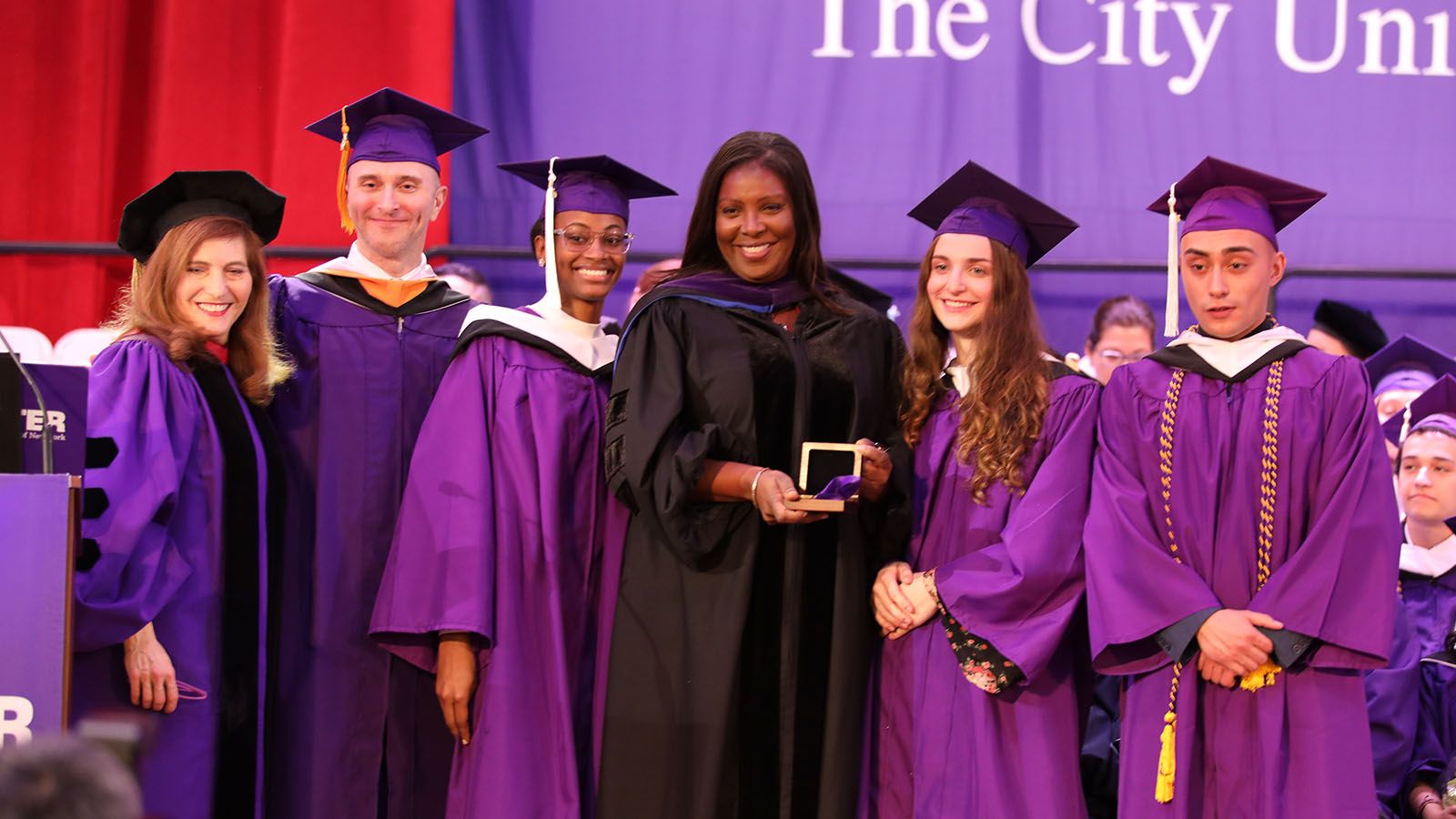 We began our 150th year with another spectacular commencement as 1,500 graduates of our four schools and their families and friends filled our Assembly Hall with joy and excitement. The commencement speaker, New York State Attorney General Letitia James, thrilled the audience when she called Hunter "the Crown Jewel of the CUNY system" and added, "It's obvious that adversity breeds strength, and that strength defines the students at Hunter." James was presented with the 2020 President's Medal by four graduates who, like her, care deeply about public service: Ava Paige Jaross, a transgender activist; Mark Rucktenwald, top student in his nursing class; Sonya Woolward, a pre-law graduate, and Thomas Kolokithias, who's headed for the Dominican Republic with the Peace Corps.
As always, there were many amazing stories, including that of one of our valedictorians. Tasnim Hussain from Bangladesh grew up in a family that didn't speak English, yet wound up with top grades. Kerry Albright, who graduated at age 49, was dubbed the "miracle baby" for surviving a devastating flood at the age of 9 months, and Isamar Tamayo's perseverance not only earned her a Hunter degree but helped her fight through two battles with leukemia.
Honoring Our Best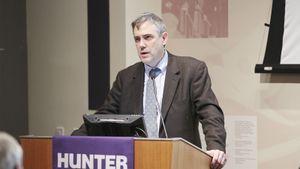 Our faculty members who do such an extraordinary job of teaching, mentoring, and inspiring students continue to win top awards and honors. We're proud to cite two: Geography Professor William Solecki received the Distinguished Public Service Award from the American Association of Geographers, and Studio Art Professor Nari Ward was named as a 2020 USA Fellow by the United States Artists.
With increasing frequency, faculty members are being cited in the media. Psychology Professor Joshua Plotnik's discovery that an elephant's sense of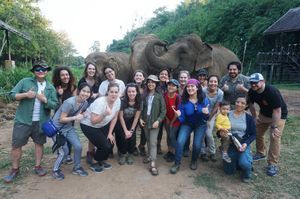 smell is so acute it can detect the quantity of a food supply was hailed in The New York Times. AFPRL Professor Yarimar Bonilla was a trusted source when she was in Puerto Rico during the recent devastating earthquakes. An exhibit on urban renewal co-curated by Urban Planning Professor Nicholas Dagen Bloom received high marks from The Times. And Anthropology Professor Andrea Baden's work on lemurs and deforestation in Madagascar was featured in The Washington Post.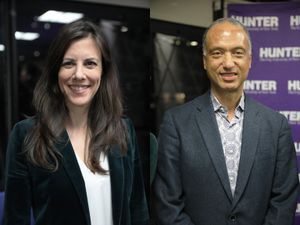 Thanks to all of you who helped us celebrate the 10 faculty recipients of Presidential Awards this fall, including Urban Planning Professor Victoria Johnson, who received the Excellence in Scholarly Achievement Award, and Music Professor Phil Ewell, who was honored for Excellence in Creative Achievement.
We love to showcase the amazing work our faculty does, so please let us know about your achievements by sending updates to news@hunter.cuny.edu.
Each year we honor some of our exceptional staff with Presidential HEO Awards. These are the people who make Hunter run, yet often go unrecognized. This year's awardees are: Gwenyth Chase, Business Office; Rob Lorey, School of Social Work; Michael Medved, ICIT; Maria Mendoza, Nursing School; Milton Quiah, Libraries; and Elizabeth Wall-O'Brien and Paula Wicklow, both of Student Affairs.  Please join us for the awards ceremony on February 18 at 5 p.m. in the Faculty Dining Room.
Making the Census a Success
Hunter has taken a leadership role in the 2020 census as a partner with CUNY and the Association for a Better New York. Among our many initiatives, we've hosted events with key community groups, provided translation services, and held a Job Fair at our East Harlem campus to sign up census workers for that historically undercounted community. During Hunter's Census Action Week – March 30 to April 3 – we'll set up tables and laptops across our campuses in order to help people complete census forms and answer their questions. Since more than half our 23,000 students were born outside the U.S., speak more than 90 languages, and live in virtually every neighborhood of the city, you, our students, are ideal messengers on the importance of being counted, so we're encouraging you to get involved.
Support for Our DACA Students
We continue to follow the status of DACA after the Supreme Court hearing in November, and we are continuing to run programs to support our DACA students. Our chief concern is ensuring all eligible students submit renewal applications as soon as possible. We'll hold a DACA Renewal Fair on February 19th to help them individually with each step of the process and provide financial assistance for the process. And on February 14, 21, and 28, we will have legal professionals on campus to review applications. We continue to believe Congress must develop a compassionate policy to give legal status to the nation's 800,000 DACA/Dreamers, and we are committed to helping those at Hunter in every way we can.
The Strategic Plan Moves Forward
Following the successful completion of our Middle States report in the spring, we are moving forward now with the next iteration of our Strategic Plan based on the priorities identified in the report: career and professional readiness, transfer student success, and the adjunct experience. Two task forces have already been launched. The first, led by Associate Provost for Faculty Affairs Jenny Tuten and German Department Chair Professor Lisa Anderson, will consider steps to increase the Hunter community's engagement with, and support for, our part-time faculty. The second, led by Associate Provost Michael Steiper and Associate Dean Shannon Salinas, will consider steps to improve the academic experience and graduation rates of our transfer students, a key part of our overall student success strategy. We are currently assembling the third task force on career and professional readiness and invite anyone interested in serving to reach out to the President's Office at president@hunter.cuny.edu.
New Facilities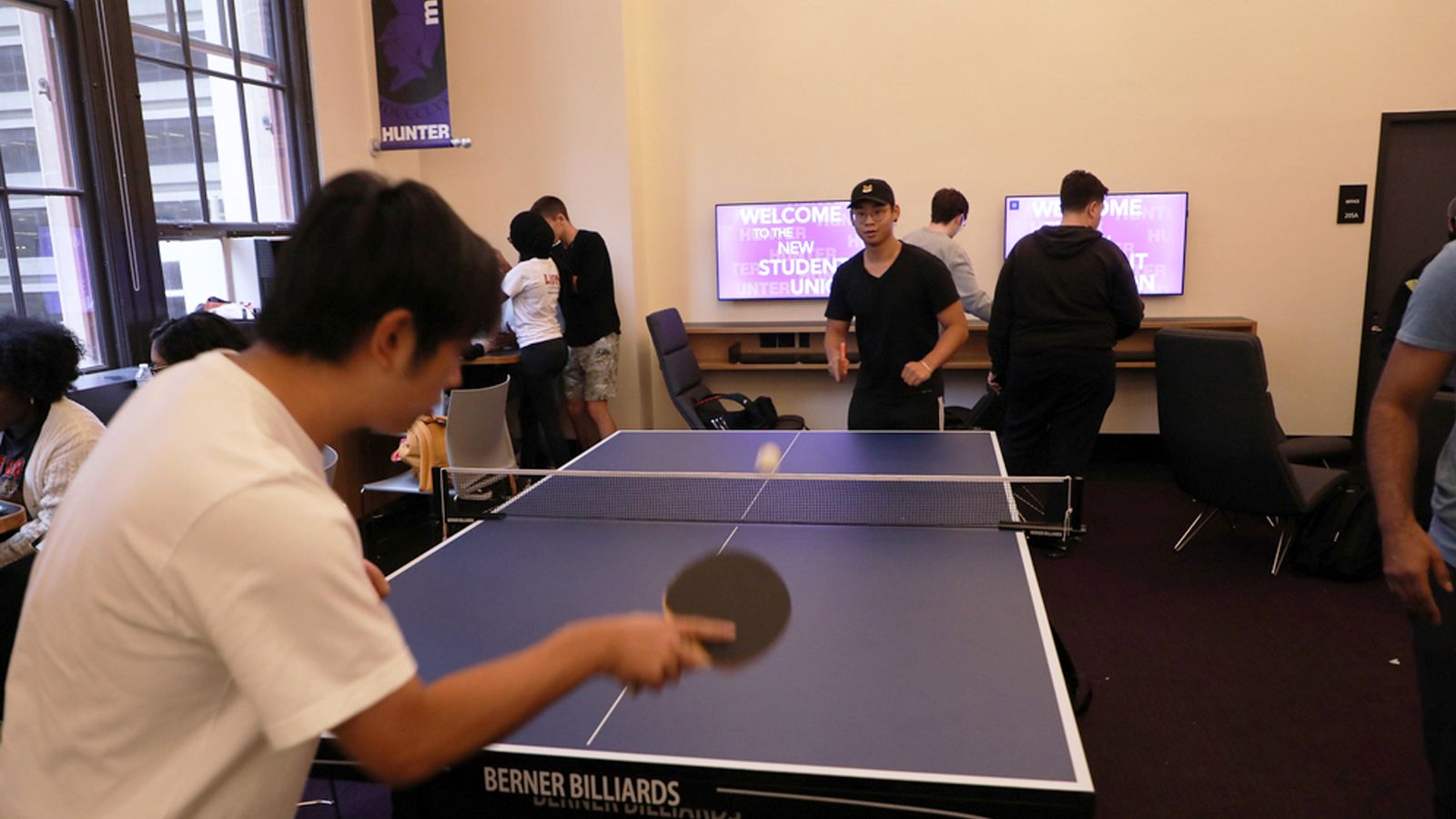 We continue to renovate and expand our facilities, supported by our fundraising efforts. We were excited last fall to open the Student Union, the first in Hunter's history, which houses a game room, club rooms, and Student Government office space. The Zankel Arts Hub, our new student engagement center for the arts, is also a great success. This semester we will open Appel Hall, a performing arts space that will feature cutting-edge sound and recording equipment.  The next phase of Cooperman Library's modernization, including a state-of-the-art Faculty Resource Center, will begin construction this summer. With two major projects in the North Building now completed – the  new entrance for the Kaye Playhouse and the elevator overhaul – we're moving on to new initiatives there. You will soon see, a renovation of the roof to address old water damage and prevent future leaks and the upgrading of stair doors to improve traffic flow and increase safety. We know that, as necessary as these projects are, they create inconveniences, so many thanks for your patience and understanding.
An Alumni 'Genius'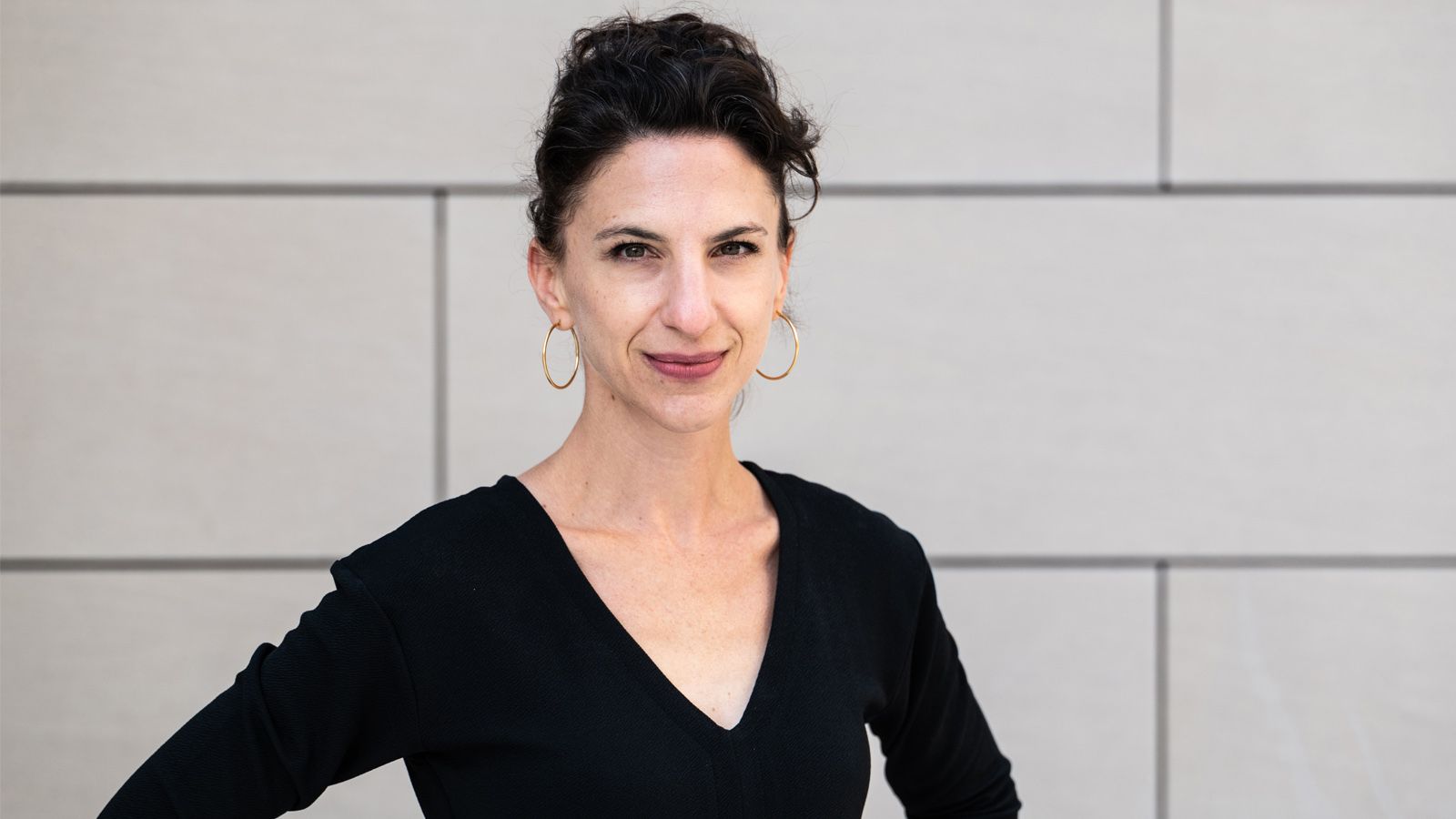 Our alumni continue to do us proud. We were especially delighted when Rockefeller University Professor Vanessa Ruta '00 won a MacArthur "genius" grant for her research into the neuroscience of the brain.  Hers is one of those only-at-Hunter stories: Before arriving on our campus, she was a professional ballet dancer who had no interest – or so she thought – in science. A chemistry class with the late Professor Mike Drain changed Vanessa's life. She went on to graduate summa cum laude and an extraordinary career.
It is a great sadness for the entire campus that we've lost Mike, a brilliant scientist, dedicated teacher, and inspiring mentor to countless Hunter students. Our deep thanks go to all his faculty colleagues who have helped us launch a scholarship drive in his name.

Nominate Your Favorite Alum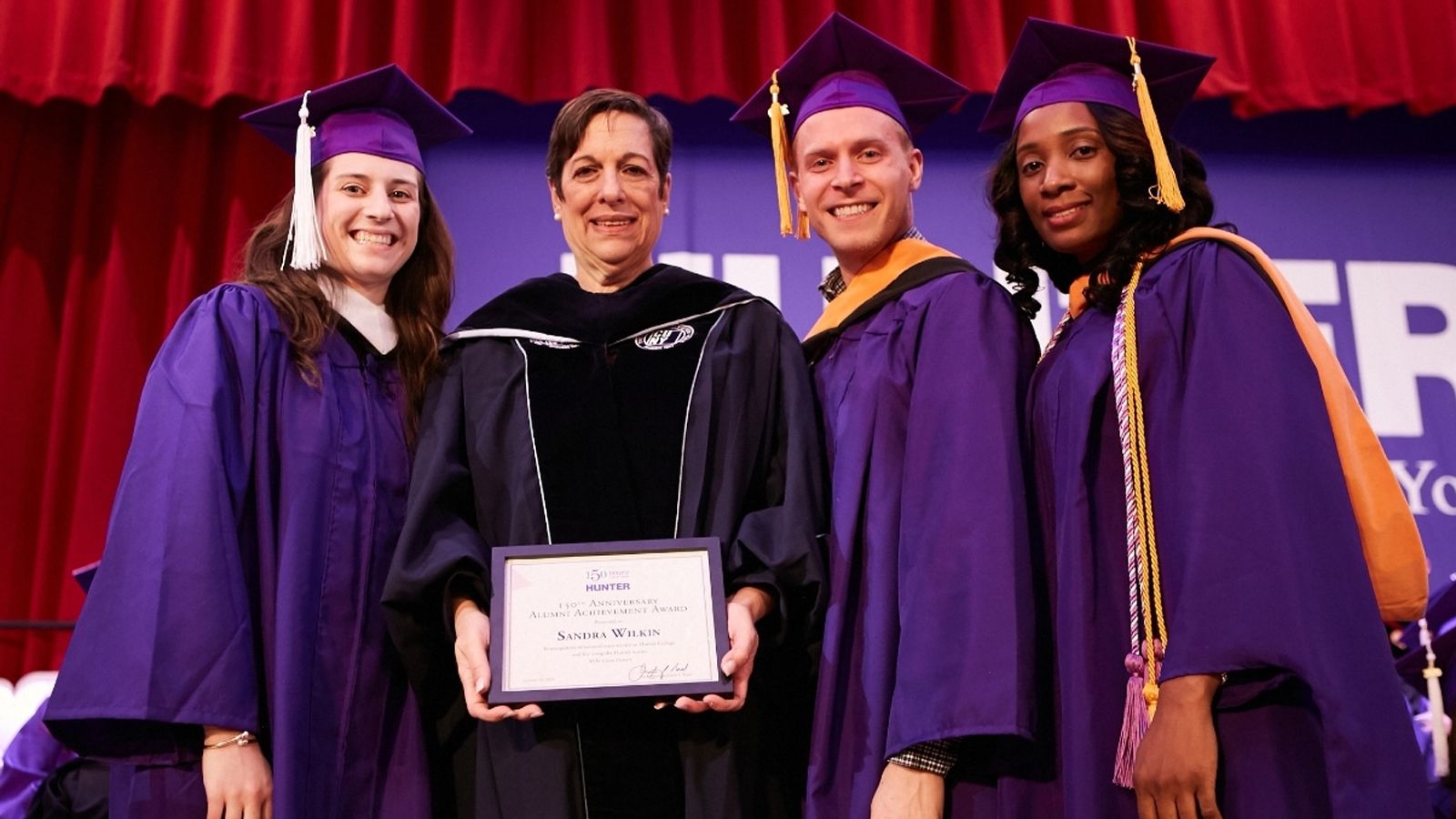 As part of our 150th anniversary celebration, we are creating two Honor Rolls for Hunter's outstanding alumni. One is 40 Under 40 – 40 Hunter achievers under the age of 40. The second is 150 for the 150th, a roster of Hunter superstars, from our founding in 1870 to the present day. We already have the first inductee: Sandra Wilkin (BSN '79), who was told of her honor at the commencement where she appeared as the CUNY Trustee speaker. Her career is extraordinary. After starting out as a caring nurse, she came to realize that the quality of care is dependent on the quality of the facilities, so she went into the building business and – almost unheard of for a woman – founded her own successful construction company.
Please share your candidates with us for these Honor Rolls. We encourage you to send your nominations for 150 for the 150th by emailing the 150th Anniversary team at 150th@hunter.cuny.edu. And nominate candidates for 40 Under 40 here.
A Stage for Greatness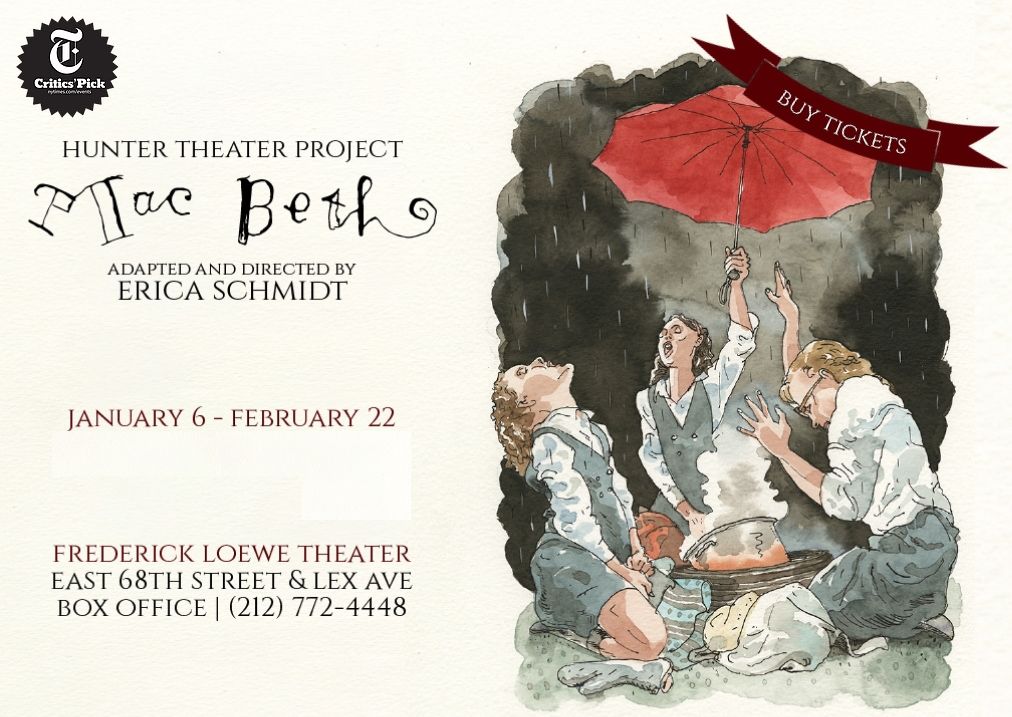 Mac Beth is the first production of 2020 for the Hunter Theater Project, the exciting initiative launched last year by Baker Theatre Chair Gregory Mosher. The Project's two works in 2019 – a newly imagined, critically acclaimed Uncle Vanya and a dazzling one-woman show starring Animal Behavior graduate student Isabella Rossellini (MA '19) – were truly wonderful. For your tickets to Mac Beth go to: https://ci.ovationtix.com/34951/production/1020648.
Best wishes for a successful, productive semester.
Jennifer J. Raab, President
Keep up with all the interesting things happening on campus by following the campus screens, our Twitter feeds @Hunter_College and @HunterPresident, the Hunter website, our Instagram accounts @HunterCollege and @HunterPresident, Facebook, Flickr, and our interactive events calendar. And feel free to contact president@hunter.cuny.edu with any comments or questions.