Events /
Atrocities Against Uyghurs: Law and Politics
Sep 12, 2022 | 1:00 pm
-
5:30 pm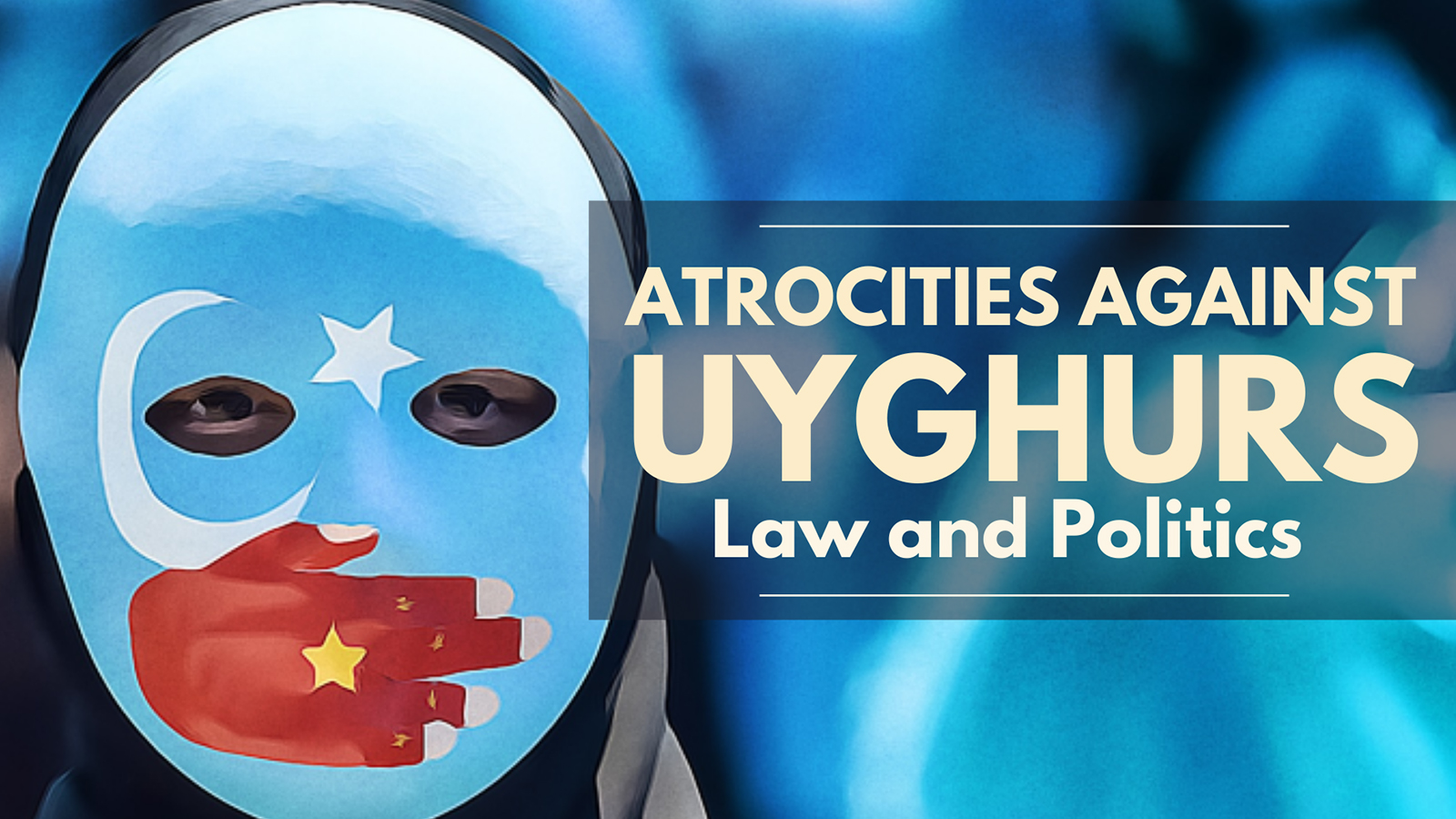 A conference convening experts, scholars, journalists, and activists at the forefront of the human rights crisis in the Xinjiang region of China.
1:00 PM – 1:15PM
Opening Remarks
Jessica Neuwirth is the Rita E. Hauser Director of the Human Rights Program at the Roosevelt House Public Policy Institute, Hunter College. She is one of the founders of Equality Now (1992), Donor Direct Action (2011) and the ERA Coalition (2013). She is the author of Equal Means Equal: Why the Time for an Equal Rights Amendment is Now. She has worked for Amnesty International, the United Nations Office of Legal Affairs, and the UN High Commissioner for Human Rights. She has also worked for the International Criminal Tribunal for Rwanda and the Special Court for Sierra Leone.
1:15 PM – 1:45 PM
Keynote Speech
Nury Turkel is an attorney, author, foreign policy expert, and rights advocate with nearly two decades of experience working in the intersection of law, business, government, and the human rights community. As a lawyer, he specializes in global anti-corruption investigation and enforcement, corporate governance, and human rights due diligence. He serves as Vice Chair of the U.S. Commission on International Religious Freedom after being appointed as a commissioner by Speaker of the House Nancy Pelosi in May 2022. He is a Senior Fellow at Hudson Institute, where he works on U.S. foreign policy and national security issues focusing primarily on China. He is also a Life Member of the Council on Foreign Relations. Turkel was named one of the TIME 100 Most Influential People in the World. His memoir, No Escape, will be published on May 10th in the U.S. and U.K.
1:45 PM – 2:45 PM
Panel 1: What is Happening in East Turkestan (Xinjiang)?
Rushan Abbas is founder and executive director of Campaign for Uyghurs (CFU).  In February 2022, CFU was nominated for a Nobel Peace Prize for activism and advocacy done to promote the Uyghur cause for freedom.
Jewher Ilham is a rights activist, the daughter of Uyghur scholar, Ilham Tohti, and author of Jewher Ilham: A Uyghur's Fight to Free Her Father, and Because I Have To: The Path to Survival, The Uyghur Struggle. Jewher Ilham is the spokesperson for the Coalition to End Uyghur Forced Labour, she also serves as the Forced Labor Project Coordinator at the Worker Rights Consortium.
Sean Roberts is the Director of the International Development Studies program at George Washington University. Having conducted ethnographic fieldwork among the Uyghur people of Central Asia and China during the 1990s, he has published extensively on this community in scholarly journals and collected volumes.
Minky Worden (Moderator) is the Director of Global Initiatives of Human Rights Watch. She develops and implements international outreach and advocacy campaigns. She is the editor of The Unfinished Revolution (Seven Stories Press, 2012) and China's Great Leap (Seven Stories Press, 2008), and the co-editor of Torture (New Press, 2005).
Adrian Zenz is Director and Senior Fellow in China Studies at the Victims of Communism Memorial Foundation, and supervises Ph.D. students at the European School of Culture and Theology, Germany. His research focus is on China's ethnic policy, public recruitment in Tibet and Xinjiang, Beijing's internment campaign in Xinjiang, and China's domestic security budgets. Dr. Zenz is the author of Tibetanness under Threat and co-editor of Mapping Amdo: Dynamics of Change.
3:15 PM – 4:20 PM
Panel 2: Why is Genocide Committed?
Jessica Batke (Moderator) is a ChinaFile Senior Editor. She researches China's domestic political and social affairs and served as the State Department's Bureau of Intelligence and Research Analyst for nearly eight years prior to joining ChinaFile.
Magnus Fiskesjö is a professor in the Anthropology department at Cornell University. His research concerns ethnic relations and political anthropology in China and Southeast Asia. He has recently written comparatively about the new genocides in China and Burma, as well as about China's forced confessions.
Ilshat Hassan Kokbore is a Uyghur activist, Vice Chairman of the World Uyghur Congress Executive Committee, and former president of the Uyghur American Association. Ilshat is also a Chinese-language writer and blogger who is well-known in Chinese dissident society.
Zubayra Shamseden is Chinese Outreach Coordinator at the Uyghur Human Rights Project (UHRP). She has been campaigning for the human rights and political freedom of the Uyghur people since the late 1980s. She was elected as Vice President of the World Uyghur Congress for the 2021-2024 term. Ms. Shamseden has worked in multicultural education and community liaison for nonprofit, academic and government organizations in Australia and the U.S. for over two decades. She is fluent in English, Uyghur, Chinese, Uzbek and Russian, and has a working knowledge of Turkish.
Teng Biao is an academic lawyer who is currently the Hauser Human Rights Scholar at Hunter College and Pozen Visiting Professor at the University of Chicago. He co-founded two human rights NGOs–the Open Constitution Initiative and China Against the Death Penalty–in 2003 and 2010, respectively. Teng's research focuses on criminal justice, human rights, social movement, and political transition in China.
4:20 PM – 5:30 PM
Panel 3: What Should We Do?
Martin S. Flaherty (Moderator) is Leitner Family Professor of Law and Founding Co-Director of the Leitner Center for International Law and Justice at Fordham Law School. He is also a Visiting Professor at Princeton University. Flaherty's publications focus upon constitutional law and history, foreign affairs, and international human rights.
Akram Keram is a native Uyghur and Senior Program Officer at the National Endowment for Democracy with many years of experience speaking, writing, and researching China's human rights, domestic and foreign politics, and security. He previously worked as a political analyst at the U.S. Embassy in Beijing, monitoring, reporting, and briefing high-level officials on China's domestic and foreign policies related to human rights.
Elizabeth M. Lynch is an attorney practicing in New York and is the founder and editor of China Law & Policy. Her writing has appeared in The Washington Post, SupChina, The New York Times, the Huffington Post, and the George Washington International Law Review.
Amelia Pang is an award-winning investigative journalist of Chinese and Uyghur descent. Her work has been published in The New Republic, Mother Jones, and The New York Times Sunday Review. She is the author of Made in China: A Prisoner, an SOS Letter, and the Hidden Cost of America's Cheap Goods.
Sophie Richardson is the China Director at Human Rights Watch. She has overseen the organization's research and advocacy on China since 2006, and has published extensively on human rights and political reform in the country and across Southeast Asia. Dr. Richardson is the author of China, Cambodia, and the Five Principles of Peaceful Coexistence (Columbia University Press, Dec. 2009).
This event will be held in person at Roosevelt House and online via Zoom.
Proof of full COVID-19 vaccination will be required for all who attend, and masks must be worn at all times in Roosevelt House.
Audience
Open to Everyone
Location
47-49 East 65th St.




New York

,

NY

10065

United States

+ Google Map

Entrance on the north side of 65th Street between Park Avenue and Madison Avenue