Student Alert: Email Scam Going Around.
Students, please be on guard for an email scam offering jobs for high pay and little work. Read More.

Events / All Audiences /
Craig Seligman - Who Does That Bitch Think She Is? Doris Fish and the Rise of Drag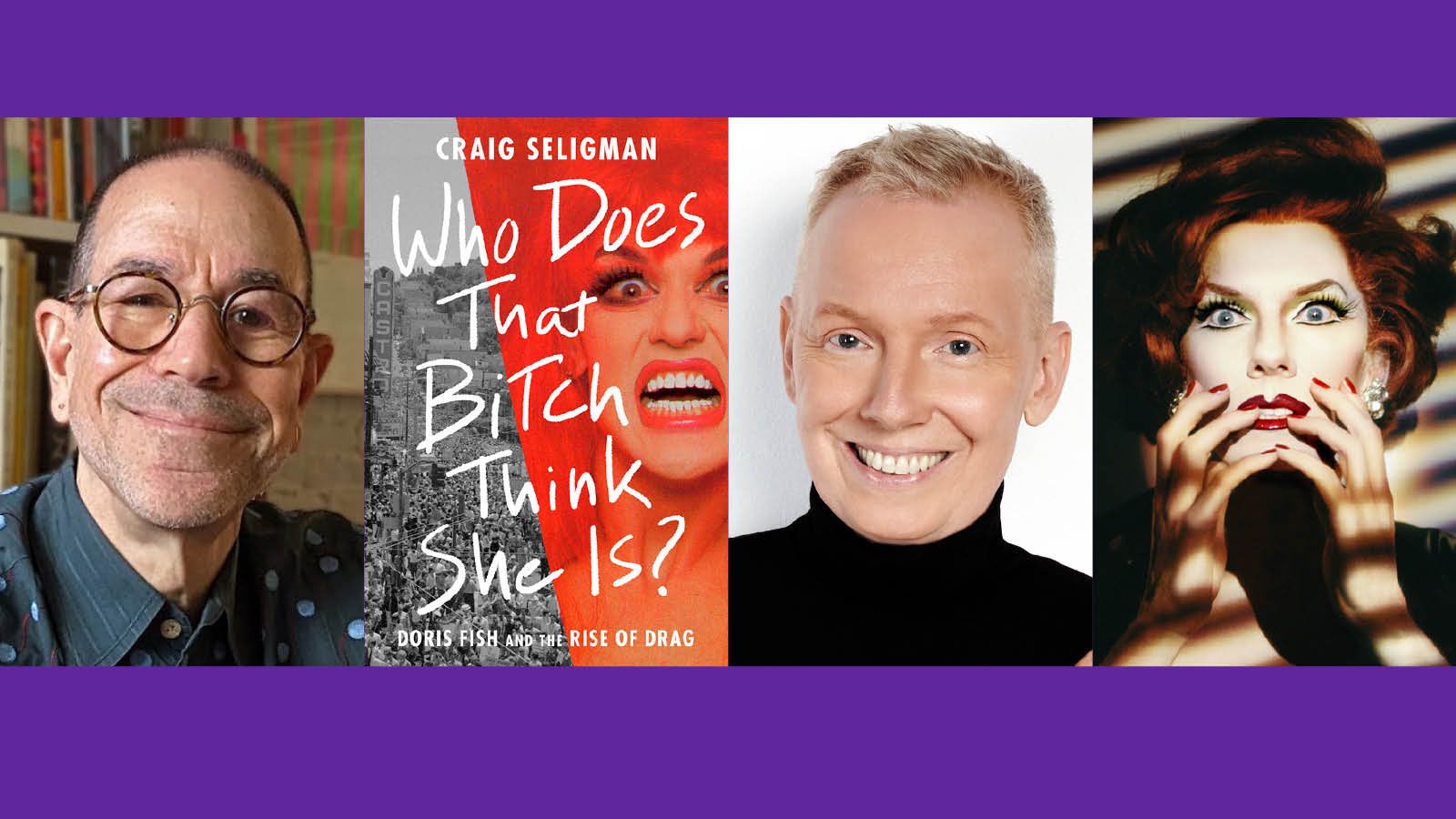 The LGBTQ Policy Center at Roosevelt House is pleased to present a discussion of Craig Seligman's new book Who Does That Bitch Think She Is? Doris Fish and the Rise of Drag. The acclaimed book provides a vivid new history of drag as told through the life of pioneering drag queen Doris Fish. The author will be in conversation with local drag artist John Epperson aka Lypsinka.
In the 1970s, queer people were often despised and drag queens were considered scary; and yet, according to Craig Seligman, it was during that era that Doris Fish (born Philip Mills in 1952) rose to stardom through his painting and drag artistry. He was a leader of the generation that prepared the world not just for drag queens on TV, but also for a society generally more tolerant and accepting of LGBTQ+ individuals. How did we get from there to here? In Who Does That Bitch Think She Is? Craig Seligman looks at the life of Doris Fish in order to deliver some answers. From the rise of drag shows to the obsession with "camp" to the onset of AIDS, Seligman adds needed color and insight to this era of LGBTQ+ history, revealing the origins and evolution of drag.
Filled with interviews, letters, and more, Who Does That Bitch Think She Is? revisits the places and people Doris Fish knew best—allowing readers to understand the historical markers and shifts his life both encompassed and represented for the wider queer community, past and present.
At this event, in conversation with NYC-based drag artist Lypsinka, Seligman will discuss the life of this outrageous performer and artist, and reflect on the legacy of Doris Fish as a guide and inspiration in the current fight to stop the backlash against drag.
According to Jim Piechota, writing for EDGE Media Network, Seligman's new book is a "fantastic, immersive history of drag… mandatory reading for drag fans and queens."
Panelists:
Craig Seligman has contributed hundreds of articles to a wide variety of magazines, journals, newspapers, and websites including The New Yorker, The New Republic, The New York Times Book Review, The Threepenny Review, Artforum, Bookforum, Salon and The Village Voice. From 2006 to 2013, he was the lead book critic for Bloomberg News. He has been an editor at The New Yorker, Food & Wine (executive editor), and Salon (books editor), and has written criticism for the San Francisco Examiner (where he was a staff film and book critic in the 1980s). In 2004, he published Sontag and Kael: Opposites Attract Me, a finalist for the National Book Critics Circle award in criticism. In 2016, Seligman was awarded a Guggenheim fellowship in the field of biography.
John Epperson aka Lypsinka is an American drag artist, actor, pianist, vocalist, composer, lyricist, and author. As the female character Lypsinka, Epperson is renowned for lip-syncing to the songs and dialogue of iconic screen sirens and obscure audio clips—bringing new meaning to the lines ventriloquized through juxtaposition and gender reversal. Lypsinka's performances have been hailed as "expressionistic and hallucinatory one-act audio wonders" and Lypsinka's takes on Joan Crawford, Gloria Swanson, Bette Davis, Elizabeth Taylor, and Lauren Bacall have earned praise from critics and fans alike. Epperson also works as an actor outside of performing as Lypsinka, appearing in films including Black Swan and Kinsey. Epperson has also been a pianist with the American Ballet Theater off and on for several decades.
This event is co-sponsored by the CUNY LGBTQ Advisory Council and it is made possible by the generous support of the New York City Council and the CUNY LGBTQ Consortium.
Audience
Open to Everyone
Location
47-49 East 65th St.




New York

,

NY

10065

United States

+ Google Map

Entrance on the north side of 65th Street between Park Avenue and Madison Avenue