East Building Closure Update for Tuesday, Dec. 5. All classes taking place in the East Building of the Main Campus will resume. The Library will be open. All staff stationed in offices outside the Library in the East Building should continue to work remotely while our facilities team assesses each office individually.

Events /
FDR's Black Cabinet in Retrospect: A Conversation with Descendants of Roosevelt's African American Advisors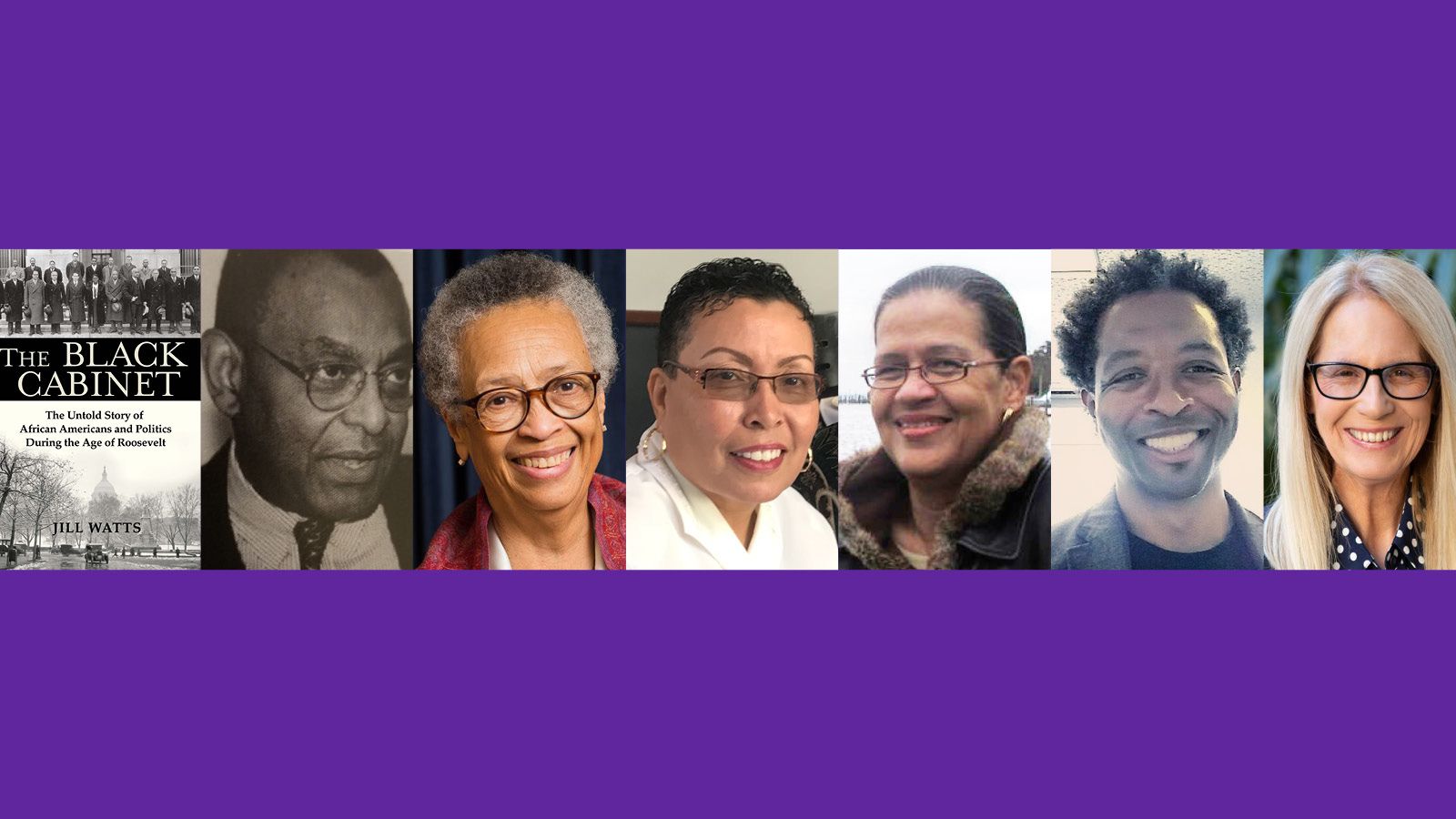 Roosevelt House is proud to present a special live Zoom discussion about the advisory group of African American federal officials who served during the Roosevelt administration—unofficially known as the Black Cabinet. This follows the Roosevelt House presentation from the summer that featured author Jill Watts in conversation with Hunter Associate Professor of Transatlantic Studies Kelvin Black about her book, The Black Cabinet: The Untold Story of African Americans During the Age of Roosevelt. This program promises to personalize and deepen our grasp of this historic cohort and its enduring significance.
During the Roosevelt Presidency African Americans joined the ranks of the federal government in numbers that had never been seen before. This group united together to form an internal, and unsanctioned, lobby for African American needs during the Great Depression and World War II. They encountered—and fought—racism and discrimination in their Washington D.C. posts and throughout the government, but found an ally in First Lady Eleanor Roosevelt through her relationship with Black Cabinet leader Mary McLeod Bethune.
The Black Cabinet's victories were significant, and they successfully led the expansion of New Deal relief to Black communities, who suffered from the depression at disproportionally high numbers. Additionally, Black advisers pioneered the inclusion of the first anti-discrimination clauses in government contracts, integrated the Washington D.C. federal workforce, and fought for better treatment and broader inclusion in the U.S. military. The presence of a Black Cabinet during the Roosevelt era opened the pathway for the civil rights activism and legislation of the Martin Luther King era. Many of the issues they raised and addressed remain resonant today.
Focus in this program will be given in particular to the lives, contributions, and post-Roosevelt careers of four Black Cabinet members: Edgar G. Brown from the Civilian Conservation Corps; Joseph R. Houchins from the Department of Commerce and Census Bureau; Henry Hunt, one of the first Black Cabinet members, from the Farm Credit Bureau; and Constance Daniel, a confidante of Mary McLeod Bethune, from the Department of Agriculture.
To discuss these remarkable individuals, we are grateful and honored to welcome their descendants, each extraordinary in their own right:
Judge Frederick L. Brown, son of Edgar Brown, is the first African American appellate judge in the history of the state of Massachusetts, appointed by Governor Michael Dukakis. An Army veteran and founding member of Lawyers for Civil Rights, he is a former chief law clerk to the justices of the Supreme Court and regional counsel for the U.S. Department of Housing and Urban Development. He serves on the Board of Trustees at Northeastern University School of Law, where he also taught.
Sue Houchins, daughter of Joseph R. Houchins, is an Associate Professor in the Africana Program at Bates College and co-editor and co-translator, with Baltasar Fra-Molinero, of Black Bride of Christ: Chicaba, an African Nun in Eighteenth-Century. She serves as the co-director of the archives of author Bessie Head and of the Khama Papers, housed at the Khama III Memorial Museum in Botswana. She is now working on a book examining representations of Black lesbians in the women's literatures of Africa and its Diaspora.
Donna Marshall, granddaughter of Constance Daniel, is a semi-retired administrative and surgical coordinator and business manager with more than three decades of service in Washington D.C.'s healthcare system. She has also worked extensively as a healthcare liaison at From the Heart Church Ministries, connecting those in need with medical assistance. She is currently writing a biography of her grandmother.
Wanda Hunt McLean, great-granddaughter of Henry Hunt, is an award-winning public historian and President of the Northeast North Carolina Underground Railroad Foundation, an organization she founded for the study and preservation of the region's African American history. Her research and discoveries have generated national attention for northeastern North Carolina's role in the Underground Railroad and brought about the addition of six new sites to the National Park Service's National Underground Railroad Network to Freedom.
Moderators:
Jill Watts is a Professor of History at California State University, San Marcos, where she teaches U. S. Social and Cultural History, African American History, Film History, and Digital History. She is the author of three well-received previous books: Hattie McDaniel: Black Ambition, White Hollywood; Mae West: An Icon in Black and White; and God, Harlem USA: The Father Divine Story. In January her book on the Black Cabinet was published in paperback.
Kelvin Black is Associate Professor of Transatlantic Studies in Hunter's English Department and a recent Fellow of the Institute for Constitutional History. He received his Ph.D. from the University of California, Berkeley. His research focuses on 19th-century transatlantic political discourse. He is the author of the forthcoming The Atlantic Dilemma: Reform or Revolution across the Long Nineteenth Century, a literary-historical investigation into how the choice between reform and revolution shaped modern political discourse in the U.S. and UK.
This event will be held online via Zoom. 
Audience
Open to Everyone