Events /
Remembering Eleanor Roosevelt - The Best of Roosevelt House — Online
Apr 27, 2020
-
May 30, 2020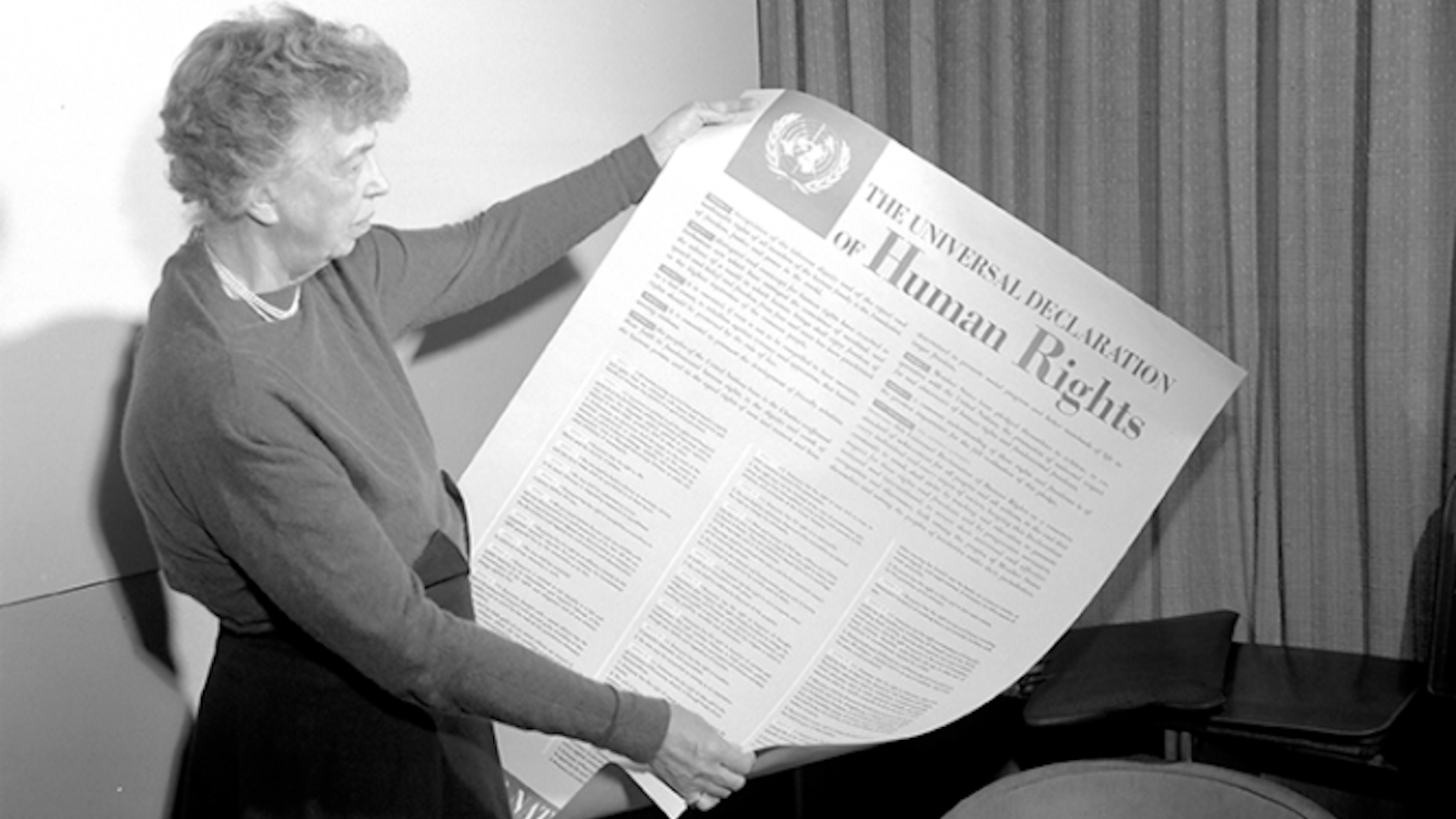 We invite you to attend another public program—online
THE BEST OF ROOSEVELT HOUSE
An online encore of public programs presented at Roosevelt House Public Policy Institute
We are pleased to continue encore online presentations of Roosevelt House public programming—to inform and inspire us during these challenging days.
In recent years, Roosevelt House has presented dozens of extraordinary, in-person talks and conversations with public policy and human rights experts, historians, writers, and leaders in business, culture, and government.
Now, recognizing that many of our members and supporters yearn to continue their close connection to our agenda of civic engagement, we are pleased to offer you the opportunity to re-examine programs you may have attended in the past, or to see such events for the first time.
REMEMBERING ELEANOR ROOSEVELT
This week, as we mark the 85th anniversary year of the 1935 debut of Eleanor Roosevelt's My Day column, which she offered continuously until 1962 and which remains a vital online resource to this day, we present a series of programs from the Roosevelt House archive that illustrate the brilliance, humanity, and groundbreaking leadership of the First Lady of the World.
This set of encore programs is presented alongside, and inspired by, a photograph we came across of the Eleanor Roosevelt memorial at 72nd Street and Riverside Drive, sculpted by Penelope Jencks and dedicated in 1996, in which Eleanor is depicted in heroic scale under the oak trees half-seated against a boulder in pensive repose; in the photo the memorial has been updated by an anonymous Eleanor acolyte for the time of COVID-19 so that Mrs. Roosevelt may continue to embody the best of public-spirited consideration for her fellow citizen by wearing a face covering.
The first, from November 2016, features preeminent Eleanor Roosevelt biographer Blanche Wiesen Cook in conversation with Roosevelt House Emeritus Programming Curator Bill Goldstein about the third and final volume of Cook's definitive Eleanor Roosevelt biography, Eleanor Roosevelt, Volume 3: The War Years and After, 1939-1962. In it, Cook takes us through World War II, the death of FDR, and the founding of the UN, following the long arc of war and the evolution of her marriage as the First Lady realized the cost of maintaining her principles despite a husband and country who were slow to adopt them. This conversation provides an in-depth look at the years that made Eleanor Roosevelt the unique woman she was: leader, visionary, and guiding light.
The next program, from May 2017, It's Up to the Women, brings together author and New Yorker staff writer Jill Lepore, historian and author Amanda Foreman, and Katrina vanden Heuvel, Editor and Publisher of The Nation, to mark the publication of an updated edition of Eleanor Roosevelt's debut book, It's Up to the Women, which was first published in 1933, the year she became First Lady. The discussion focuses on the continuing relevance of Eleanor Roosevelt's book of advice to women of all ages on every aspect of life. Whether it's her recommendation that working women take time for themselves in order to fully enjoy time spent with their families, recipes for cheap but wholesome home-cooked meals, or America's obligation to women as they take a leading role in the new social order, many of the opinions expressed here are as fresh today as they were when Eleanor wrote them.
The third program, from December 2019, is a dramatic reading from Eleanor and Alice: Conversations Between Two Remarkable Roosevelts, a play by Ellen Abrams that examines the fraught and complicated relationship between Eleanor and Alice Roosevelt—American royalty and two of the most renowned and admired women of their time. The famed First Lady, Eleanor Roosevelt, and Alice Roosevelt Longworth, presidential daughter and consummate Washington D.C. insider, were born the same year and spent much of their childhoods together. They were biological first cousins, but their politics and personalities could not have been more different. Eleanor and Alice reveals a relationship crackling with wit and antagonism, in which the personal was always political, and where victory for one might well mean failure for the other. The reading was directed by veteran New York actor and playwright Scott Klavan with a cast including Holland Lane Curtis, Laura Fois, Megan Magee, and Barbara Suter.
Please tune in below:
Click here to watch Blanche Wiesen Cook Eleanor Roosevelt, Volume 3: The War Years and After, 1939-1962
Click here to watch It's Up to the Women featuring Jill Lepore, Amanda Foreman, and Katrina vanden Heuvel
Click here to watch Eleanor and Alice: Conversations Between Two Remarkable Roosevelts by Ellen Abrams
Join us—this week and in the weeks to come—as we present The Best of Roosevelt House.
Audience
Open to Everyone