Events /
Spirit Week!
Dec 3, 2018
-
Dec 7, 2018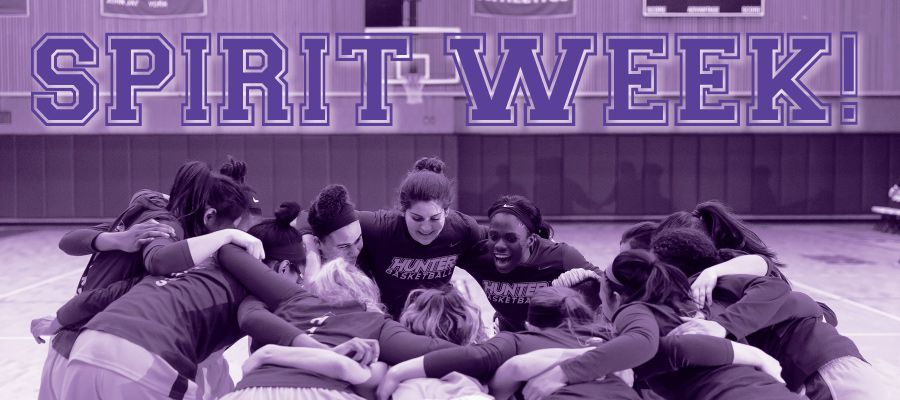 Join us as we celebrate Homecoming all week long! Let's show our student athletes some Hunter Hawk pride!
Monday - Dec. 3
Jersey Monday: Wear the jersey of your favorite team.
Tuesday - Dec. 4
Twin Tuesday: Dress like your friends, peers or colleagues.
Selfie Day: Take a selfie with a current student athlete or a picture with the Hawk Nest sign on the B2 Level, West Building.
Wednesday - Dec. 5
Workout Wednesday: Attend a recreation or group fitness class and tag the athletics department.
Meme Day: Dress like your favorite popular Memes.
Thursday - Dec. 6
Hawk Thursday: Participate in a Scavenger Hunt!

Teams of 3 or 4 will meet in the B2 level of the West Building at 12:45pm. Each team will be given a table to return their items. At the start, each team will be given a packet that has items for points. They will spend the two hours (1–3pm) collecting the items and returning them to their table at the end. Judges will award the points, prizes to the winners!

Cosplay Day: Dress like your favorite superhero or villain from movies, TV, comics, etc.
Friday - Dec. 7
Homecoming: Wear Hunter Purple and Gold or Hunter gear to celebrate Homecoming!
Participate, be Entered to Win Prizes!
Take pictures, post on Instagram and tag @hcstudent.activities (OSA) and @hunterathletics each day you participate using the hashtag #seizetheprey.
Attend three athletic events during Homecoming to receive one vintage athletic item.
Participate in all Spirit Week days + Attend three athletic events during Homecoming to receive a prize and two vintage athletic items.
Prizes and vintage athletic items will be distributed at the B2 level outside the fitness center at 7:30pm on Friday, December 7.
LET'S! GO! HAWKS!
Audience
Open to Everyone