Student Alert: Email Scam Going Around.
Students, please be on guard for an email scam offering jobs for high pay and little work. Read More.

Events /
The Ten Year War: Obamacare and the Unfinished Crusade for Universal Coverage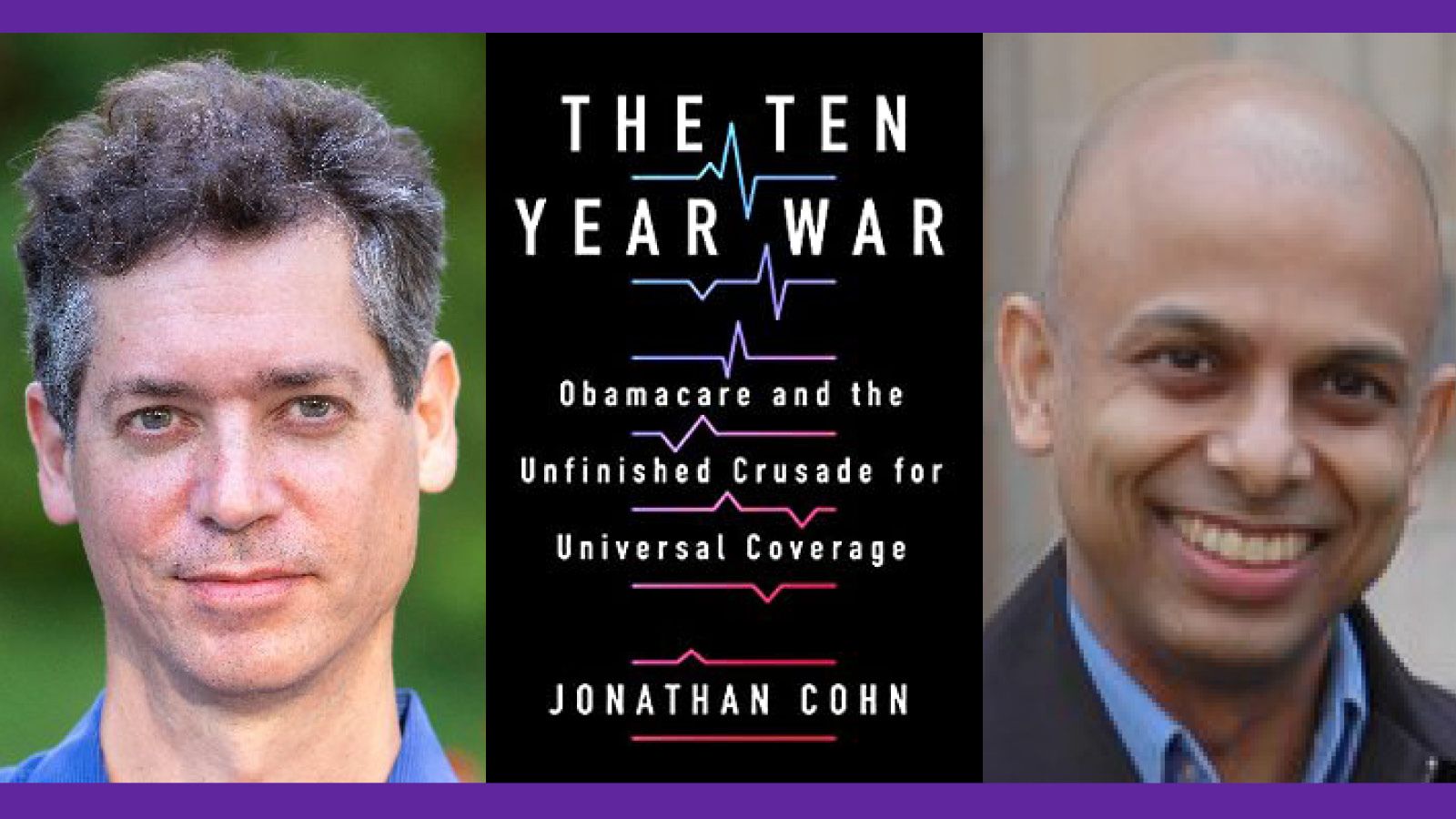 Roosevelt House is pleased to present a live Zoom discussion of The Ten Year War: Obamacare and the Unfinished Crusade for Universal Coverage by veteran journalist Jonathan Cohn. In this timely and essential volume, Cohn delivers the definitive account of the battle over the Affordable Care Act, better known as Obamacare. He will be in conversation with Hunter Professor of Economics Partha Deb.
Drawn from hundreds of hours of interviews, private diaries, emails, and memos, The Ten Year War offers a compelling and authoritative account of how the Affordable Care Act came to be, why it looks like it does, and what it has meant for average Americans. Taking readers to Capitol Hill and to town hall meetings, inside the West Wing and, eventually, into Trump Tower, Cohn offers an engrossing, behind-the-scenes look at the fraught history of one of the most sweeping and consequential pieces of legislation of the last half-century. Named by the Washington Post as "one of the nation's leading experts on health policy," Cohn brings vividly to life the struggle to reconcile pragmatism and idealism, self-interest and the public good, and ultimately two very different visions for what the country should look like.
As former Roosevelt House guest and author Robert Putnam put it: "With its original reporting and vivid storytelling, The Ten Year War is essential reading for everybody who wants to heal our sick health care system – and our sick political institutions too."
Jonathan Cohn is a senior national correspondent at HuffPost and the author of Sick: The Untold Story of America's Health Care Crisis–and the People Who Pay the Price, a finalist for the Robert F. Kennedy and Helen Bernstein book awards. A former senior editor at the New Republic and executive editor at the American Prospect, Cohn has written for such publications as the New York Times, Atlantic, and Self. He is a two-time winner of the Sidney Hillman Prize for journalism.
Partha Deb is Chair of the Hunter College Department of Economics, a Professor of Economics at the CUNY Graduate Center, and Research Associate at the National Bureau of Economic Research. Since 2012, he has been a Senior Advisor at the Center for Medicare and Medicaid Innovation. A specialist in health economics, his scholarship has appeared in journals including Health Affairs and The Stata Journal, and he has been a co-principal investigator on research grants from the National Cancer Institute and the Agency for Health Research and Quality. He is a faculty member of the Roosevelt House Public Policy Program.
This event will be held online via Zoom.
Audience
Open to Everyone