Search Knowledge Base by Keyword
People Profile
---
People Profile Page
The People profile page contains an individual's profile (for an example, see Jennifer Raab's profile), consisting of the following elements.
All people profiles live under /people.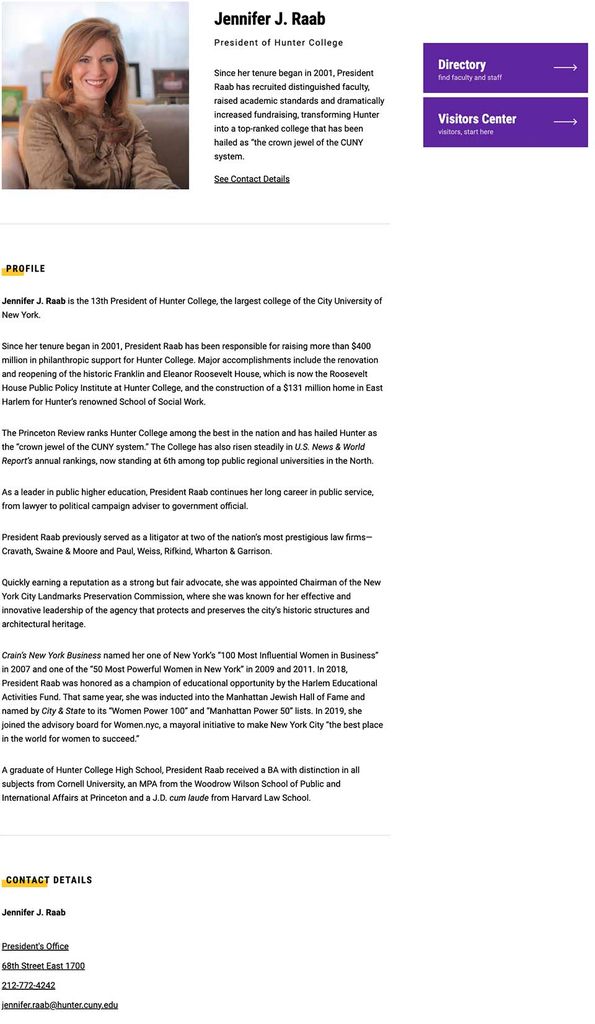 Photo
A photo is recommended, but if no photo is available a default "H" graphic will be displayed.
Name
Full name, created from page name.
Title
Title of individual that may refer to one or more positions (e.g. Chair and Professor of History).
Profile Summary
A short overview that will also be displayed in feeds where the Profile Summary is set to display. The "See Contact Details" link is automatically added and is a jump link to the Contact Details section at the bottom of the page.
Profile
Background and bio information. Most information will be standard copy but additional modules (e.g. quotes, slideshows, etc.) are available for special content. See how to create a profile for more information.
Contact Details
Contact information is pulled from the Faculty Staff Directory
---