Search Knowledge Base by Keyword
Courses
---
This page includes:
---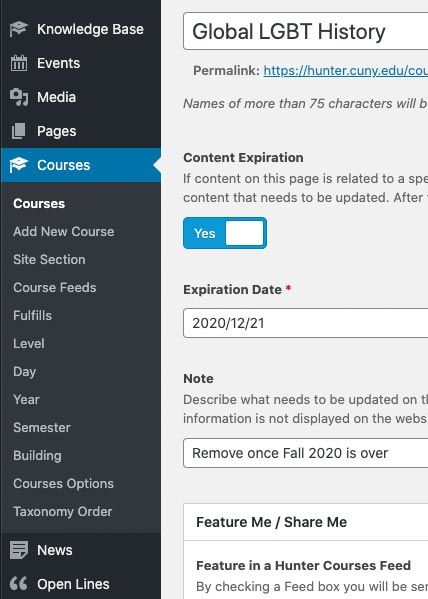 Course Overview
Courses are used to feature select courses, and should be kept (manually) consistent with the Hunter Course Catalog that is always the official source for all courses and course details. Courses are a content type that works like News in that you can add a Course once and pull it into many pages via feeds.
See Feeds Overview for an explanation of how content is displayed across Hunter, where courses can appear and information about sharing Course content.
---
Where Courses Appear
Courses can be displayed in:
As a Course single page

List of all Courses

Template: Left Column - Courses Archive

In Feed Modules

Grid - Courses Feed
Carousel - Courses Feed
---
Course Page Options
Functionality for sharing courses
Content expiration

Use this to get a reminder to take down courses once they have passed

Feature Me / Share Me
Be added to Feeds
Content that Course pages can contain
Add New Course (Course Name - required)

Is the Course name that will get displayed on the Course page, grids, carousels and lists

Image

If used, this image will appear on the course page and in the modules that feature the course.
If left blank, the course will not appear in modules that require images.
Image size: 1600 x 900

Course Number (required)
Credits
Fulfills

General Education Requirements this course fulfills
Can select multiple

Level

Graduate or Undergraduate

Professor

Can have multiple
From Profile list or custom

Day/Time
Location
Semester
Notes
Course Summary (required)

Brief overview of course. Displays in lists of courses (when "Show Course Summary" is selected in module settings) and it also displays on course pages.
Max character count 150.

Course Description (required)

Description of course, uses a Basic Content module.
Additional modules options
Use 'Add Module' under the Course Description module to add additional content.
Options include:
Accordion
Basic Content
Big Buttons
Carousel - Custom Content
Contact and Social
Grid - Custom Content
Grid - People Custom
Image ½ and Text
Image ⅔ and Text
Lists
Quote
Slideshow/Video
Stats
---
Linking to the Course Catalog
When linking to Hunter's Course Catalog, for both Undergraduate and Graduate, refer to the page on Adding Special Features to ensure the link will be current.
---