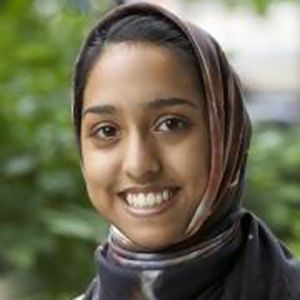 Munazza Alam
Graduate Program: Harvard University- Astronomy & Astrophysics PhD
Munazza received a BA in Physics and Astronomy. While at Hunter, she received a National Geographic Young Explorers grant in exoplanetology to study low-mass stars and brown dwarfs in an observatory in Chile known for having the best telescopes and clearest skies. At graduation, she received the Rosalyn S. Yalow Achievement in Science Award.
Munazza is currently a National Science Foundation Research Fellow in the Department of Astronomy at Harvard University. Her work involves investigating the atmospheres of nearby exoplanets (called "hot Jupiters") using data from the Hubble Space Telescope and focuses on the study of clouds in directly imaged exoplanets which was highlighted in an article in The Harvard Gazette called, "Cloudless, Jupiter-like planet discovered". At Harvard, she also organized a chapter of Open Labs, an outreach program in which graduate students inspire students in grades six through 12 by organizing "science cafes" and visiting local schools.
Recent Publication:
Munazza K. Alam et al, The Astrophysical Journal Letter (2021),"Evidence of a Clear Atmosphere for WASP-62b: The Only Known Transiting Gas Giant in the JWST Continuous Viewing Zone"