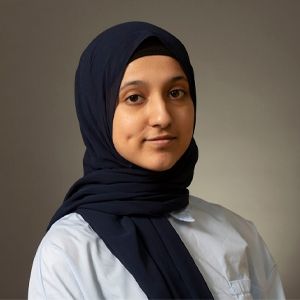 Areeba Aamer
Lab PI & Menter: Arjun Masurkar, NYU Langone Health
Major: Biology, Psychology
Areeba Aamer is a third- year student at Hunter College pursuing a degree in honors Biology (BA) and a concentration in Psychology. She is a participant in the BRAIN program, which has allowed her to engage in research in neurology where she quantifies degeneration due to Alzheimer's disease in mice. She is interested in research on neurodegenerative diseases and childhood development. Her interest in neurology and pediatrics stems from her desire to aid in better maternal care, enthusiasm to help children grow, and desire to help families. Upon completion of her undergraduate studies, she intends to apply to medical school to further her knowledge of the wonders of the human body, diseases, and aging.