Reasonable Accommodations was created with you in mind, to help you navigate any challenges you might face when teaching students with disabilities. It contains a wealth of information regarding teaching and working with students who may require academic adjustments or accommodations in order to pursue their education. It is also an accessible document. The Table of Contents will allow you to jump to any chapter, and all of the links to resources are live.
Reasonable Accommodations: A Faculty Guide to Teaching Students with Disabilities is authored by the Hunter Office of AccessABILITY, and published by COSDI (CUNY's Council on Student Disability Issues).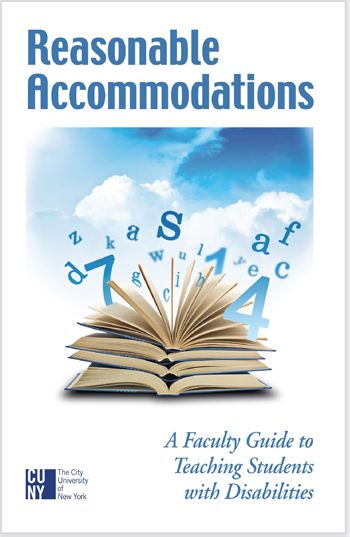 Topics covered:
•  The Law
•  Disability Categories
•  Teaching Students with Disabilities
•  Universal Design in Learning
•  University-Wide Accessibility Projects
•  Technology in the Classroom and for Online Courses
•  Alternative Text for Students with Disabilities
•  Learning Disabilities
•  Attention Deficit/Hyperactivity Disorders (AD/HD)
•  Neurological Disabilities
•  Traumatic Brain Injury (TBI)
•  Autism Spectrum Disorder/ Asperger's Syndrome
•  Psychological Disorders
•  Mobility Disabilities
•  Visual Disability
•  Deaf and Hard-of-Hearing
•  Speech Disorders
•  Reasonable Accommodations IV
•  Health Impairments
•  Sample Syllabus Statements
•  Disability Etiquette
•  Emergency Procedures
•  Additional Disability-Related Terminology
•  Additional Resources
•  COSDI (CUNY Council on Student Disability Issues) Directory
---
As always, please feel free to contact us should you require additional information or support.
For more information
Call 212-772-4857
Visit our office in 1214B East building