Steps to Follow
1) Log into CUNYfirst

Your Username will be your First Name.Last Name and the last 2 digits of your Student ID # @login.cuny.edu.
For example, if your name is John Doe and your Student ID #12345678
Your Username will be JohnDoe78@login.cuny.edu
---
2)  Once logged into CUNYfirst, on your Student Center page, please select Academic Records

---
3) Then, click on ePermit: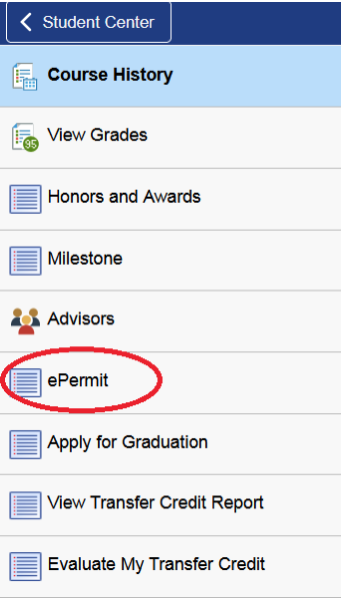 ---
4) This will take you to the ePermit application, here you will select Add ePermit with Equivalent Courses and the term of interest along with your Home School of Hunter College. Click on Continue on the bottom right:
ALERT: You will only select Add ePermit if the course of interest does not have an equivalent course at Hunter or if you are a current Graduate/Doctoral student.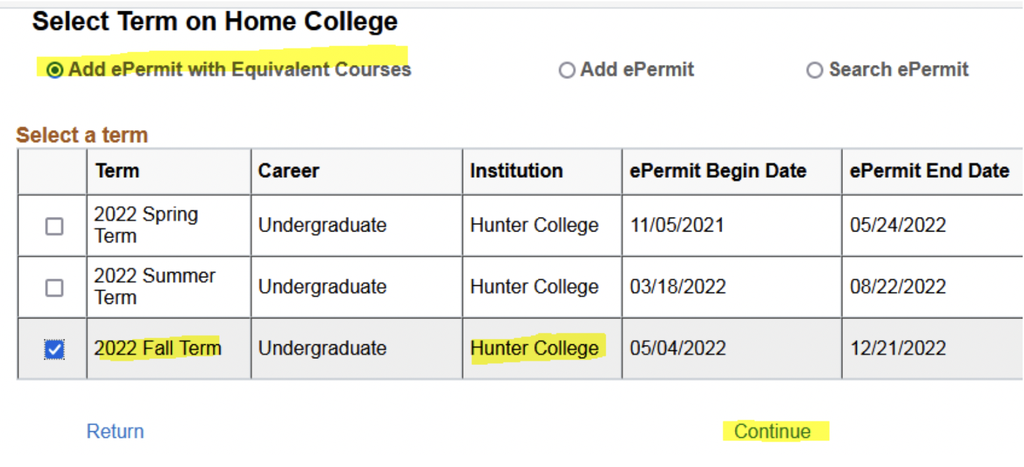 ---
5) At this point, you will select the course if you would take it at Hunter.
For example, if you are planning to ePermit our MEDIA 18000, you will select "M" then the drop down for MEDIA and 18000: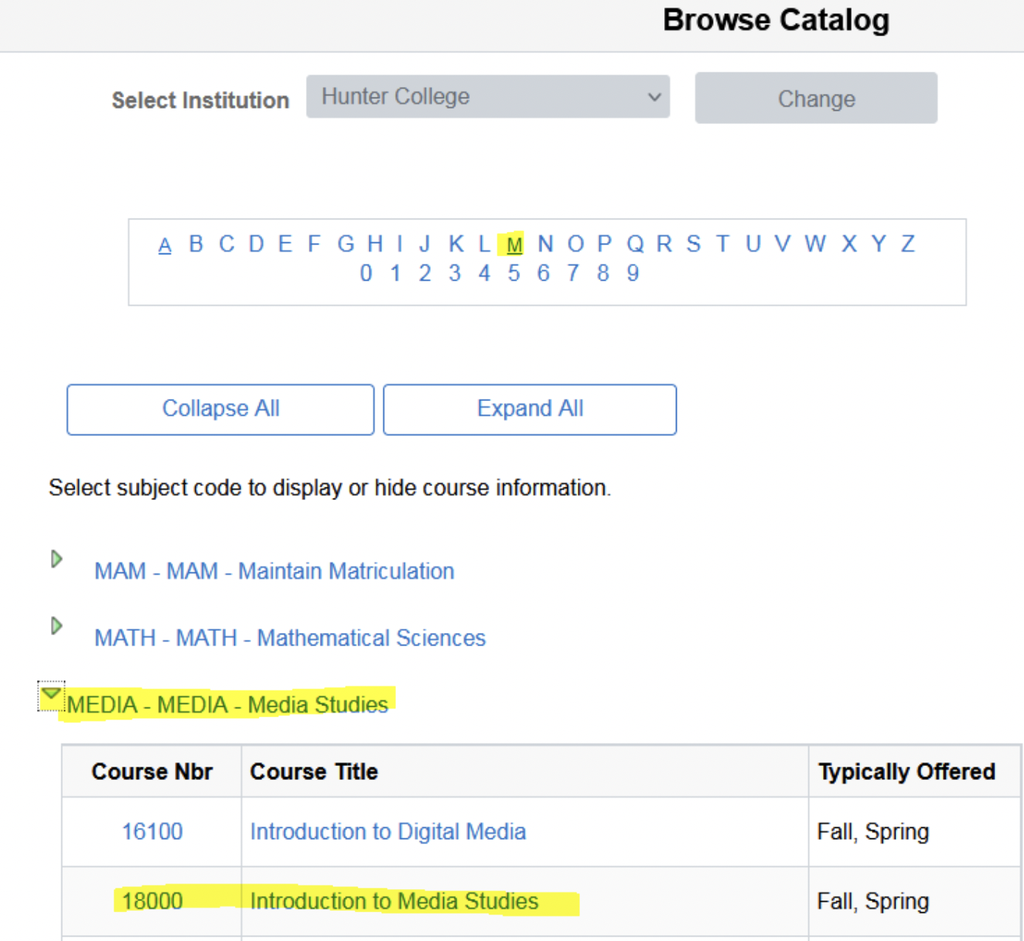 ---
6) Click on fetch equivalent CUNY courses here: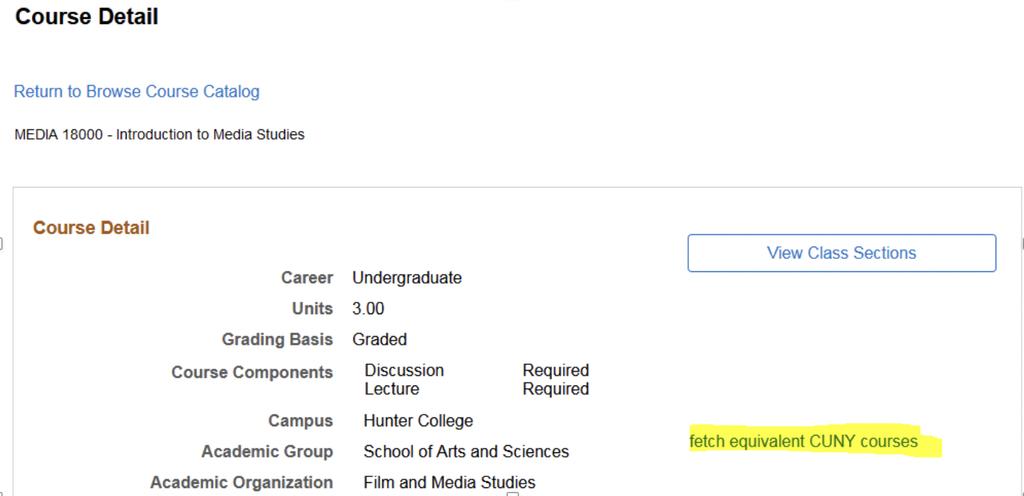 ---
7) The list will now generate the Host Institutions and their course(s), you will check off the school(s) that you are interested in taking the ePermit. You are able to select more than one school. Be sure to click on the right arrow or View All to view all of the institutions that are being offered in CUNY:

---
8) The ePermit application will appear asking you to select a Permit Type and a Host Session. The Comment section is optional and is needed if you need to resubmit your ePermit application.
You will input the purpose of the ePermit course, CUNY Baccalaureate are only for CUNY BA students. If you are unsure on the Permit Type, it is recommended to choose General Elective.
The Host Session is when the course is being offered at the institution. For spring and fall, most selection will be the Regular session. For the summer semester there are multiple sessions, if you are unsure when the course is being offered, you can visit the CUNY Globalsearch website.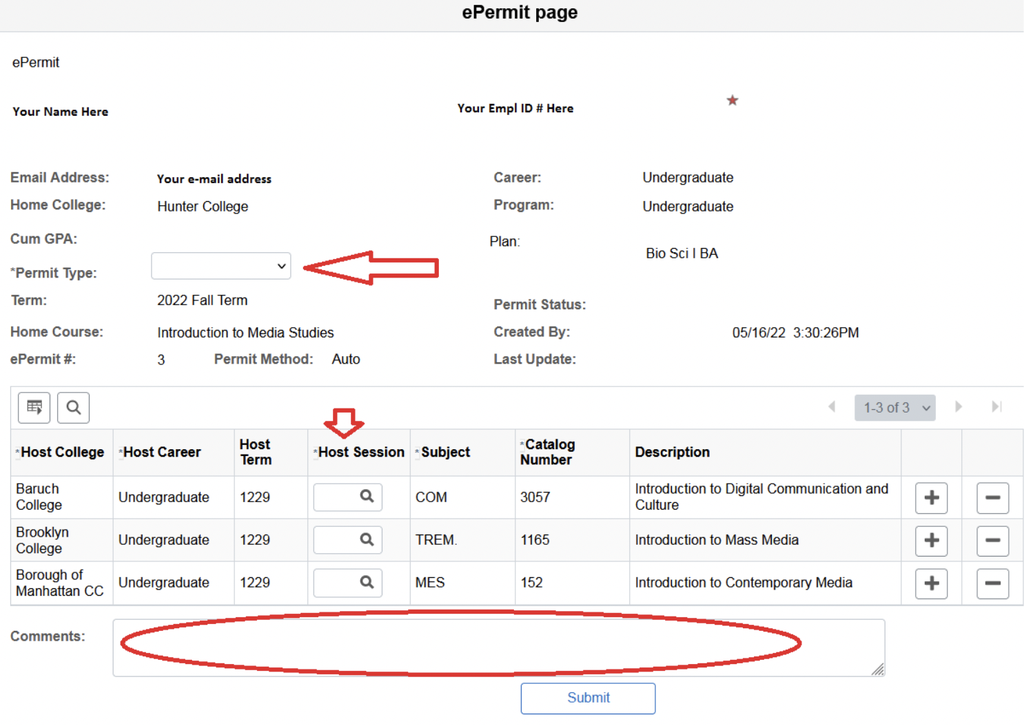 9) Click on Submit at the bottom of the ePermit application to submit your request. Please give it 2-3 weeks for your ePermit to process. If your ePermit application is approved, the Host School(s) will update your record with your Enrollment Date and Time on their end.
The Host School(s) may contact you to your MyHunter e-mail with further instructions.
You can also view your Enrollment Date & Time as follows:
Student Center > Course Planning and Enrollment > Enrollment Dates. If your Host School(s) and the Term are listed, you can view when you can physically enroll in your ePermit course
You can check on your ePermit Status by following the same navigation above from number 1-4. Instead of selecting Add ePermit, select Search ePermit, the term along with Hunter College, not the Host Institution and click Continue.